Summer is synonymous with road trips, but even more so this summer post COVID. When planning a road trip, it's crucial to have certain items like a fully stocked cooler, healthy fast food options and plans on how to stay active while traveling, but there are other essentials you need. Before you hit the open road, here are the road trip essentials that are absolute must haves for your next road trip. (Consider it your ultimate road trip packing list).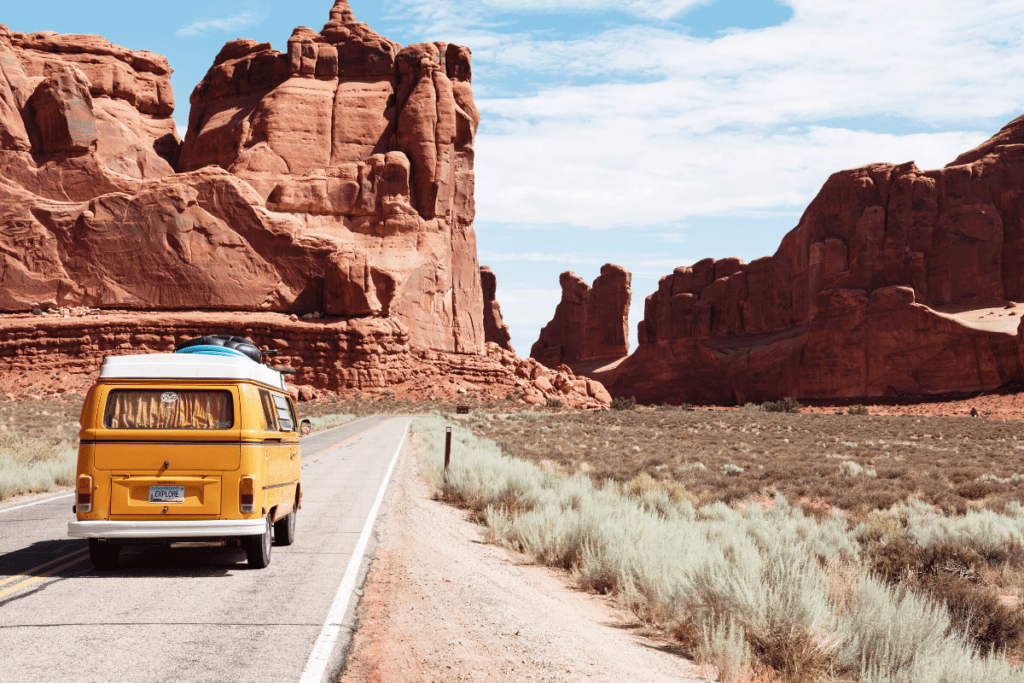 #1 Athletic Shoes
For all of those gas station stops and points of interest, you'll want to slip on a comfortable pair of athletic shoes to stretch your legs. Whether it's a quick walk or a picnic lunch at a quaint oasis, athletic shoes are a road trip essential.
#2 Book or magazine
Reading materials are another item to include on your road trip packing list. Bring a book or make a stop for magazines before hitting the highway because something to read is a great go-to option to help pass the time for all of those summertime road trips.
#3 Detergent pen
Road trips mean road trip snacks and pit stops at fast food joints, which can sometimes lead to stains and spills. Unfortunately, throwing clothes in the washing machine at a moment's notice is not an option when traveling, so carry a detergent pen with you like a Tide-To-Go pen and wash away stains before your next rest break.
#4 Essential oils
Essential oils may not be the first thing you think of when packing for a road trip, but the smells of certain essential oils can help stressed drivers relax while other scents can help other passengers sleep. Essential oils can also help mask any annoying road trip smells that may develop from being crammed in the car four hours on end.
If you aren't sure about packing liquids like essential oils, consider repurposing citrus peels and creating a natural DIY deodorizer and place it in your car to give the atmosphere a refreshing clean scent.
#5 Map
This travel essential may seem obvious, but a map is critical to traveling. Whether you prefer a map app or a good old paper map, pack a map!
#6 Mindset
One of my favorite travel essentials that is often overlooked is mindset. Caroline Makepeace from ytravelblog.com, one of the world's largest family travel blogs, says the most important things to take with you on a road trip are an adventurous spirit, a good attitude, good conversation, laughter, an open mind and patience. (Best road trip essentials ever, right?)
#7 Phone charger
We all use our phones for so much on a daily basis, but especially on road trips. Directions, maps, music playlists, points of interest and randomly googling things (like how many miles can I get with a quarter tank of gas), which is why a car phone charger is crucial.
Traveling husband and wife, Kerrie and Woody of Just Go Traveling, say, "An essential item to bring on a road trip for us is an external phone charger! You will be using your phone to capture memories and keep yourself or your family entertained playing music and games. There is nothing worse than running out of battery juice on a long road trip."
#8 Pillow
One of the first items I pack for a road trip is a pillow. Not a cute, small travel pillow, I mean like an actual full sized pillow you would put on your bed. Sleep is essential to pass the time, especially on long overnight road trips, so if you want to catch some comfortable zzz's, pack a pillow (and maybe even a small blanket if you have the extra space).
#9 Travel mug
If your summer road trip kicks off at the crack of dawn, it's absolutely essential to have a travel mug for your morning coffee or tea. Look for a travel mug with a lid that can create a tight seal to keep liquids contained in case you hit any bumps on the road. At the same time, you will also want to pack a carrier for cool beverages like a reusable water bottle.
Alex Miller, Founder & CEO of UpgradedPoints, a leading travel site, says, "Having a water bottle that can keep your drinks cold for hours is an absolute must. It's painful to drive long distances with a lukewarm drink in hand."
#10 Wireless earbuds
Road trips are great opportunities to catch up and converse with fellow travelers, but sometimes you just want some me time, which can be a little challenging in a car with multiple people. Enter wireless earbuds. Wireless earbuds are an absolute must have on road trips. Whether you listen to an audio book, music or a podcast, wireless earbuds can whisk you away to a world all of your own.
Bonus Road Trip Essentials
After speaking with numerous travel experts, there were a few travel essentials that were recommended that may not be essential, but are just too good not to share:
Road trips are a summertime staple, but they also require certain essentials besides a map and snacks. The next time you plan and prepare for a road trip, refer to this ultimate road trip packing list before you hit the open road.