How to Book An Epic Group Trip With Your Friends
So your trip has made it past the group chat phase? Congratulations! Now it's time to plan it.
Traveling tends to be romanticized on social media where you "skip to the good part" and arrive at your picturesque destination. But in reality, there's a lot of work involved in planning a successful trip. When traveling with multiple people, it can become even more complicated. It's important to manage expectations ahead of time and iron out all the details so you can enjoy the post-planning high of getting out of town with your besties. 
So where do you start? Well for one, meeting in person to discuss your plans before you travel together can help eliminate about a million chats and emails. So pick a day for your friend group to get together in the flesh or virtually to discuss logistics. Here's what you need to figure out: 
Dates
Budget and splitting costs
How to get there
What to do: Itinerary
Safety precautions and respectful tourism
Here's how to plan an epic trip with your friends that you'll talk about for years to come.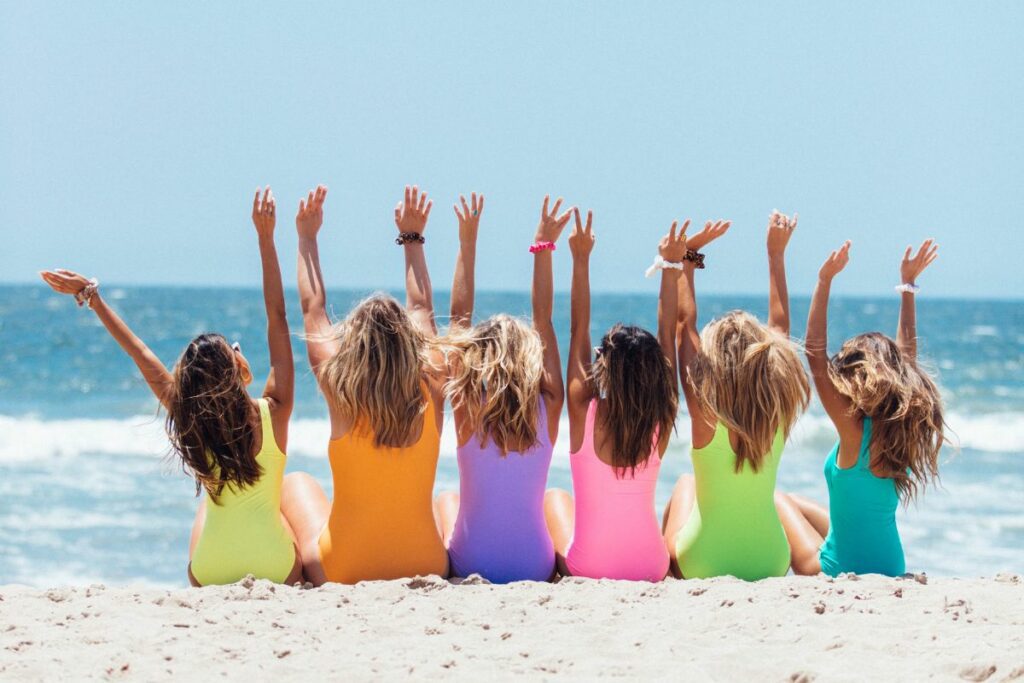 Decide when to take your group trip
After the who's and what's are chosen, next comes the most important part – when. Picking a time of year to travel early on in the planning process is crucial. It's important not only for your own scheduling purposes, but also to keep in mind things like hurricane season in the tropics. Additionally, high season at your desired location can double prices and limit availability. Research the best time to travel ahead of time before you submit your P.T.O.
Money, money, money
Your group needs to decide what's important on your trip. If a swanky hotel stay is a top priority you need to make sure it's feasible for everyone in the group. Alternatively, you can offer options of adjacent price friendly hotels or splitting rooms. If it doesn't matter where you sleep as long as it's clean and in a good location, then you can put your added funds to fun meals and activities. Whatever you decide upon, there are apps like SplitWise that help make it easy to divvy up costs. 
Planes, trains, and automobiles
Upon reaching a decision on when and where you're going, the next topic of discussion needs to be how to get there. Flights versus driving are obvious, but what about renting a car versus ride sharing? If your hotel is far from the airport and you anticipate a hefty itinerary outside of your resort, it might be best to rent a car for the day and use ride sharing on your nights out.
Also, check with the hotel for ease of access to Uber and Lyft. If you're traveling internationally, ask if taxis only accept cash or if they accept credit cards as well. 
Your group trip itinerary
I love planning ahead, but I also love the idea of "going with the flow" on vacation. It's always a good idea to make dinner reservations or book excursions, but outside of that it's nice to have a bit of flexibility on vacation.
Discuss what's important to everyone on their trip. Does someone want to exercise and see all the sights? Does another want to sleep in and lounge by the pool? You can plan to have every meal together, but consider allowing one morning or afternoon for the group to split up. That way, the meals when you're all together will be that much more interesting, because you'll have something to share with one another.
Safety precautions and respectful tourism
If you do decide to split up, have a check in plan. Make sure your group chat is on WhatsApp so you can see when they read their texts or put your messages on read. Have a designated time when you will all meet up. This goes for group outings as well. Use the buddy system and make sure everyone sends an "I'm home" on your chat at the end of the evening. 
The most enriching thing about traveling is learning how other people live. Whether you're visiting a small town, big city or traveling to an International destination, try to take in the sights and sounds. Eat at a local restaurant, speak with the locals, tip, clean up after yourself and act how you would want tourists to act in your own hometown. It will benefit you more than them.
Or as the late and great Mr. Anthony Bourdain said "travel changes you. As you move through this life and this world you change things slightly, you leave marks behind, however small. And in return, life and travel leaves marks on you." Safe travels.