How to Get the Most Out of a Wellness Retreat
Earlier this month, I had the privilege of attending a four-day wellness retreat at Carlisle Bay luxury resort located in Antigua. (You can check them out more right here.) This tropical island is nestled in the heart of the Caribbean and separates the Atlantic Ocean from the Caribbean Sea.

Here, the skies are a brilliant shade of blue, the sun is bright and warm enough to melt even the coldest of Midwestern hearts flocking south for the winter, and the waters are crystal clear and playfully dance between the beautiful blue hues of aqua, turquoise, and teal. In the distance, hiking trails twist and turn through the tropical rainforest, and the dense foliage leads you to heights and lookout points you won't find captured on any postcard.

The sand is soft as you walk barefoot along the beach. The palm trees gently sway as the cooling Caribbean breeze blows in from the sea, and the crash of the waves along the shoreline reminds you that venturing out into the beauty of Mother Nature is far better than any meditation app or sound machine you have at home.

The drinks and food consist of amazing appetizers, delicious desserts, and mouthwatering meals that will give you and your taste buds a dining experience that will leave you asking for seconds.

Above all, the people of Antigua are some of the friendliest, kindest, and nicest people I've ever encountered in my three decades of travel. They're there to greet you with a big smile and a warm welcome that makes you feel right at home even though you're 2,300 miles from your front door.

Sound idyllic? It is. (Seriously, you should book a stay and plan a visit like right now. Go ahead. I can wait while you confirm your reservation.)
Although a tropical getaway to a beach destination to celebrate the holidays in the Caribbean sounds like the best way to spend the winter, you may also consider adding another layer to your travels by including the element of a wellness retreat. 
If you're wondering what that looks like so you can get the most out of your stay while away, then stick with me kid — I got you.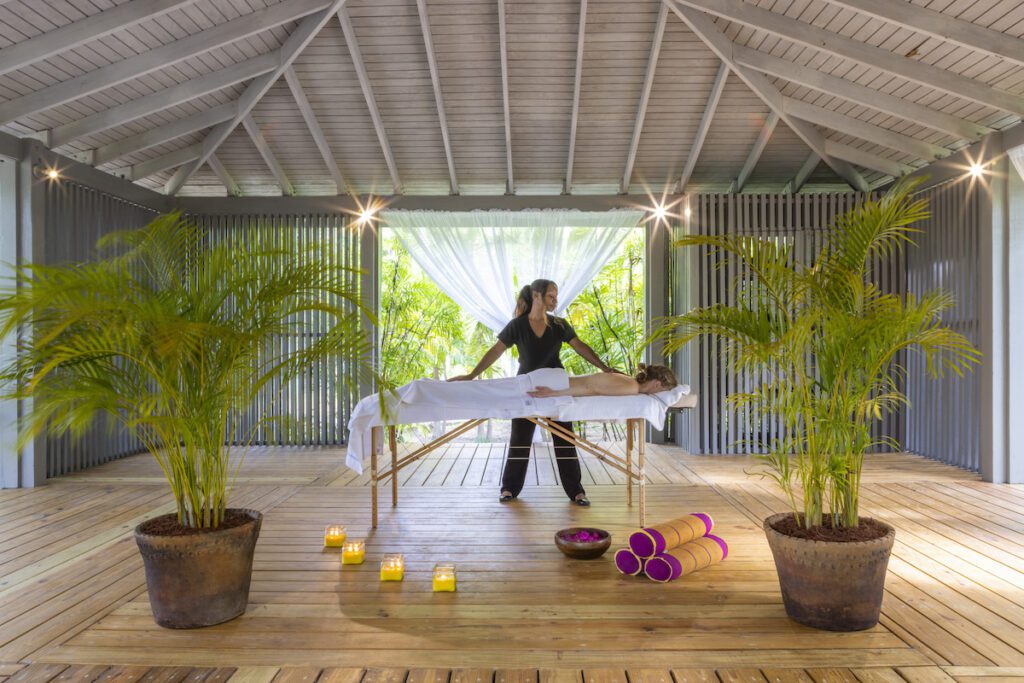 How to get the most out of a wellness retreat
1. Chat it up with other retreat attendees
A wellness retreat includes daily activities such as excursions, meditation, and yoga flows, all of which may already be in your health and wellness arsenal. While you may embark on these classes with friends or solo when you're at home, on a wellness retreat you're most likely going to be with a slew of brand-new faces. (That is unless you can convince your friends to accompany you, which shouldn't be too hard, right?)

Take this unique opportunity to chat and connect with others. Ask about their careers, their lives, and where else they've traveled to in the past. You may find you have a lot in common or perhaps you're fascinated by their original stories. Who knows, you may even bond over being single, living in one of America's largest cities, or traveling shenanigans that are sure to leave the entire group sharing a few good laughs over cocktails and dinner.
2. Drink the green juice
In all honesty, I've never gotten into juicing. But upon my arrival at Carlisle Bay, I had a green juice waiting for me in my room as I checked in for my four-day long stay. 
I don't discriminate when it comes to most beverages and food, but with green juice, you never know what you're going to get. Is it going to be cabbage, kale, or spinach? Worse, it could be all three. (Blech!) Although these foods are lovely on their own, I don't necessarily want to drink something that tastes like a mouthful of freshly cut grass.

Here's the thing, though: you'll never know unless you try — so, you guessed it, just try it. Take a small sip. The worst thing is you don't like it, while the best case scenario is you love it and maybe even consider juicing for yourself upon your return home.
In case you're wondering, to my delight, the green juice I encountered was called "Glow Green" and was a refreshing mix of aloe, apple, cucumber, celery, ginger, kale, and lemon that had a subtly sweet tropical flavor. Sip, sip, hooray!
3. Eat all the foods
If I'm telling you to drink the green juice, you better believe I'm going to tell you to eat all of the food, especially the local fare. From freshly caught ahi tuna to Mahi Mahi that melts in your mouth to the fried fish ball appetizer with a sweet and tangy dipping sauce, there are so many delicious foods worth trying on a tropical wellness retreat. At Carlisle Bay, we enjoyed four distinctive restaurants that truly embodied five-star Caribbean fine dining. I highly recommend ordering up a meal at all four locations if you have the chance.

Eating all the things also counts when you're out for excursions as well. On our group hike to Signal Hill, we had the opportunity to try a sugar-apple, an odd-looking fruit that has black seeds like a watermelon but contains juicy soft white flesh that tastes like a mix of sweet tropical fruits. If I wouldn't have been prohibited to re-enter the United States, I would've purchased every single sugar-apple on the island and packed it in my suitcase to enjoy back home. Bottom line: If you ever have the opportunity to try a sugar-apple, do it!

This suggestion counts for beverages too. Local homemade rum punch, anyone? (Oh yeah, it packs a  punch and can be quite potent, so drink responsibly.)
4. Enjoy every minute
Social media has pros and cons — and though you may be tempted to share every single moment of your wellness retreat, remember to fully immerse yourself in the experience as well. Take as many photos and videos as you'd like, but then come back to the present moment and engage all five senses around you.

Feel the grains of sand between your toes, listen to the waves crash against the shoreline, see the sunset over the Caribbean Sea, smell the fresh catch of the day sizzling on the grill in the open-air kitchen, and taste the fresh flavors of the island. Truly savor each and every moment, even if you find moments where you miss home. This experience won't last forever, so enjoy it while it's your present reality.
5. Get your namaste on
The wellness retreat I attended at Carlisle Bay included daily gentle yoga flows. Over the course of four days, we focused on things like developing a strong foundation with an emphasis on alignment and stability, engaging in creative flow while opening the hips, and stoking our own fire with core engagement. Whether you're brand new to yoga or any other activity you may encounter on your next wellness retreat, just like the green juice, give it a go.

It may be your very first class or your 50th class, but I always encourage folks to approach the instructor before class begins to introduce themselves and discuss any areas of concern. For instance, I was recovering from an injury so I wanted to let the instructor know in case I needed any modifications throughout the four days of yoga flows.

This is a good opportunity to also share what types of yoga you've tried before or let them know this is your very first time and you're feeling a bit nervous. Almost every yoga instructor will be incredibly accommodating as they want you to have an enjoyable experience while also gently nudging you out of your comfort zone in a respectful way that honors where you find yourself.

On our wellness retreat, we had the pleasure of working with Tara O'Rourke, who's based right outside of Dublin. If you're ever traveling to Ireland, I highly recommend you look her up and see if you can catch one (or two) of her classes.
6. Sign up for additional activities and excursions
Besides downward dogs and downing green juices, some wellness retreats may offer additional activities and excursions for you to enjoy between your prescribed wellness sessions. I mean, let's be real here, you've already majorly stepped out of your comfort zone by signing up for a wellness retreat (possibly in a foreign country), so I say sign up for all of the things.

Whether it's an afternoon boating out on the deep blue sea, hiking with locals as they guide you through the rainforest, or heading to higher ground to take an evening sunset while you sip a handcrafted daiquiri, pina colada, or rum punch, sign up for as much as you can or for as much as you feel like participating in. 
If you prefer to stay on property, you can still go on an adventure. Ask for a tour of the entire hotel and resort, see if you can snag a spa appointment, or watch a cooking demonstration from the chefs if it's an available option. Whether you go far or stay closer to your home away from home, you can still discover something new and worthwhile. Speaking of new things…
7. Try something new
During my wellness retreat at Carlisle Bay, I had some trepidation surrounding the daily meditation practice, but part of signing up for a new experience is doing new things. Enter meditation.

Tara, our yoga instructor, gently guided us through mindfulness meditation where we focused on anchoring to our breath. We were also introduced to traditional om-chanting meditation and mantra meditation where we had the opportunity to chant the ancient Gayatri Mantra.

Chanting, focusing on your breath, and releasing a long primal ommm from deep within your belly may sound like total woo-woo wellness to you, but give it a try. For someone who was so hesitant to embark on mindfulness meditation, I'm now chanting the Gayatri mantra in ancient Sanskrit on the daily and I'm loving it. Bottom line: You can't decide whether or not something is for you until you actually give it a go for yourself, so go for it.
8. Don't be surprised if you have a spiritual awakening
During my four days away at Carlisle Bay, I had time to really reconnect with myself and my aspirations, desires, and goals for all areas of my life. In a sense, you could say I had a spiritual awakening. 
Now I'm not saying this will be guaranteed to happen to you on your next wellness retreat, but after being immersed in a brand new environment, spending time with myself and others, and encountering new health and wellness practices I may have never tried otherwise, I experienced some profound insights about myself, my life, and what I want that all to look like moving forward. 
When you sign up for a wellness retreat, be prepared to potentially have a spiritual awakening, but also even more importantly, be prepared to take action and act upon that spiritual awakening, whatever that may be. Ask for Divine Providence. It will guide you. As Tara so kindly shared with us in one of our yoga sessions:

"Until one is committed, there is hesitancy, the chance to draw back, always ineffectiveness. Concerning all acts of initiative (and creation), there is one elementary truth, the ignorance of which kills countless ideas and splendid plans: that the moment one definitely commits oneself, then providence moves too. A whole stream of events issues from the decision, raising in one's favor all manner of unforeseen incidents, meetings, and material assistance, which no man could have dreamt would have come his way. Whatever you can do or dream you can, begin it. Boldness has genius, power, and magic in it!" – Goethe
Planning your next wellness retreat
There's a lot to plan and prepare when signing up for a wellness retreat — but if you want to make the most out of your next health and wellness experience, remember these eight suggestions. 
(Oh, and be sure to book at Carlisle Bay! That should honestly be your first step.) If you have any questions about my experience at the resort or in Antigua itself, please feel free to reach out to me right here.
About Carlisle Bay
Carlisle Bay is a luxury resort looking out over white sand, palm trees, and turquoise water, with a backdrop of the emerald green rainforest. Sophisticated and contemporary in style, this modern Caribbean classic on Antigua's south coast is instilled with genuine West Indian conviviality. The island of Antigua has a rich history and culture and a tradition of warm hospitality. It's known as "the heart of the Caribbean," being located in the middle of the Leeward Islands. It's the largest in size, covering 108 square miles / 280 square kilometers and a population of 68,000 people. Carlisle Bay resort is set on the south coast of Antigua and is located just 30 minutes' drive from the airport and the tiny bustling capital of St. John's. Being one of the most accessible islands in the Caribbean, Antigua has direct non-stop flights from major gateways in the United States and Europe.
About Antigua and Barbuda
Antigua (pronounced An-tee-ga) and Barbuda (Bar-byew'da) are located in the heart of the Caribbean Sea. The twin-island paradise offers visitors two uniquely distinct experiences, ideal temperatures year-round, a rich history, vibrant culture, exhilarating excursions, award-winning resorts, mouth-watering cuisine, and 365 stunning pink and white-sand beaches — one for every day of the year. The largest of the English-speaking Leeward Islands, Antigua comprises 108 square miles with rich history and spectacular topography that provides a variety of popularsightseeing opportunities.