10 Solo Travel Tips Every Woman Should Know
So you've been at home for the last two-plus years and now you're ready to travel again. Maybe you're even thinking of booking a solo trip. I recently stayed—by myself—at a cute B&B in northern California, and it was freeing.
While there are many benefits to traveling alone (you get to do whatever you want, for starters!), safety is of course always a concern—especially if you're a woman and you're jetsetting to an unfamiliar locale.
We spoke to travel pros to get their best tips for traveling alone as a woman so you can feel calm, confident, and collected on your next solo trip. Here are the best solo travel tips for women.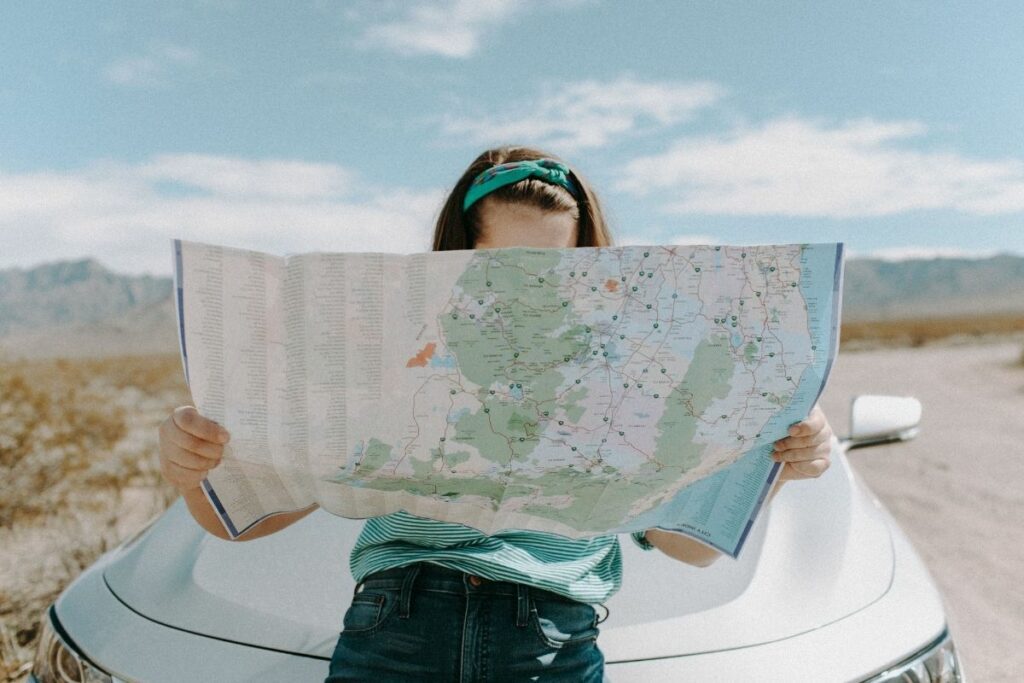 1. Do your research on the destination beforehand
One of the best solo travel tips is researching the place you're visiting in advance so you're familiar with their customs.
"When planning a solo trip to a new destination, my recommendation is to inform yourself about the local culture and religious customs," says Patricia Palacios, co-founder of España Guide, a travel guide to Spain.
It's important to be respectful in the places you visit, so be prepared to adapt your clothing and behavior, adds Palacios. "Don't stand out—make sure you know the rules and follow them," she advises. "If you think about it, blending in will also help you experience the local way of life and make the most of your travels.
2. Pick the right accommodations
When booking accommodations for your solo trip, think about the kind of experience you want to have.
"Consider forgoing the larger properties and choose to stay at smaller boutique or owner-run properties," says Richelle Lavin, owner of Soul of Africa Travel. "This usually allows for a more attentive experience from the staff and you almost feel like you become part of the family." Lavin adds that you may feel safer and more secure in this environment because the property is looking out for you.
What if you want to stay at an Airbnb? "When booking Airbnbs, I will look for female hosts as a first choice," says Hannah Cooper, freelance writer and travel blogger at All About the Après. "With male hosts, I only book if they are a 'Superhost' and have reviews."
3. Have a game-plan for the day
Once you arrive, have a plan for where you're going and how you're going to get there.
"You don't have to plan out every step of your trip, as the magic often happens in the spontaneity of travel," says Janelle Axton, founder of Make the Trip Matter, "but when you leave your accommodation, have a general knowledge of how to get to where you are going whether that's by bus, train, or taxi—and plan out a safe route to your destination and back to your accommodation."
As Axton points out, things go wrong more often when you look lost and you're distracted from your surroundings by trying to figure out where to go and what to do. "If you need to, stop into a café or somewhere you can sit and think for a minute," she suggests.
4. Sign up for a guided tour
While solo travel is great for allowing you to explore places at your own pace, it can be worthwhile to do a guided tour.
Group tours "add safety by providing you with a local guide who knows and understands the area," says Cassie Gonzalez, account manager at LEWIS who recently completed two solo backpacking trips in Central America. Group tours are also "another way to make friends with other solo travelers who share the same interests as you," she says.
5. Share your itinerary with someone back home
Just because you're traveling alone doesn't mean you shouldn't tell your friends and family back home where you'll be.
"One of the best things a solo female traveler can do is to make sure that someone knows your basic itinerary and knows how to get in touch with you in case of an emergency," says Stefanie Henne, owner and author of Open Road Odysseys.
She recommends making a list of the hotels, hostels, or places you're staying along with the addresses and contact numbers and leaving it with your family or a trusted friend. "You should also make a point to touch base with someone back home a couple of times during your trip and inform them of any changes to your itinerary," says Henne.
6. Download a safety app on your phone
Before you even head out, download a safety app on your phone.
"While most phones have software family and friends can use to track you, there are free apps that offer additional benefits such as a means to alert your friends you need assistance," says Alison Watta, creator and editor of Exploration Solo.
Some popular safety apps for travel include Smart Traveler, Noonlight, Cairn, and My SOS Family Emergency Alerts. "You should know how the app works before you need to use it," adds Watta.
7. Pack enough food and water for outdoor adventures
Doing something sporty and adventurous outside? Make sure you have enough food and water with you.
"You don't want to be in a situation where you're desperate for food or water and need to stop in a location you wouldn't normally stop in—somewhere isolated or somewhere with a strange vibe," says Candice Criscione, founder of Mom In Italy and The Tuscan Mom.
8. Trust your instincts
Above all, always go with your gut when you're traveling solo. You're your own best advocate, and your safety is more important than an experience, says Henne. 
"If you get an uneasy feeling about a person, a location, or a situation, trust your gut," she adds. "It is much better to leave the situation and know that you are safe than to stay and risk putting yourself in danger."
9. Enjoy the local workout classes
As Brett Larkin, founder and CEO of Uplifted Yoga and frequent traveler points out, many people forget to take care of themselves physically and mentally when traveling.
"Just because you're traveling doesn't mean you need to be on-the-go at all times," she says. "Travel fatigue can cause stress, exhaustion, and disorientation, which can make navigating a new environment very difficult."
If you have a consistent yoga practice or exercise routine you stick to at home, Larkin recommends figuring out a way to maintain that practice while traveling. "This could mean looking for local yoga or workout classes, which is actually a great tourist activity," she says.
10. Remember to have fun
"As important as it is to be safe, alert and aware, it's equally as important to not let potential safety anxiety ruin your trip," notes Samantha Hamilton, writer, creator, and photographer at New England Wanderlust. "While it's the sad truth that women are more of a target if traveling alone, the reality is it's unlikely that something will happen to you—especially if you've chosen a destination that's popular for female solo travelers."