Healthy Fast Food Options for Your Summer Road Trip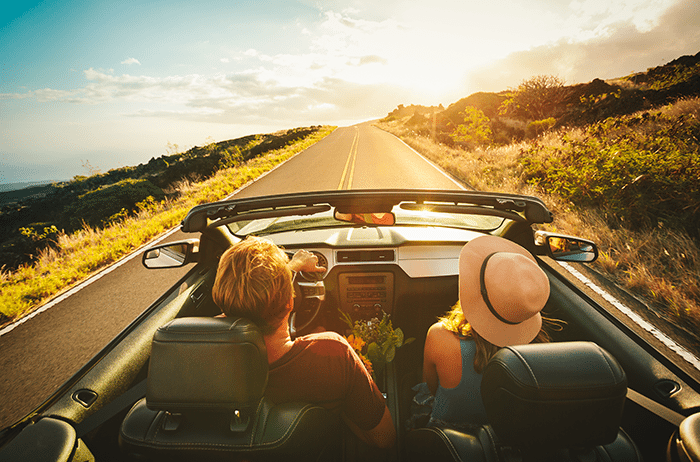 Ah, road trips. There's a certain romance and freedom to long-distance travel in an automobile. Just picture it: sunglasses on, barefeet on the dashboard, cruisin' with the windows down heading to wherever and getting there whenever. And with gas prices so low this past year, the idea of a road trip is ever more enticing.
As many of us can personally validate *raises hand*, travel often involves some questionable food decisions. Which is A-OKAY, but over time (and in the very confined space of a car) your nutrition choices can start to feel real ucky real fast. With that in mind, I've rounded up some of your healthy fast food options (or healthy-ish) across the country so you can cruise on without having to fret about the kcals.
First things first: pack snacks!
If you are anything like me, I should follow that up with this: … and include some healthy snack options, too. Pack a variety of healthy snacks to keep you fueled up in-between pit stops. Grab some high-protein options like Justin's nut butter packets or jerky to keep your hunger at bay and keep you alert (bonus points if you make the jerky yourself). Nuts, apples, dried fruit and carrots are easy to grab on-the-go and don't require you to tote a cooler along for the ride. Granola bars and energy bars are always helpful to have on hand incase hunger strikes (I'm a huge fan of Picky Bars and often have at least one on me in my work bag). Remember to bring plenty of water and stay hydrated. Sure, that might mean more potty breaks, but that also means more moments to stretch your legs out!
So what are my options?
I don't think pulling over to stuff your face in a parking lot under the golden arches was the stuff Steinbeck novels were made of, but it's the reality of our times. By all means, if you can eat at local places while on your trip – do it! However, it's not always realistic that the perfect mom-and-pop diner shows up on the side of the road at the opportune moment.
These are my top picks to help maintain a balance between *some* nutritional value and indulgence at the top fast food chains in the country:
McDonald's: The obvious choice here is the Southwest Salad, but let's be honest, once you smell McDonald's it's going to be hard to talk yourself down to accepting a salad as your meal choice. Opt for wraps or sandwiches with grilled chicken. Thanks to all-day breakfast, you can also snag an Egg McMuffin for 18g of protein and under 400 calories. Do take note that just because McDonald's brags that it is under 400 calories doesn't necessarily mean it's "good for you" – I mean, c'mon, a snack size Oreo McFlurry makes that list.
Starbucks: If you're on a roadtrip, you'll probably already be making some stops to fuel up on caffeine. Though you might not automatically think of Starbucks when you think of typical fast food chains, it is one of the most prevalent and widely accessible fast food chains in the US. Starbucks has recently revamped its food menu, and now offers some pretty great snack options (I'm a huge fan of their protein bistro box), lunch options (like their pre-made wraps and salads), and breakfast options (like the oatmeal or the egg white, spinach and feta wrap).
Subway: As much as the Food Inc. documentary makes me wish I was, I'm no vegetarian – but the veggie delite sandwich is my go-to at Subway. Why? It turns out, when you are packing so many veggies on a sandwich, you don't even miss the cold cuts. If you normally order a basic meat sandwich with veggies at Subway, trust me on this: try the Veggie Delite. Not only is it basically free (it's like $3 for a 6-inch sub), you can load up on healthy veggies and you won't even miss the meat – promise. Still don't want to give up the meat or need the protein? The oven roasted chicken is your next best option. Your best bread choices are "Omega 3" wheat bread, 9-grain wheat and honey oat, but I'd never blame you if you opted for the Italian herbs and cheese because it's straight-up delicious.
Jimmy Johns: This may come as no surprise, but the veggie sandwich may be #6 on the menu, but it's #1 in my heart. For an extra buck, you can grab the (extremely delicious) wheat bread instead of the traditional white bread. If you're really ready to take a healthy leap, order the unwich version and get your sandwich served in-between lettuce instead of two slides of bread. If you're craving something salty, ask for a pickle instead of chips.
Burger King: The BK lounge now offers veggie burgers, which serves as a great choice if you want to cut down on saturated fat that is prevalent in many of their other burger options. If veggie burgers aren't your thing, stick with grilled chicken options like the Tendergrill Chicken Sandwich. Like McDonald's, there are salads on the menu if you are up for it (and if you are, teach me your ways).
Taco Bell: Umm… maybe just go in and eat some hot sauce packets to hold you over until you find another option? JUST KIDDING – that applied to the *old* Taco Bell menu. The *new* Taco Bell menu (or *new* since I've been to Taco Bell and remembered the trip) boasts several better options like the Fresco Burrito Supreme and the Cantina Power Bowl.
Chipotle: Say "no" to and/or ask for less of: sour cream, cheese, and chips. Always say yes to guac, and yes you know that it's extra. Swap out white rice with brown rice OR ditch the rice completely and opt for double beans (but apologize in advance to your car co-habitants).
But what if I just really want a Big Mac/Animal-style fries/a large frosty?
Hey, you're on vacation. If you're good about nutrition and fitness most of the time, it's okay to indulge once in a while. It's not that big of a deal. Go ahead and get the fries with that.