Your West Hollywood Wellness Guide
As someone who has lived in Los Angeles for longer than I'd like to admit (fine, over a decade), many people ask me about the best neighborhood to stay in. If you're into wellness and fitness, there isn't a better option than West Hollywood. With more fitness studios, gyms, and spas with unique wellness offerings than you can imagine, it's the perfect place to relax and sweat. Better yet, if you want to see the city, you can always take a walk (it's super walkable) and track your steps. Here are some of the best gyms in West Hollywood and the wellness spots just waiting for you to discover them.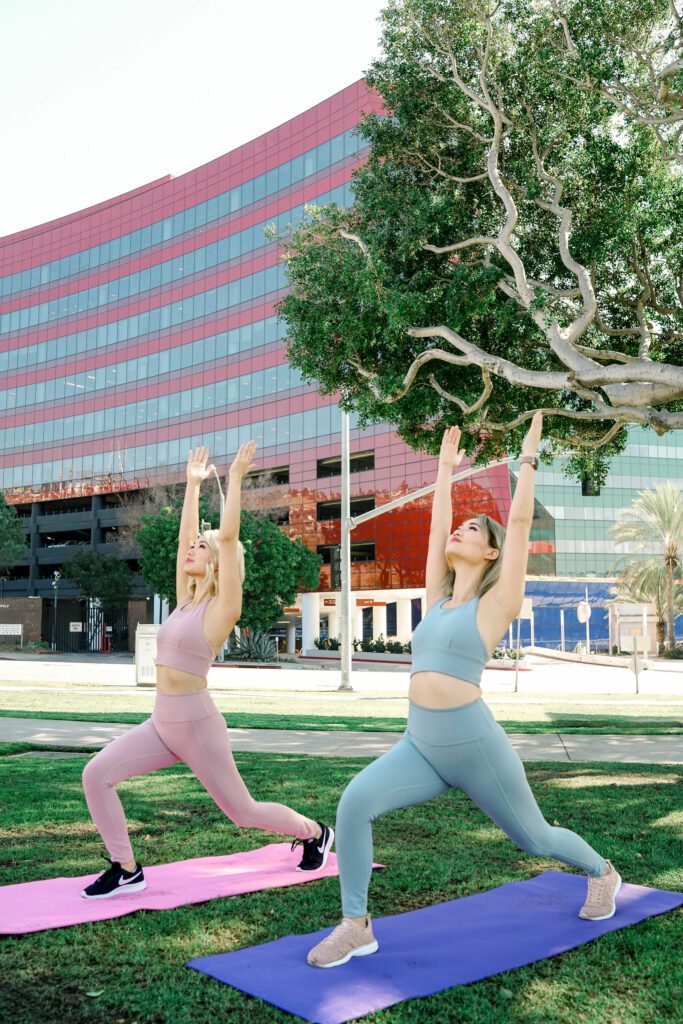 Where to Stay in West Hollywood
The 1 Hotel
If you're staying in West Hollywood, there isn't a more wellness-centered place than the 1 Hotel. Flooded with light, plants, and wood accents, even just entering the space is an instant mood booster. Located on the world-famous Sunset Strip, they offer beautiful rooms (who doesn't love that?), a chic setting, and a 24/7 state-of-the-art gym with personal training. There's also a pool ideal for both relaxing (and indulging in a few cocktails) and laps. Best of all, The 1 offers exceptional wellness activities, including yoga and sound healings. If you were wondering, there's nothing more West Hollywood than a group sound healing.
La Peer Hotel
The La Peer Hotel recently started offering a new amenity that caters uniquely to guests looking for an over-the-top LA experience— injections and IV treatments at the same time. It's the ultimate way to multi-task. Celebrity injector Rachelle Ramiro NP-C, Double Board-Certified Nurse Practitioner, who is known for her incredible work, will make everyone look like they're on the A-list. There are other great options on the menu including Vampire Facials (PRP), 24 plated Agua Gold Facial and Amino Shots.
Where to Work Out in West Hollywood
Platefit
I've been a member at Platefit for years and can personally attest to this being my favorite studio. Challenging, fun, and at approximately 30 minutes, incredibly efficient, there is nothing like Platefit. From Barre to HIIT, Abs and Arms, etc, each class is done on a vibrating plate that causes muscles to contract 30 to 50 times a second. It's a killer workout with great music and enthusiastic instructors. Each class tones muscles, increases endurance, metabolism, and fat loss. I've never found another studio that offers anything comparable to the Platefit workout.
F45-Weho
Love an intense workout to work up an appetite before you tackle those tacos? (Did we mention LA has equally awesome wellness and tacos offerings?) Then you will love F45, which has a location in West Hollywood. F45 offers functional training which is a mix of circuits and HIIT workouts. Pushups, weight lifting, spin, cardio— if you like it, it's probably incorporated into an F45 class. And if you don't, you're equally in luck, the circuit will be over before you know it.
Best of all, every 45-minute long workout is different, so it challenges your body like nothing else. This studio also attracts a variety of different types of people, so it's great for people watching and getting a vibe of what locals are really like in West Hollywood.
AKT
Don't miss AKT on your trip to West Hollywood. This newly-built studio offers different low-impact, high-intensity classes designed to tone, life, and improve strength, flexibility, and agility. It's a fun way to get pumped or to get your energy out after sitting in Los Angeles' notorious traffic. AKT offers four signature classes. Dance combines both dance and toning intervals. Bands combine bands suspended from the ceiling along with box training at intervals. Circuit mixes cardio and strength training circuits. There's even an intro class that's perfect for beginners and first-time studio guests.
Best Wellness Experiences in West Hollywood
FaceGym
Located inside the 1 Hotel, FaceGym offers facial "workouts" 'designed to clean, tone, and lift. Don't worry you won't have to do a thing, but just sit there and relax. You might even fall asleep. (I did.)
Unlike a typical facial with steam, extractions, etc, FaceGym's "Trainers" use a variety of special tools to massage and relax your face. It's a one-of-a-kind experience you can only find in a place like West Hollywood. From Signature Sculpt to Express and Cryo Medi Lift, it's impossible to choose the wrong one. You'll leave feeling like one of those smiling chihuahuas in memes and glowing like a supermodel.
Wonder what you're going to do when you get home? Don't worry. FaceGym sells its tools, skincare products and even offers online classes so you learn to massage your face at home.
Pause
Next door to Platefit is the newly opened Pause. This wellness studio offers a variety of treatments that aren't widely available outside of Los Angeles. One of their signature experiences is the Float Tank. Pause's tank has ten inches of body-temperature water that's therapeutically infused with 1000 pounds of healing Epsom salts. Each session is designed to help you relax and reduce sensory overload.
Another great treatment offered at Pause is the red light sauna. Red and infrared light has a multitude of benefits including relieving muscle soreness (so, it's a post-Platefit must)and chronic pain, accelerating recovery, and even improving skin and mental cognition.
In addition to these treatments, Pause offers cryotherapy, IV therapy (an instant hangover cure), and even a cold plunge pool.