We Need to Talk About Traveling as a Person With a Disability
On the surface, traveling as a person with a disability seems simple enough: plan ahead and request accommodations. But as anyone who's been in this position knows, it's anything but simple. And if you're traveling alone and at the mercy of often overworked and undertrained airport staff, traveling with a disability becomes an unwanted practice in patience.
Having not traveled for the last three years, I'd almost forgotten what traveling solo with a disability was like. Until, that is, I was thrown back into the chaos in May. Beneath the surface, traveling with a disability, especially alone, means facing the unspoken and often dehumanizing challenges regardless of preparations. Are you preparing to travel alone with a disability for the first time since the pandemic? Here are what challenges you might expect to face and the best advice to get to your destination safely.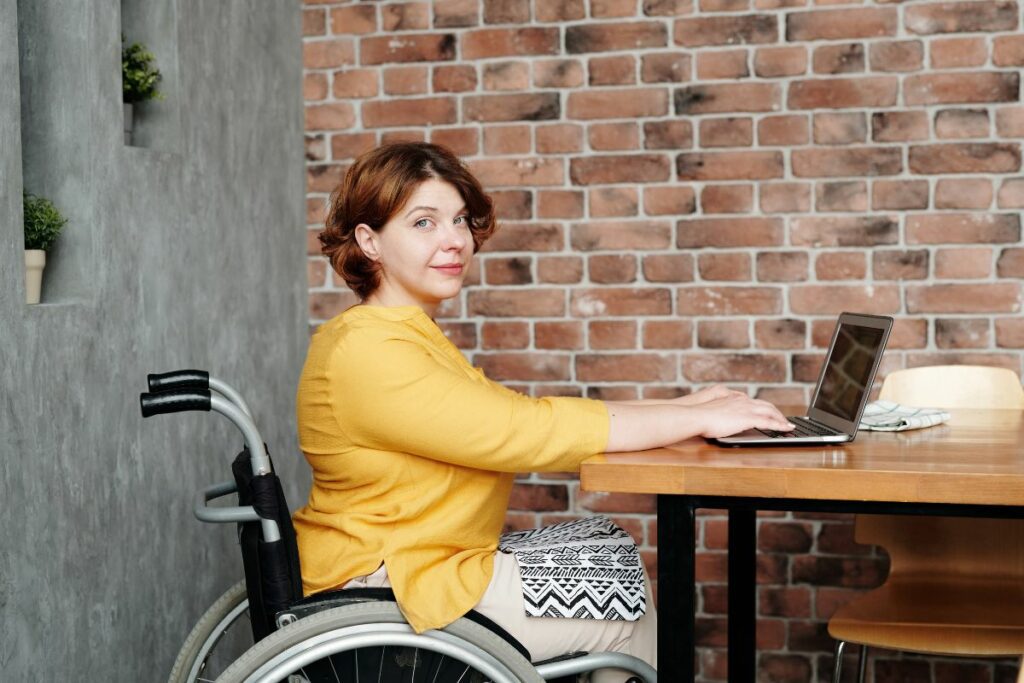 Challenges when traveling
Navigating the airport
It doesn't take long to realize that traveling is not exactly set up with people like me in mind. As someone with an invisible illness, I'm no stranger to feeling like I have to "prove" why I need assistance from time to time. From the minute you are dropped off at the airport, the journey to your plane seat is full of hurdles. Trying to balance a cane and your luggage while still quickly pulling out your documentation and boarding pass is challenging. I remember the first time I learned that I could request wheelchair assistance to help me on the long trek to and from my gate. I was relieved and grateful that I could minimize the toll it takes on my body to get there. However, I didn't realize the different challenges that came with it. 
Those who have to surrender their wheelchair – which, to many, is an extension of themselves – undergo a frustratingly frightening experience. They risk damage to their medical equipment anytime it's loaded onto the plane. Getting to the destination with a damaged wheelchair leaves the traveler to figure out a basic need: moving. 
Despite requesting wheelchair accommodations in advance, there's still a good chance it won't go according to plan. I've been on flights where I've had to stand for at least thirty minutes for a wheelchair and airport staff to arrive to help me get to my gate. When someone eventually arrives with a chair, I would be "parked" in a line along with other travelers who use wheelchairs, waiting for someone else to come and get me to my gate before my plane boards. It's disheartening to feel so out of control. I'm grateful that my TSA PreCheck helps reduce my time in security until it's time to go through the metal detector, where I pray I don't fall.
Once I've cleared security, I have to fight the urge to shrink and ask for an opportunity to go to the bathroom, especially on flights where I have a long layover. And when you're non-disabled, getting up and getting food is not a big deal. But it's easier said than done when you're dependent on others to get around.
I once made the mistake of not having enough food on me on a three-hour layover in Paris. My hunger pushed me to try with my cane and my carry-on (since leaving your luggage unattended is not an option) to slowly make my way to get food. I'd somehow managed to make it back to the gate with my carry-on and food intact, only to realize that the airline had changed the gate. Near tears, I asked the staff at the counter for help getting to the next gate. Their response? "It's not that far; it's just right there." In defeat, I continued to slowly walk what felt like a mile.
Getting on and off the plane
I often get extra time to board the plane. If I'm lucky, there's a wheelchair to help me trek down the ramp. But the ableism follows me into the air. When it's time to leave the plane, I usually have one of three experiences. If I'm lucky, there's already an airport attendant at the gate with a chair with my name on it. If I'm unlucky, I have to wait for the pre-requested chair to arrive, stuck on the plane long after the other passengers have left. In my really unlucky moments, I've been told to "just walk down the ramp, and someone will be there," only to watch the pilot and crew leave the area. I'm left to practically insist on confirmation that someone is coming to get me from a nearly abandoned gate, so I don't miss my connecting flight.
Being treated with respect
But my least favorite part about traveling as a person with a disability is being treated like I'm cargo and less of a person because I need assistance. On my most recent trip, a Delta/Air France staff member screamed at me for being in the Business line after being instructed to go there by another airport staff member to get my wheelchair. Annoyed that she was helping me, someone who was not in Business class, she snatched my boarding pass out of my hand. When she had difficulty hearing me, she screamed at me to "take off my stupid mask." Being immunocompromised, I politely refused. She continued to belittle me in front of everyone for trying to get wheelchair assistance. When the interaction was finally over, she sent me over to a bench and told me that someone would be by to help me. I waited over twenty minutes on that bench with tears in my eyes. Eventually, I made it to my flight due to the kindness of others.
I wish I could say that this is just one isolated travel experience. Instead, it's a compilation of the trips I've taken alone.
Tips for traveling with a disability
If you're reading this and are also a person with a disability, please don't be disheartened. Airport staff, who remember you're a person just like them, try their best to make your journey safe and accommodating. While we can never control everything, we can do our best to be prepared to handle what's thrown at us. Here are some suggestions to help you get to your destination (in the best shape and as safely as possible).
Plan, plan, plan.
When booking your flight, you should see an option to request accommodations. Contact the airline if you don't. Consider getting the TSA PreCheck if possible before your next trip. You can find the most up-to-date information here on traveling with a disability or medical condition. That way, you know what to expect during your security screening. If you are traveling abroad, visit travel.state.gov/destination and enter the name of a country or area to find information for travelers with disabilities in the Local Laws & Special Circumstances section. The best advice I've read is to consider your stamina and energy level when planning your trip. Prioritize nonstop flights when possible, or choose flights with generous layovers to recover between flights.
…and understand your options when it doesn't go as planned.
The Air Carrier Access Act (ACAA) makes it illegal for airlines to discriminate against passengers because of their disability. The Department of Transportation is responsible for enforcing the ACAA, which applies to all flights to, from, or within the United States. If you encounter any issues on your trip, you can contact the airline's Complaint Resolution Official (CRO) or a supervisor.
Get appropriate travel insurance.
I personally think you should always have travel insurance that includes medical, but it becomes essential when traveling with a disability. Carefully review the terms and conditions of your policy to decide which one best fits your needs.
Advocate for yourself
Remember that you are no less of a person because you require assistance to get to your destination. Speak up and advocate for yourself. If there's anyone who understands how challenging this can be when you want to shrink down, it's me. But fight that urge. You deserve respect regardless of what your body can and cannot do.