How to Properly Pack for a Picnic in the Park
July is National Picnic Month and if you are planning a picnic with family and friends because you aren't quite ready to host guests just yet (thank you COVID), consider heading to a local park for a picnic. Here are some healthy picnic snack ideas and a few helpful tips on how to pack a picnic.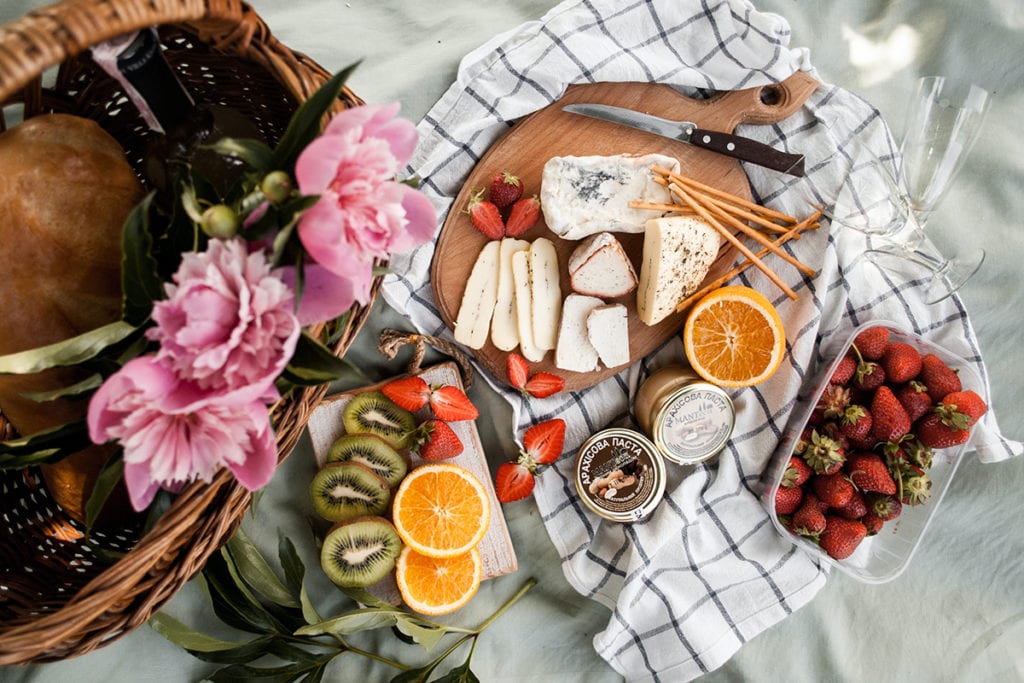 #1 Pick a picnic spot
When selecting the ultimate picnic spot, do some research to find the best picnic spots in your community. Talk to family, friends and neighbors to get their recommendations or check out your local park district website. Not located near a local park? Who says you can't have a picnic in your own backyard!
Although we all enjoy fun in the sun, take a break and seek some shade from time to time. Scout out a big tree and enjoy its shade to prevent heat exhaustion and sunburn.
#2 Plan a menu
To prevent any food safety concerns, pack a picnic that is largely based on foods that are safe to eat and enjoy at room temperature like chips, crackers, fresh fruit and vegetables from the local community farmers market, homemade hummus, jerky, nuts and seeds, popcorn, pretzels, trail mix, salads and sandwiches.
Don't forget beverages like plenty of water so your entire picnic party can stay well hydrated on those hot summer days. You can also get creative with some fun summertime mocktails for both adults and kids.
Chrissy Carroll, MPH, RD, LDN, ACSM-cPT and blogger at Snacking in Sneakers recommends planning portions accordingly too.
"Many times picnic foods may reach the temperature danger zone where bacteria will grow, so try to plan for just the right amount of foods that you'll eat. It's usually best not to save any perishable leftovers afterwards unless you're sure the leftover food was kept cold throughout the entire picnic."
#3 Pack accordingly
You can never be too prepared when picnicking, so be sure to pack extra utensils, like forks, knives, napkins and spoons. Pack picnic essentials in easy to carry bags, too.
Jessica Braider, CEO of The Scramble, recommends ditching the traditional picnic basket entirely.
"Forget the cute picnic baskets. They are difficult to carry; instead opt for a good backpack or a cooler bag."
Don't forget items like bug spray, extra sunblock and fun activities like a Frisbee or football for a fun game of catch.
#4 Something sweet
Don't get weighed down by heavy dessert dishes. Instead, keep things light with frozen fruit like berries and grapes or fresh apple slices with a delicious dip. Enjoy a summertime favorite like fresh farmers market cherries or watermelon slices. Yum!
#5 Storing cold foods
After preparing any picnic beverages and foods you wish to serve cold, let them cool to room temperature before storing in your refrigerator. When you're ready to head out to your prime picnic spot, place ice packs at the bottom of your cooler before placing your food and beverages on top. Be sure to keep the cooler lid closed when it's not in use to keep the inside as cool as possible and store in a shady location out of the sun.
Keep cold food at 40 degrees Fahrenheit or cooler. Keep fresh produce, already prepared foods, and raw foods separate to prevent cross-contamination.
#6 Storing frozen foods
If you wish to bring frozen food and treats to your summer picnic, it is possible with the help of dry ice. Dry ice will keep frozen foods frozen for up to 24 hours. However, dry ice cannot be handled with bare skin, so be sure to wear gloves when handling it. Most dry ice comes wrapped in plastic bags, but it's still best to wear gloves, just in case.
#7 Storing hot foods
If you wish to serve a hot dish at your picnic and your picnic spot is close to home, simply bring your dish to a simmer right before leaving the house and be sure to serve it within one hour. If your picnic spot is a little farther away, transport it in an insulated cooler. Be sure to line the top and bottom of the cooler with kitchen cloths or towels as any open-air space will quickly dissipate heat. Hot beverages or soups can easily be stored in wide mouth thermoses for hours.
#8 Clean up
Keep the picnic clean up easy by packing a low-waste and/or plastic free picnic. By utilizing reusable cups, plates, napkins and silverware, you can greatly reduce any picnic waste. However, you should still come prepared with bags to collect compost, garbage and recycling.
Practice these eight tips when preparing for your next summertime picnic and your outdoor event is sure to be a success.