How Fleet Feet's FIT ID Process Brings Data—and Community—to Your Run
This post was written in partnership with Fleet Feet Sports. As always, we only write about products, brands, and services we truly love. Thanks for your support!
Have you ever picked a pair of running shoes based on looks alone? That was me, eight years ago, when I was first becoming a regular runner. I had no idea what went into getting fitted for running shoes or how to choose something that supported my feet correctly, and so I did what any newbie does: I went for the pair I thought was prettiest, a super lightweight neon mash-up of fluorescent pink, highlighter yellow, and electric blue. I loved them—until I started having agonizing heel pain and realized the minimal support shoes had given me a stress fracture in my heel.
I'm not alone. According to John Moloznik, Senior Vice President of Sales and Marketing at Fleet Feet, most people choose shoes based on aesthetics.
"At each of our retail locations, we have about 85 different unique shoes per gender— it's overwhelming!"
But with Fleet Feet's proprietary FIT ID process, store experts can guide shoppers towards a shoe that fits that customer's exact needs and gait. And even better? Shoppers can get a dose of the community Fleet Feet has built and is known for throughout the country.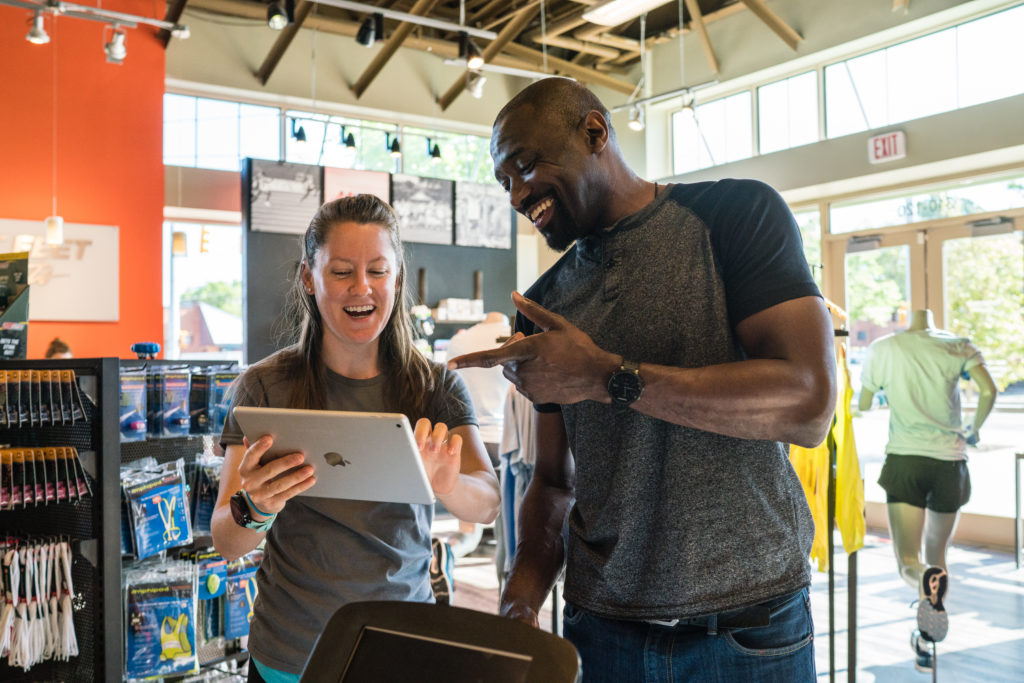 Here's what the FIT ID process looks like.
"FIT ID is a proprietary fit process that incorporates a 3D scanner along with a biomechanical assessment of an individual's walking and running form," explains Moloznik. "We're taking the digital data that we get from our 3D scanner and we're using that to help us determine the right stability, width, and size of shoes" for the shopper.
The 3D scanner takes a ton of data about your foot: foot length, width, height, instep, arch height, heel width, and ball width. And what makes the FIT ID process unique, Moloznik continues, is the data Fleet Feet has on how the shoes are fitting and the volume metrics of the footwear.
"Between the scan and the biomechanical assessment, we can ensure a much better fit for the shoes and better functionality for the customer."
Everybody's different, of course, with a unique running gait and a need for a certain level of stability in a shoe. Fleet Feet's fitting experts can use all the data they gather from the scan and then compare it to the millions of scans they already have and see how your feet stack up, giving them a lot of insight into the level of stability a customer needs for their shoes.
"We can actually tell you before you try the shoe on, the likelihood of how well it will fit, based on that information," Moloznik says.
Who should go through the shoe fitting process?
Contrary to what I first thought, the FIT ID process isn't just for runners. In addition, it's perfect for anyone who's gone through a major life change, like a pregnant or post-partum woman whose feet have changed during pregnancy, or someone coming off an injury (like Moloznik's 74-year-old father, who tore his Achilles and used the FIT ID process to gauge how his foot had changed after the injury and surgery).
But for runners specifically, Moloznik recommends coming in for a fit at the start of the training season and then again mid-season, to see if anything's changed.
And one thing runners might not realize is that even if their feet have stayed the same, the shoes themselves might have gone through some updates.
"Shoes change every year," he points out. "The updates need to fit you accurately."
The entire process is completely free, too, so customers are encouraged to get the scan as often as they want or need it. Moloznik recommends getting scanned annually or after major life events. If you're increasing your mileage or running frequency, you might want to come more often.
"The more you run, the more you flatten your foot out," Moloznik tells us. "We want to track the changes to your feet and make sure the fit stays consistent."
But you're getting more than a shoe fitting—you're getting a community.
Sure, the FIT ID process is a data-driven way to find your perfect sole-mate. But you're also opening yourself up to a much larger health and wellness community that Fleet Feet has worked hard to foster.
"That FIT ID process really is community built and driven," stresses Moloznik. "[In addition to the foot scan], it's also an interview process. We ask you what you're doing today, what your goals are, and how we can help you achieve those goals, whether they're fitness-related or recovery-related."
In sum, they're goal-getters and goal-supporters, just like our team at aSweatLife. And once they know what your goals are, they'll work overtime to help you achieve them by making the most of their community partners.
With a vast network of partners that Fleet Feet has screened and vetted, the in-store experts are equipped to refer shoppers to the perfect physical therapist, podiatrist, cryotherapy studio, or more. Even better, you will soon be able to log into Fleet Feet's website to see your scan, and then share it with your doctor, podiatrist, or physical therapist so they can gain insight on your foot, too.
And through the conversation with the in-store expert in the FIT process, Fleet Feet really gets to know the person and their goals and what aspects of the community might be the best fit for them.
"That whole journey starts on that fit bench… We take technology and a fit process and bring community into it, and that's when the most magic happens and we see the best results."
Here's what you can look forward to with FIT ID in the future.
Aside from finding your new best friends in a running group or joining a new community of health enthusiasts, Fleet Feet has a ton of cool things in the works for the FIT ID process.
For example, they'll soon be adding pressure plate technology to generate info about the weight exertion on the foot and which areas you're putting more weight on.
With that data, Moloznik explains, "we can then build custom insoles." And way down the line, they'll be able to use that data to make shoes custom built for you. Yup, you read that right—we're living in the future, folks.
"The process will continue to evolve," Moloznik shares. "It's set up as a smart system that can learn and have things added over time."