Getting Fitted For Running Shoes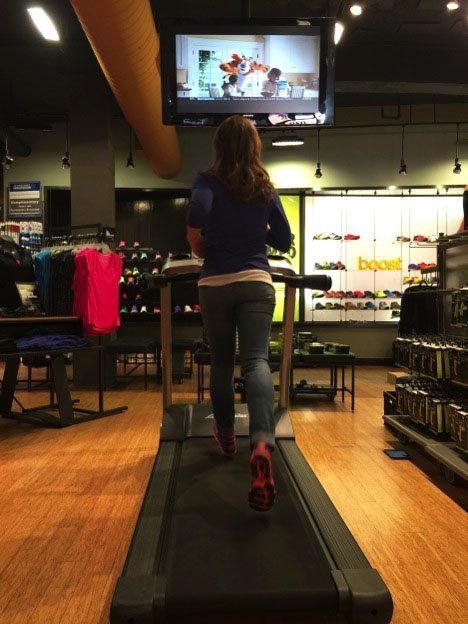 I learned about proper running shoes the hard way. When I started my running journey, all I knew was that athletic things needed to be done in athletic shoes. I pulled out an old pair of sneakers from my closet and started logging the miles.
It didn't take long for me to start getting shin splints and blisters that were the bane of my existence. I attributed these to the increase in my running mileage and the fact that I was just getting back into running itself. I tried every blister remedy imaginable, including rubbing vaseline on my feet to cut down on the friction. I invested in some pricy orthotics. I bought $20 socks. I never realized it could be my shoes.
During one of those desperate trips to the running store, I had an employee ask me if I had ever been fitted for running shoes. She explained that it was much more than just sizing your foot to make sure that you are in the right size. So I embarked on this incredible and life changing procedure.
They do size your feet. Your running shoes should usually be ½-1 size bigger than what you normally wear due to your feet expanding when you run.
Once your size is determined, they put you in a neutral shoe and it's time to hop on the treadmill.
A camera will record your gait as you jog on the treadmill. I have been to stores where you are able to watch the monitor in front of you or most recently at Fleet Feet you are taped with an iPad and shown the footage afterwards with all kinds of fancy lines and angles.
Your shoe fitting expert will review the footage with you and determine if you have one of three types of gaits: underpronation, neutral, or overpronation.
Based on your gait, shoes will be selected for you in the appropriate size (see #1).
For me, being properly fitted for shoes is a must. The first time I did it my blisters went away as well as my shin splints. Shoes are so important when running and if I ever start to notice an abnormal ache or pain, I immediately think about my shoes and when the last time was that I had them replaced.
I also try not to rely on last time's results. Every time I go in for a new pair of shoes I have them test me all over again. Maybe it's because I want everyone to look at me running on a treadmill in the middle of the store, but it may also be because as we age and grow our gaits can change. Even if I end up with the same "slight overpronation" diagnosis, I like to know that I am getting the most appropriate shoes for me.
The next time you are in the market for some new shoes, make sure you get fitted. Then you can be cool like me.