On-Demand Workouts Are Set to Become Even More Popular—Here's Why
Gone are the days when you had to schlep to a boutique fitness studio IRL to get a good workout. Now you can access even the trendiest of workout classes from the comfort of your own home.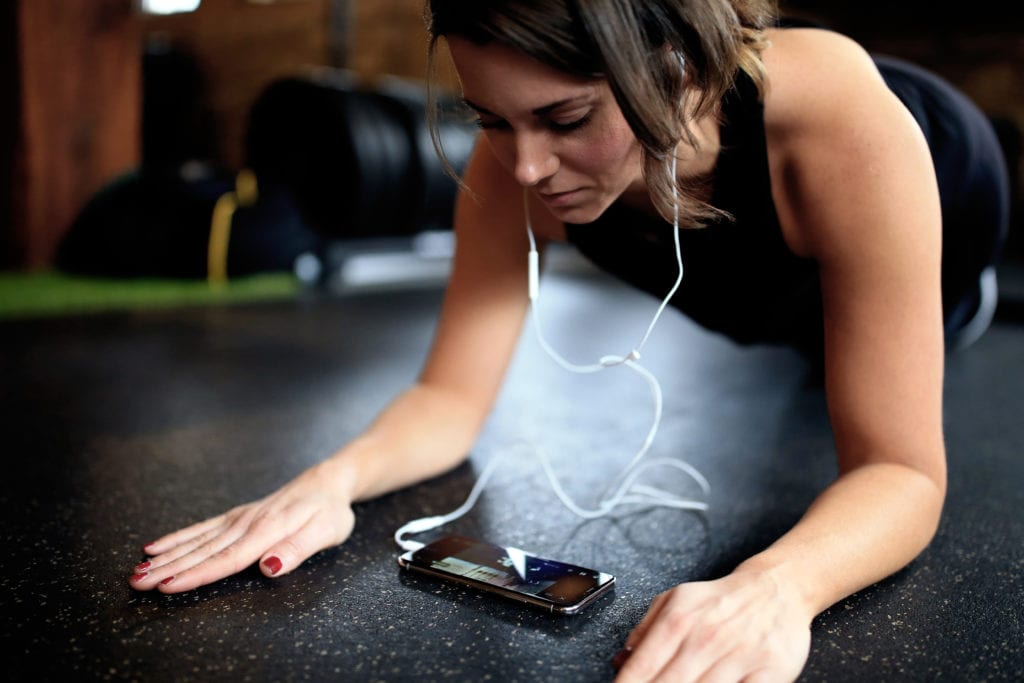 On-demand fitness classes are on the rise, with no signs of slowing down. Technogym, a company that develops wellness products and digital technologies reports that up to 48 million Americans are willing to use subscription fitness programs at home.
One of the main reasons why on-demand workout programs are such an enticing option is that they're often much less expensive than in-person boutique classes or gym memberships.
Take ClassPass Live, which launched in March 2018: It's $15 a month as a standalone service or $10 a month for existing ClassPass users who want it as an add-on. SweatWorking, a subscription-based fitness app (and the sister company to aSweatLife), costs $5 a month for up to five workouts or $15 for unlimited workouts. On-demand fitness platform Fortë charges $39 a month or $99 for an annual plan, both of which give you unlimited workouts. Aaptiv, meanwhile, offers unlimited audio-based instruction for $14.99 a month.
Whether you want to try barre, boxing, or yoga, any of the many platforms out there give you plenty of options, another major benefit, as most boutique studios specialize in one specific type of exercise routine.
Lauren Foundos, founder of Fortë, saw an opportunity to partner with boutique studios when she started her company in 2015. "I was at the right place at the right time," she says. Foundos points to the fact that 42 percent of Americans are members of fitness studios and the success of Peloton, which sells an indoor cycling bike that allows members to take live classes from home. (Peloton has sold more than 250,000 bikes.)
"I started talking to studios, and only some got it then — but now everyone is like, 'I need to be streaming,'" says Foundos. In general, more people than ever work out regularly these days, and the technology has evolved, adds Foundos, meaning it's easier than ever to deliver workouts to a continuously growing audience.
Streaming live workouts isn't necessarily meant to replace putting facetime in at your favorite boutique studio or neighborhood gym, though. Most industry experts say streaming classes are a nice complement to in-studio workouts. At SweatWorking, the team helps develop content with gyms and for them for a unique, holistic experience, explains Justin Cohen, co-founder and CEO of the app.
"It's great supplement to studio classes," he says. "We do believe that studio fitness and brick and mortar locations are here to stay."
Diana Mills, creative director of Les Mills, a leading group fitness brand, helped develop the Les Mills On Demand workout program and says that customers represent a mix of those who use the platform as in addition to their regular gym memberships and those who can't make it the gym or a studio. She hopes that on-demand fitness platforms like Les Mills will continue to provide a way for people all over the world to try classes they may not have had access to otherwise.
Mills also says that streaming a workout you're not familiar with at home can give you the confidence to then go into a studio and feel like you're, well, right at home. Cohen adds that streaming workouts are a great option when traveling since you can load one up and fit in some exercise right from your hotel room. "You're constantly able to stay connected," says Cohen.