This Is Why Boxing Is Becoming Such a Popular Workout Choice
These days, it seems like you can't walk down the street in a big city like New York or Los Angeles without coming across a boutique boxing studio like Rumble or Shadowbox.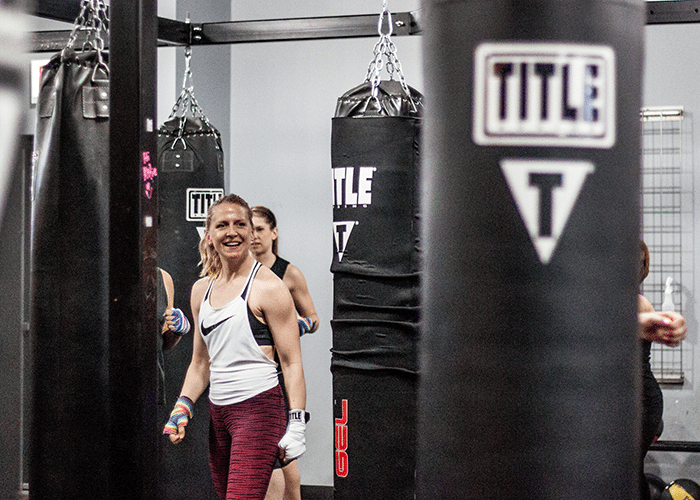 In general, boutique fitness studios are doing great business. Spynergy Consulting reports that boutique fitness studios added new locations at a rate of 450 percent per year between 2010 and 2014, while the International Health, Racquet and Sportsclub Association notes that participation in boutique fitness studios doubled from 21 percent in 2013 to 42 percent in 2014.
Shadowbox, which currently operates one location in New York City, plans to open another studio there while also expanding to Chicago, LA, Austin, and Dallas, reports Forbes. The chain, which first opened its doors in New York in 2015, made $3 million in revenue in 2017.
Boxing used to be the black sheep of the fitness world in a way, Christa DiPaolo, co-creator of The Cut™ and the Cut Jump Rope™ by Equinox and creator of Boxing & Bubbles, explains. In 1998, when Cary Williams, CEO of Boxing & Barbells, opened her first boxing gym, she wanted to be a pioneer because back then, "you either went to a boxing gym and were a fighter or you did Tae Bo," she says. "There was no in-between."
Boxing was viewed as a male dominated sport up until a few years ago, says DiPaolo, but women in particular are the ones who are flocking to boxing studios in droves these days. As reported in Forbes, more than 65 percent of Shadowbox's customers are women. One of the biggest factors to spark women's interest in boxing: models like Adriana Lima and Karlie Kloss, who've posted photos and videos on Instagram of themselves doing the workout, says DiPaolo.
Another reason: Boutique studios have taken away the intimidation aspect. "I think some of the main reasons why boxing has seen an explosion in popularity is because a lot of boutique studios made it more tangible and less intimidating," adds Mary Onyango, Aaptiv trainer. "They've added music, lights and fun and took the seriousness out of it." Gone are the days that boxing was a sport only for professional fighters, says Onyango. It's now something people of all age groups and fitness levels can participate in.
"I do believe the setup is key to mass appeal starting with the music first—it immediately stimulates the mind, followed by the type of lights—which gets the senses going," says Onyango. The trendiest boxing studios feel like SoulCycle (think: dimly-lit rooms as opposed to bright lights where everything can be seen, says Onyango). These studios also hire instructors who have rockstar-like personalities that make people want to come back and feel less intimidated about the workout, says DiPaolo.  
Even online boxing classes are increasing in popularity. Onyango notes that customers of Aaptiv (an online workout platform) are clamoring for boxing workouts.
The benefits of boxing are legit, which is also what keeps people coming back, whether that's at a studio or from the comfort of their own home. After all, boxing classes are expensive (some studios charge more than $30 a pop!), so even the trendiest locale would lose business if customers didn't see results.
Williams says that boxing's benefits are twofold. First, there's the physical transformation you'll notice. Boxing is heavy on cardio, which means you'll lose weight, and a focus on proper technique will also give you a toned look, says Williams. "You'll see muscle toning, especially with your abs, if you're taught properly," she says.
Beyond the physical, though, there's the mental strength that comes from boxing. "You have to use your mind to make things work in class," says Williams. "You're no longer thinking about the project you have to go home and deal with—you're thinking about what's right in front of you."
Boxing is also a major stress reliever, adds Williams, and it can feel empowering to finally master a move (like throwing a jab) that you've been working on in class. "It seems small, but it's not," she says. The biggest thing mentally is that boxing really boosts your confidence, says DiPaolo.
"You feel like a badass," she says. And that's reason enough to visit your local studio.
Let us know!
Did this post help you get closer to achieving one of your goals?