All the Perks to Get Excited For During #SweatworkingWeek January 14-19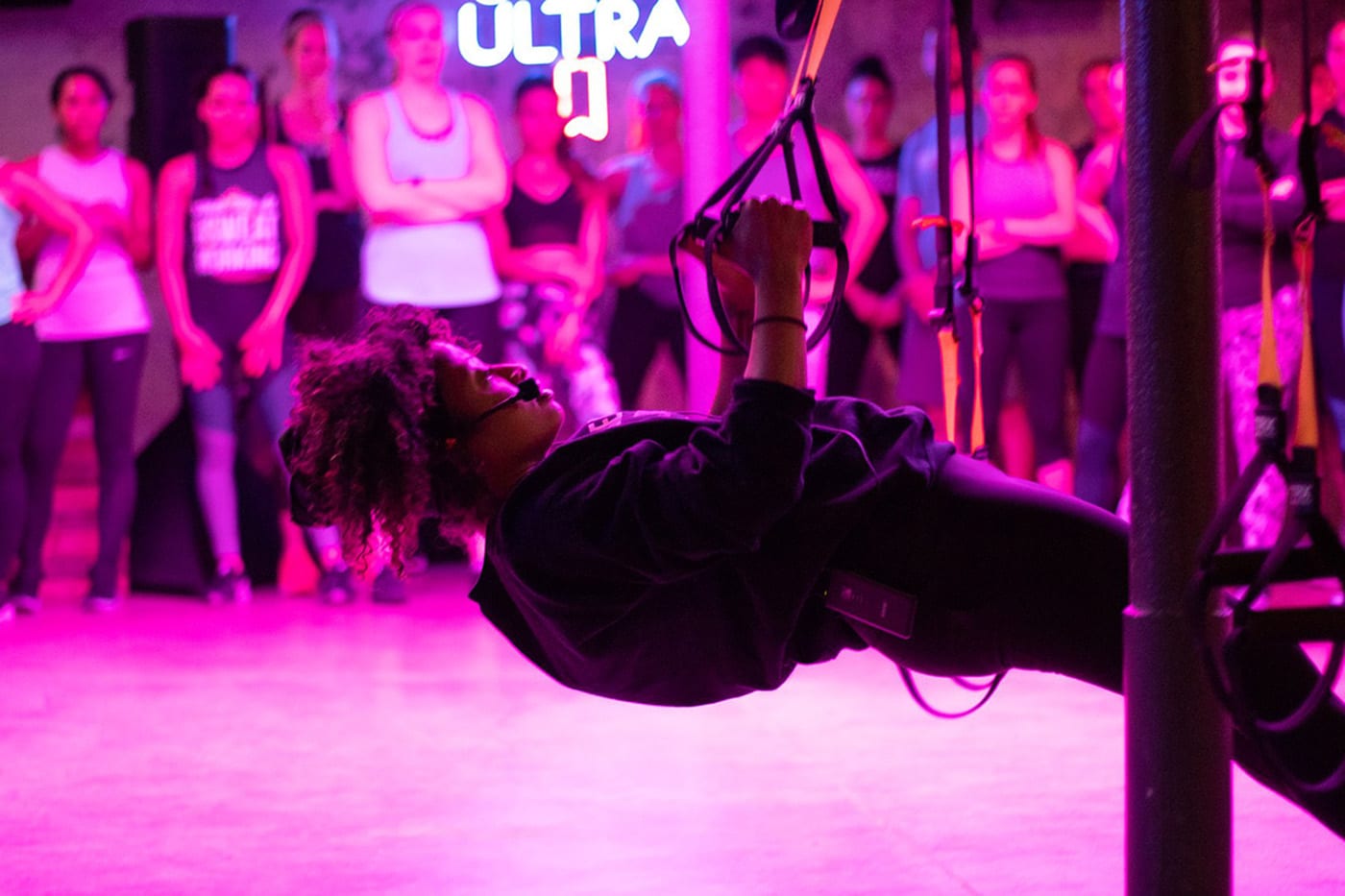 (Browse the whole schedule and get tickets to #SweatworkingWeek Presented by Michelob ULTRA now.)
The first year we hosted #SweatworkingWeek, we managed to host three workouts every day for a whole week across the city of Chicago at gyms and studios we knew and loved. By the end of the week, we were plum exhausted and we thought, how could we possibly top ourselves again?
Little did we know, we'd be picking up partners and manpower little by little to blow #SweatworkingWeek one out of the water in ways we couldn't have imagined. And now, six seasons of #SweatworkingWeek later, we're so used to going big or going home (and believe us, we're just about everywhere but in our homes during this bi-annual restaurant week for fitness), we need a megaphone to shout from the mountaintops what you can expect throughout the week and just how good the goodies are.
Enough of the fluff, let's get to the nitty gritty details. What can you expect from each of our partners during #SweatworkingWeek Presented by Michelob ULTRA, happening January 14-19?
Grab a pen to take notes, friends, because you're going to want to remember all of this.
A celebration partner to help us remember why balance is the key to happiness throughout the whole sha-bang
Michelob ULTRA will be providing happy hours throughout the week as well as one long happiness-filled morning and afternoon at the #SweatworkingWeek Fitness Festival. You don't want to miss out on anything they have planned that will keep the #Sweatworking party going from January 14 all the way through January 19.
Expect happy hours in different locations around the city close to our workouts on the schedule during the week, and beer-mosas and more from our partners at Thalia Hall all morning and afternoon, Saturday, January 19.
Join us for a toast or two throughout the week to celebrate your accomplishments, keep making new friends you met while in your workouts, and hear about what other events and workouts fellow #SweatworkingWeek attendees are taking on during our favorite week of the year.
And remember, if you're DTMF (down to make friends) on Saturday at the fit fest without the workouts to accompany it, grab a $5 ticket here to hang out with us all afternoon (one complimentary Michelob ULTRA is included for our friends over 21)!
Breakfast or lunch at the following events:
Monday's sold out lunch-and-learn presented by CLIF
You'll hear from a panel of speakers in the wellness industry about equity and inclusion in the fitness and wellness industry, and how we can all make a measurable impact. You'll also see CLIF bars all week and surprise appearances at the #SweatworkingWeek Fitness Festival.
Cooked Chicago will be at TechNexus providing delicious, ready-to-eat meals with either veggie, paleo or pescatarian options. Nom!
Get on the wait list for the lunch-and-learn here.
Tuesday morning at The Space Between
At this new, cozy yoga studio in River North, Foxtrot will be on-site offering mini breakfast samples and delightful treats to start your day off on the most joyous note post-savasana.
Sign up for the 6 am class at The Space Between here. Sign up for the 7:15 am class at The Space Between here.
Tuesday afternoon at Left Coast (in the Loop)
Join us in the new Left Coast location at 12:30 pm on Tuesday afternoon for a lunch where we'll talk about the importance of eating locally as well as share quick tips/tricks on how to make good-for-you food that isn't bland. Lunch will be provided by Left Coast, featuring a few ingredients from local farmers.
Grab your ticket to lunch here.
Wednesday morning at evolveHer for a breakfast-and-learn
In one of our favorite spots in the city, we're getting cozy Wednesday morning January 16 for a breakfast-and-learn centered on optimism. The conversation is reason enough to show up, but Food by Fare will be there with the most delicious breakfast bar of to-go items, coffees and juices to sample, making it a morning you won't even need an alarm to get out of bed for.
Get on the wait list for breakfast with Fare and aSweatLife right here.
Thursday afternoon's #TrainersConnect at RUNAWAY
If you're a fitness professional in Chicago, stay up to date with each monthly #TrainersConnect event we host. This special workout-and-workshop combo happens to fall during #SweatworkingWeek. Yoga instructors, group fitness teachers, and personal trainers alike are invited to RUNAWAY for a workout and a workshop on injury prevention, all punctuated by delicious lunches from Cooked Chicago.
Trainers will also walk away with a 6-pack of Après. This plant-based protein drink will keep you fueled post-workout or between classes and client sessions.
Come to #TrainersConnect by snagging your ticket here.
Friday afternoon's lunch-and-learn at the World of Whirlpool
Meet us just across the river from the Loop during your lunch hour on Friday 1/18. Chef Alia Dalal will impart her culinary genius on all of us and help us cook healthier, faster, even with an added plant-based twist.
Join the waitlist for this lunch-and-learn here.
Post-workout fuel and MORE for after your workouts
CLIF and LUNA
This entire week is inspired by adventure right at home, and we can't think of a better partner and friend to have with us along for the journey. With the help of CLIF and LUNA bars for fuel before and after the early mornings and late evenings all week long, you won't have to worry about missing out on any part of the adventure of this week.
Unicreamer
This fun-loving, plant-based coffee creamer is the official sponsor of coffee for #SweatworkingWeek. You'll have hot and ready coffee at the sessions before sunrise paired with this 100-percent-vegan, Non-GMO coffee creamer that blends like a dream. Swoon.
RXBar Nut Butters
At all of our evening sessions and into the #SweatworkingWeek fitness festival, you'll find single-serve packets of RXBar nut butter. These creamy nut butters are delicious and decadent – melting in your mouth and made of real, simple ingredients.
Gotham Greens
You'll see Gotham Greens throughout the week, including in the evening Thursday at Runaway, They'll deliver fresh-grown, local greens straight out of their urban greenhouse facility.
Outdoor Voices
Our friends from Outdoor Voices will be on site on Monday morning at LIFT Chicago at 6 and 7:15 am, and OV swag bags await you after the Monday night workout at Chicago Primal Gym.
Get on the wait list for a workout at LIFT at 6 am or 7:15 am.
Get your ticket to Chicago Primal Gym, Monday at 7 pm.
Outdoor Voices will also be providing hats and totes to the SHRED415 and iO improv workshop on Friday night, January 18! It was already a one-of-a-kind workout and experience, but walking away with a sweet #doingthings bag? Now that sounds like a slam dunk.
All the post-workout recovery you could ever need
Delos Therapy
Your muscles won't know how to repay you for giving them the (hard) love they need from Delos Therapy technicians on site after all the workouts during the week. Hop on the table if you see it open as you're mingling post-sweat, you're not going to want to miss out on the opportunity for the recovery that Delos Therapy can provide. And you'll have a chance to meet them all week long, so you've got a few shots at scoring some time on the coveted therapy tables.
You'll see Delos Therapy helping to relieve your aching muscles each evening. But you'll also see them in a different light Friday morning for our workout with Vixen at SPiN Chicago – the premiere table tennis venue. If you didn't already know, the two co-founders of Delos are basically ping pong champions of the world (seriously, they met playing competitive table tennis as kids. One of them is in the Ping Pong Hall of Fame, both of them have drop shots that will get you every time.)
Sign up for any evening session and get your butt to SPiN.
Hyperice tools
We're turning recovery up to 11 all week by traveling with Hyperice Vypers and Spheres everywhere we go. Learn about vibration technology and how it aids in recovery here, or listen to the CEO of Hyperice, Jim Huether, on the #WeGotGoals podcast. We're. Then, stick around post-workout throughout the week and during the fitness festival to try it out for yourself.
NormaTec Recovery Boots
aSweatLife's Mobile Command Center is riding deep this week with even more recovery elements to help you stay fresh all week. We're setting up NormaTec Recovery boots after X workouts, so mark your calendars to come early and stay late to score a spot in these bad boys.
REVITALAB local cryotherapy
At the fitness festival on Saturday, January 19, REVITALAB will show you what it means to feel like a brand new person after a sweaty workout through the use of local cryotherapy. They'll be on site all morning and afternoon during the Fit Fest, but we don't recommend lolly-gagging around for spot with this machine. You'll thank us later.
West Town Physical Therapy
Answering your injury questions, you'll find the owner and head physical Therapist from West Town Physical Therapy, Erin Conroy. Erin will be answering questions directly from trainers at #TrainersConnect Thursday, and she'll help you have the strongest 2019 with injury and movement screenings.
Gaan+Co.
Gaan+Co. was established to offer on-the-go solutions for travelers, families, festival goers, active consumers like hikers, skiers, gym goers, and everyone in between. To help you embrace your everyday adventure, you'll see these ultra-convenient deodorant wipes at sessions throughout the week including Tuesday morning at 6:00 am or 7:15 am at The Space Between and On Your Mark West Side Wednesday evening at 6 pm.
An even bigger finish to an already XL-sized monster of a week at the fitness festival
At the closing festival to the week, labeling it a "fitness" fest doesn't quite seem to do it justice. At this experiential pop-up, you'll get to know some of our favorite health and wellness brands and partners local to Chicago and from all over the country in new ways.
Expect a sampling of the huge array of products they offer, from probiotics to recovery beverages, vitamins to natural supplements. You'll have access to experts on site to answer all your supplement questions and hear how they stay at the cutting edge of health, wellness and holistic nutrition.
We've been in love with Lifeway Kefir as a delicious snack for a long time, but when we heard CEO Julie Smolyansky's story on the #WeGotGoals podcast about trusting her gut in launching the business that is now wildly successful, we'll jump at any chance to have the Lifeway team a part of what we're doing. Experience Lifeway in entirely new ways at the Fit Fest on Saturday.
The most delicious post-workout shake we've ever tried is setting up shop to offer you sample shots of Aprés' most delectable flavors. We can't wait for you to keep the party going with us after the workouts and truly own your after with the help of this recovery drink.
Smoothie bowls? Smoothie bowls.
We had so much fun teaming up with Graze and RXBar last year to bring to life the most memorable smoothie concoction we've tried to date, we're bringing them back to the #SweatworkingWeek Fit Fest. We dare you to try to make a better smoothie than what you'll try here, or find a better pair to go with it than RXBar's nut butter flavors like vanilla bean and maple almond.
Foxtrot Delivery Market
Before she had Foxtrot, Director of Community Maggie Umberger remembers Googling "HaloTop delivery" far too many times to no avail. With the expansion of the market that has literally everything you'd ever crave, it's now at your fingertips. Try some of Foxtrot's healthy snack options and get to know the brand that also saves us from ourselves when there's no more ice cream left in the freezer and dessert feels like an absolute must. 
Would it even be a fitness festival without badass boxer braids to Instagram your time there? We don't want to find out. We've loved Glowout's founder, Jenn Dieas forever, and we can't wait to have the Glowout team on site making us all feel like the bosses we are pre- and post-workout.
Independently Driven
This local brand makes non-slip headbands that work as hard as you do. You'll see these near the brands by Glowout in the balcony at Thalia Hall where you'll be lucky enough to meet the founder.
Hyperice
Get ready for an entire station dedicated to Hyperice all day at Thalia Hall. We're pretty sure it'll be the first time this high-tech recovery system makes it into one of the most historic venues in Chicago, but we're not mad about it. Experience the culture of the city while you mobilize, roll out and recover from your workouts all in one place.
NormaTec
What's better than a balcony view of Thalia Hall with some of the most innovative workouts this city's seen? Watching it all go down while wearing NormaTec Recovery boots. Grab a beer-mosa and set up for the most interesting recovery session you'll ever sign up for. A beer-mosa you say? More on that below…
REVITALAB local cryotherapy
At the fitness festival on Saturday, January 19, REVITALAB will show you what it means to feel like a brand new person after a sweaty workout through the use of local cryotherapy. They'll be on site all morning and afternoon during the Fit Fest, but we don't recommend lolly-gagging around for spot with this machine. You'll thank us later.
Casper
This bed-in-a-box brand has a lot to offer outside of the … well, the box. They have beds for your best dog buddy, linens and the comfiest pillows you've ever seen. At the Fit Fest, you'll have a chance to experience this comfort AND chances to win!
Did you read all the way to the bottom? Follow us and send us a DM on Instagram to get one 50-percent off ticket.