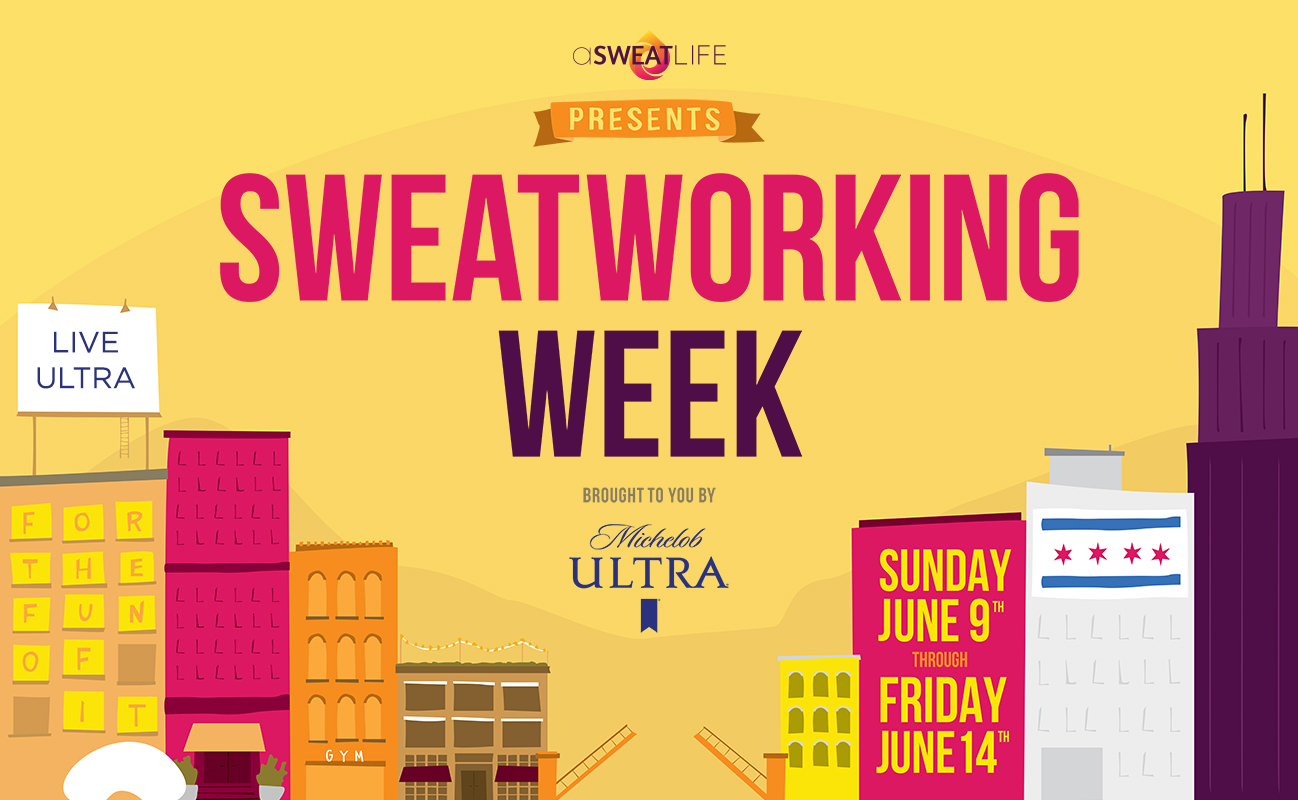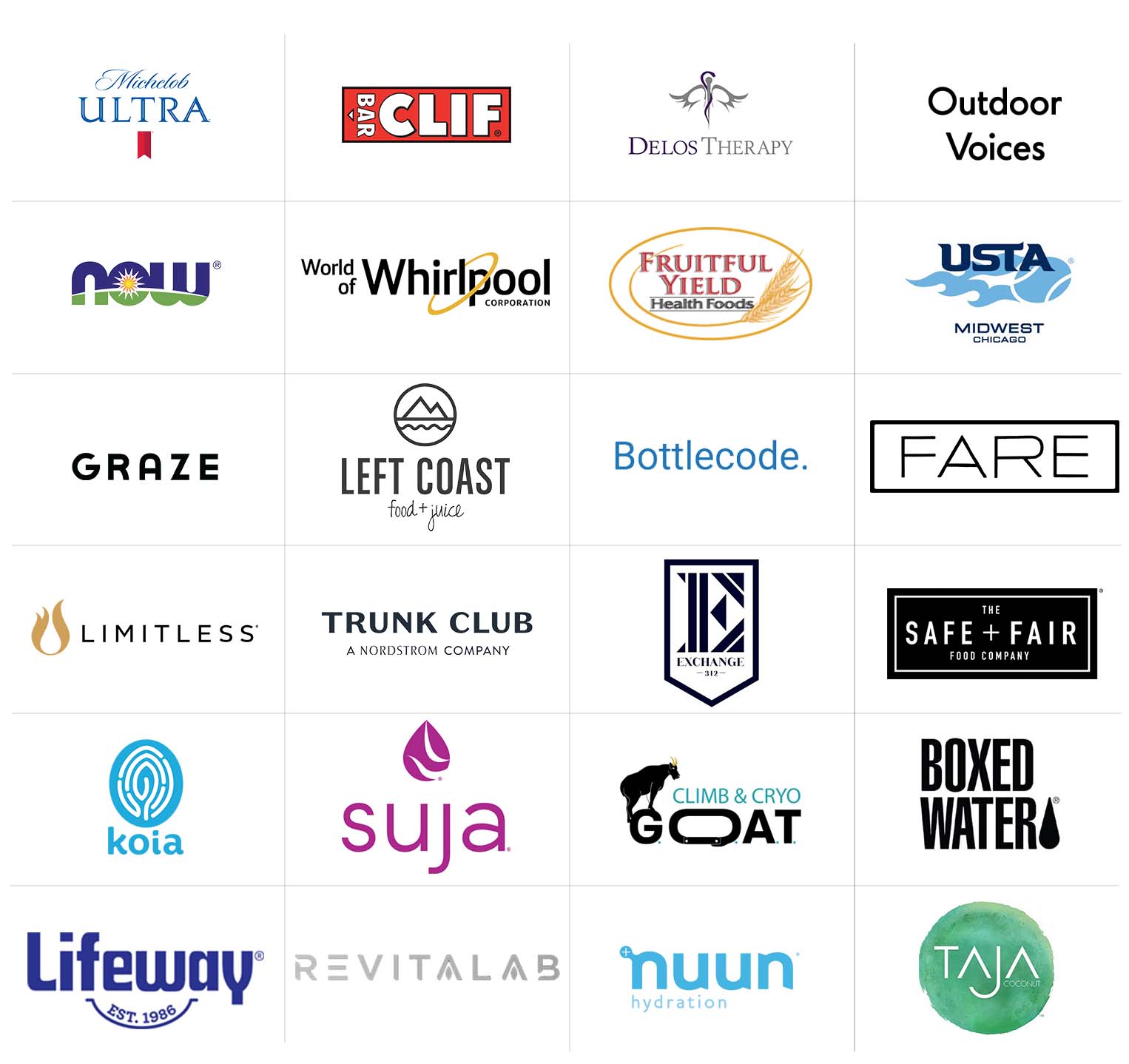 Way back when Jeana first started this little place on the Internet, it was a way for her to escape her monotonous workout routine. In her own words, she was "bored senseless," and so she began her hunt for different gyms and studios around Chicago that made her remember the joy of moving her body, getting in a good sweat, and connecting with other gym-goers over that post-workout endorphin high.
As we started brainstorming the seventh edition of #SweatworkingWeek, we wanted to reconnect to those roots: trying new things, yes, but more importantly, seeking out FUN ways to move. And so, we set out to plan this June 2019 #SweatworkingWeek around the theme of "for the FUN of it." We actively sought out workouts that don't necessarily feel like workouts when you're doing them (hi, tennis social), or recreational activities that are so fun, you don't even notice how much you're sweating (like, say, a morning of Rollerblading). If the thought of a workout didn't make us smile, it didn't make the final cut.
Of course, we'll still embrace the "try something new" aspect of #Sweatworking by bringing you studios that have *never* been a part of #Sweatworking before—heck, even studios that are brand-new to Chicago. You'll be among the first in Chicago to try Shadowbox and GOAT Climb + Cryo, and we'll take on Ethos Training Systems in a morning workout sure to rev you up.
Speaking of trying something new, we're kicking off #SweatworkingWeek in a totally fresh way: the nationwide Better with Friends 5K hike. In Chicago, we'll be heading to the Morton Arboretum, and our national Ambassadors in Austin, Denver, Los Angeles, and New York will be leading hikes too (see below for details!).
Finally, we're doing things BIG on Monday morning to give you ALL of the #Sweatworking options. Our Ambassadors are taking the reins for the day and hosting their own satellite #Sweatworking events at various studios around Chicago—from Bracey Performance to ENRGi and everywhere in between. Team aSweatLife will be at Exchange312 with FREE MVMT leading the charge, but if you want to try something different or another #Sweatworking event is a better pre-work option for you, now you'll have the freedom to choose that!
To celebrate the funnest (yes, we're using that word now) #SweatworkingWeek ever, we're ending the week with a Friday night pep rally bash. Is a marching band involved? There's only one way for you to find out.
Throughout it all, our friends at Michelob ULTRA will be on hand to keep the fun going, for happy hours, swag, and of course, that post-sweat "cheers" we've come to associate with a major endorphin high.
Ready to see everything we have to offer? Explore our daily schedule below for #SweatworkingWeek June 9-14!
The schedule!

Better with Friends 5K Hike: Chicago, Los Angeles, New York, Denver, Austin
Start the week off the best way we know how—meeting new friends and enjoying the benefits of moving outside. On Sunday, June 9, we're kicking off #SweatworkingWeek with the Better with Friends 5K Hike, bringing communities together across five cities to make movement fun.
Our Ambassadors in Chicago, Los Angeles, New York, Denver, and Austin will lead you and all your friends (new and old) on a 5K hike to enjoy the benefits of moving outdoors and spending time with friends. This event emphasizes the FUN we find in moving our bodies daily. You'll end the hike with an epic Sunday Funday at a hip location, and a brag-worthy goody bag filled with gifts from Koia, Suja, Boxed Water, and CLIF. In Chicago, we'll enjoy our happiest hour with Michelob ULTRA in hand.

Satellite #Sweatworking Events across Chicago, varying times
One of the happiest problems we have with each #SweatworkingWeek is narrowing down the gyms we include in our schedule; although we'd gladly ask every gym in the city to participate, we recognize that the human body (and our #Sweatworking attendees) can only take on so much.
But, we loved the idea of giving you more options than ever for your Monday morning workout. That's why we're dispersing our Ambassadors to lead their own satellite #SweatworkingWeek events across the city of Chicago. You can choose where and how you want to sweat with us, and no matter where you end up, you'll get a great workout in and you'll make a new friend.
Here's where we'll be on Monday morning—click the link for specific details on each workout.
[solidcore] Wicker Park (5-6 am): Prepare to meet [sweatlana], the tried and true machine of each [solidcore] class. You'll get a high-intensity, low-impact, slow & controlled workout where each move has the foundation of a plank, squat, or lunge, with a plethora of variations to help strengthen your entire body. 

And for all you early workout warriors, this 5 am time slot is for YOU. We promise this is one 50-minute workout you will be so proud of yourself for waking up for.

Free Mvmt Shop Dance pop-up at Exchange312 (6:30-7:30 am in Wicker Park):

There is no more fun way to start your morning that to spend it with Ashley Rockwood, founder of Free Mvmt Shop, just trust us. She'll have you moving and grooving, sweating your face off and laughing the entire time before you head into work. We dare you not have the best week ever if you start it with aSweatLife and Free Mvmt Shop. Grab your tickets here.

Bracey Performance (6:30-7:30 am in West Town):

You'll experience the signature group class, Athlete Strength Training, which will involve a mix of sets on machines in a circuit basis as well as athletic conditioning drills. Read all the details about this workout and Bracey Performance here.

ENRGi Fitness (6:30 – 7:30 am in River North):

Take on one of the signature workouts from this staple downtown group training studio, S.W.A.T. With about 50% strength and 50% metabolic conditioning, you'll be 100% ready to tackle your day after the energy boosting workout. Read all the details about this workout and ENRGi Fitness here.

Yoga2.0 (6 – 7 am in River North)

: At this gorgeous new yoga studio, Manny Garcia will lead you through a Strength and Flow combination class, especially made for the #Sweatworking experience. Read all about Yoga2.0 and grab your tickets here.
6pm: Shadowbox and fashion show at Trunk Club (fashion show only tickets available here)
We know a LOT of you have been eagerly anticipating Shadowbox's upcoming opening in River North, so we're especially excited to give you this exclusive preview to the sweat-dripping boxing workout. While we wait for the final touches to their brand-new space at 675 N. Wells, we'll take this workout to the roof—the roof of Trunk Club, that is.
Join Shadowbox Instructors, Gideon Akande and Trista Greco at Trunk Club for an off-the-bag Shadowbox class with views for days. We'll jab, cross, hook, our way through several rounds of shadowboxing, body-weight conditioning and glove-to-glove drills.
Afterwards, join us for a fashion show at Trunk Club to preview the latest studio-to-street looks for summer. You'll have an opportunity to shop the looks while you refuel from your tough workout with food from Left Coast and enjoy a celebratory beverage with Michelob ULTRA.
Click here to learn more about Shadowbox Chicago opening this July and get in on the pre-sale now.
Want to come for just the fashion show and food? Grab your fashion show only ticket here.

6am, 6:45am, 7:30am: GOAT Climb and Cryo
We're scaling new peaks on Tuesday morning with three chances to work out at the brand-new GOAT Climb and Cryo in River North. You'll take on a full-body VersaClimber workout that, in just 30 short minutes, will have you sweating as if you've climbed to the top of Mt. Everest as you move to the tempo of the music in a nightclub-like atmosphere.
2pm, 2:45pm: #TrainersConnect at GOAT Climb and Cryo
For the trainers who can't make morning #SweatworkingWeek events, come join us at GOAT Climb and Cryo for a special #SweatworkingWeek edition of #TrainersConnect. We'll take on their classic interval-based, low-impact (but oh-so-high in intensity) workout and enjoy some friendly climbing competition. After, we'll refuel with food from Cooked Chicago while we enjoy the full recovery services GOAT has to offer, including localized cryotherapy, a cryotherapy chamber, and NormaTec recovery boots.
7pm: Old Town #SweatworkingCrawl at Row House, Orangetheory Fitness, and Pure Barre
This classic #SweatworkingCrawl will give you three heart-pumping workouts in one, all on Wells Street in the heart of Old Town. You'll get a 30-minute workout at each studio, rotating among all three for a fitness challenge like you've never seen before. Never worked out for 90 minutes before? Don't worry, each workout will be accessible to all levels so you'll be able to scale back when you need to and push yourself when you're feeling good.

12pm: Lunch-and-Learn with Fruitful Yield at World of Whirlpool
Learn how to incorporate supplements and superfoods into your meal prep at this SUPER lunch-and-learn. We'll take over the beautiful World of Whirlpool space while we learn from Fruitful Yield's team about how to use superfoods and supplements to enhance your meal prep. They'll help you put together a nutrient-dense lunch, and you'll walk away with a few extra snacks for the road—because we always need more snacks.  
6pm: Tennis at Maggie Daley Park tennis courts
Our last tennis #Sweatworking event was an overhead smash, so we're bringing it back for #SweatworkingWeek. At the Maggie Daley park courts, the pros from the United States Tennis Association will teach us the basics, from the four fundamental strokes to rallying back and forth with friends. We'll play a few tennis games, run through some drills to get our heart rates up, and we'll leave having successfully hit the ball over the net at LEAST one time. Never played before? No problem! This will be very beginner-friendly, although there will be opportunities for advanced players to perfect their techniques, too.
No racquet? No problem! Wilson will be providing racquets for you to borrow for the evening! As an added bonus, our favorite apparel brand for #DoingThings, Outdoor Voices, will be showcasing gear that will have you looking and feeling like a tennis pro.

7am: Rollerblading with Outdoor Voices at Maggie Daley Park Skating Ribbon
Time to channel your inner Eric Brink—for this morning #SweatworkingWeek event, we're hitting the skating ribbon at Maggie Daley Park with our best blades forward. After a quick tutorial for those of us who haven't skated since we were ten (hint: all of us), we'll cruise the skating ribbon while making new friends and literally holding hands to keep from tumbling. It'll be adorable. Got two left feet? Scooters will be available as an alternative option! Helmets and guards will be provided as well.
12 pm: Lunch-and-Learn with FARE, Daley Plaza Farmers Market
'Tis the season for fresh fruits and vegetables, and farmers markets are in full swing across Chicago. Join us and FARE for a lunch-and-learn on how to shop the farmers market—signs that the produce is healthy, questions to ask the farmers, and what staples you should pick up at the farmer's market versus at the grocery store.
Afterwards, we'll walk to a Breather space nearby to learn how to pickle our freshly-chosen produce as FARE shares the benefits of fermented food. You'll be able to take home your own pickled slaw to munch on for the rest of the week, and we'll all leave with a better idea of how to navigate the summer farmer's markets.
6pm: Water Aerobics with Outdoor Voices at FFC West Loop
Warning: this isn't the water aerobics class your grandma does at her retirement community in Florida. Nope, this is going to be a total pool party. We're taking water aerobics into the 21st century with this strength-building HIIT workout. We'll stay in the shallow end of the pool (so no worries if you're not great at swimming), and FFC instructor David Bohn will lead you through a total-body workout using the water and your own bodyweight as resistance. Plus, our favorite brand for #DoingThings, Outdoor Voices, will be on hand with some exciting swag to help you make a splash.

Come put your strength, endurance, speed, flexibility and skill to the test as we take on a GPP (General Physical Preparedness) class at the new Ethos Training Systems! The GPP athlete can do it all. Lunge, squat, hinge, push, pull, you name it. But can you do all these moves controlled, with load and under extreme amounts of stress? GPP training never gets easier, you only get stronger.
5pm: Closing Pep Rally, Chicago Athletic Association
Celebrate the most fun week ever with an epic closing party on Friday night. We're throwing an old-school pep rally to cheer you on for all the hard work you did over the week, and a marching band *may* be involved. Stay tuned for more details as we reveal the big surprises we have in store for this Friday night party with Michelob ULTRA!
5:15 pm: Chicago Studio crawl
If you've never taken on a #Sweatworking Crawl, you've never experienced one of the things we love to do most – and that's bringing our friends with studios together.
Friday, June 14, we'll do that, but in a new setting – under the Chicago sky in the heart of the city's beautiful Maggie Daley Park. You'll experience four different workouts with four different partners, getting a taste of cardio, an upper body blast, a lower body set you'll love and a yoga flow to give you a chance to unwind.
Studios will include Bare Feet Power Yoga, The Barre Code, and SALT!
5:30 pm: Y7 Yoga
You've seen them on Instagram, you've popped into the studios in New York CIty or LA, but never before have you rolled out your mat with this Tribe Called Sweat in Chicago. And it just might be a preview of something to come 😉 In the studio, you can always expect a premium experience – infrared heating, candlelight, yoga mats provided for you, lockers and towels at the ready, and can't-be-beat music.
With Y7, you'll flow through our sequences with intention, braiding postures together that will open, stretch and restore your body from the inside-out. Each class will help link breath and movement, deepen the connection of mind and body, and bring a greater consciousness to your subtle body. We will peel back the layers through a smart and safe yoga sequence, carefully choreographed to music that ranges from Cardi B to A Tribe Called Quest. Come to class with an open mind, stripped of any and all expectations you carry of yourself, and take an hour long vacation of body exploration, transformation and movement. All levels welcome.
6:15 pm: A soccer workout with the Chicago Red Stars
Bring out your inner Mia Hamm with this soccer-inspired workout led by the Chicago Red Stars of the National Women's Soccer League. We'll spend 50 minutes with members of the Red Stars, trying our hands (er, our feet) at soccer skills and drills. We'll learn soccer basics, practice dribbling and passing, and maybe even take a few shots on goal in some friendly competitions. Whether you can bend it like Beckham or have never worn soccer cleats in your life, this workout will be fun, team-oriented, and accessible for all skills levels and athletes.
You'll meet at Chicago Athletic Association Hotel, where you'll store your gear before you're guided as a team to Maggie Daley Field. There,  you'll be greeted by your new teammates from the Chicago Red Stars as well as the musical stylings of The DJ Firm. After, you'll head back to the Chicago Athletic Association Hotel for an evening to remember and a pep rally to kick off summer.
And as an added bonus, by signing up for this workout, you'll also get two FREE tickets for you and a friend to attend the Red Stars' soccer game on July 21 at SeatGeek Stadium. All your favorite Team USA players will be back on the field post-World Cup, and you can welcome them home and cheer on your local soccer stars with your complimentary tickets.
6:30 pm: Party the night away with a workout by 305 fitness
305 Fitness is a dance cardio party that's for YOU, especially if you've ever said that phrase, "I'm not a dancer." It's as much community as it is class–a safe space where you can release your inhibitions, let your freak flag fly, and meet open-minded people while getting stronger and happier. In an industry obsessed with scales and calories, we're all about twerking hard while loving and appreciating our bodies exactly the way they are.
305 is coming from NYC for YOU. The music is mixed by a DJ, the instructors already love you, and you're sure to move and sweat your faces off–and leave smiling.