Get to Know Coach Rachel Jablow and Master This Jump Rope Workout for Your Workout of the Day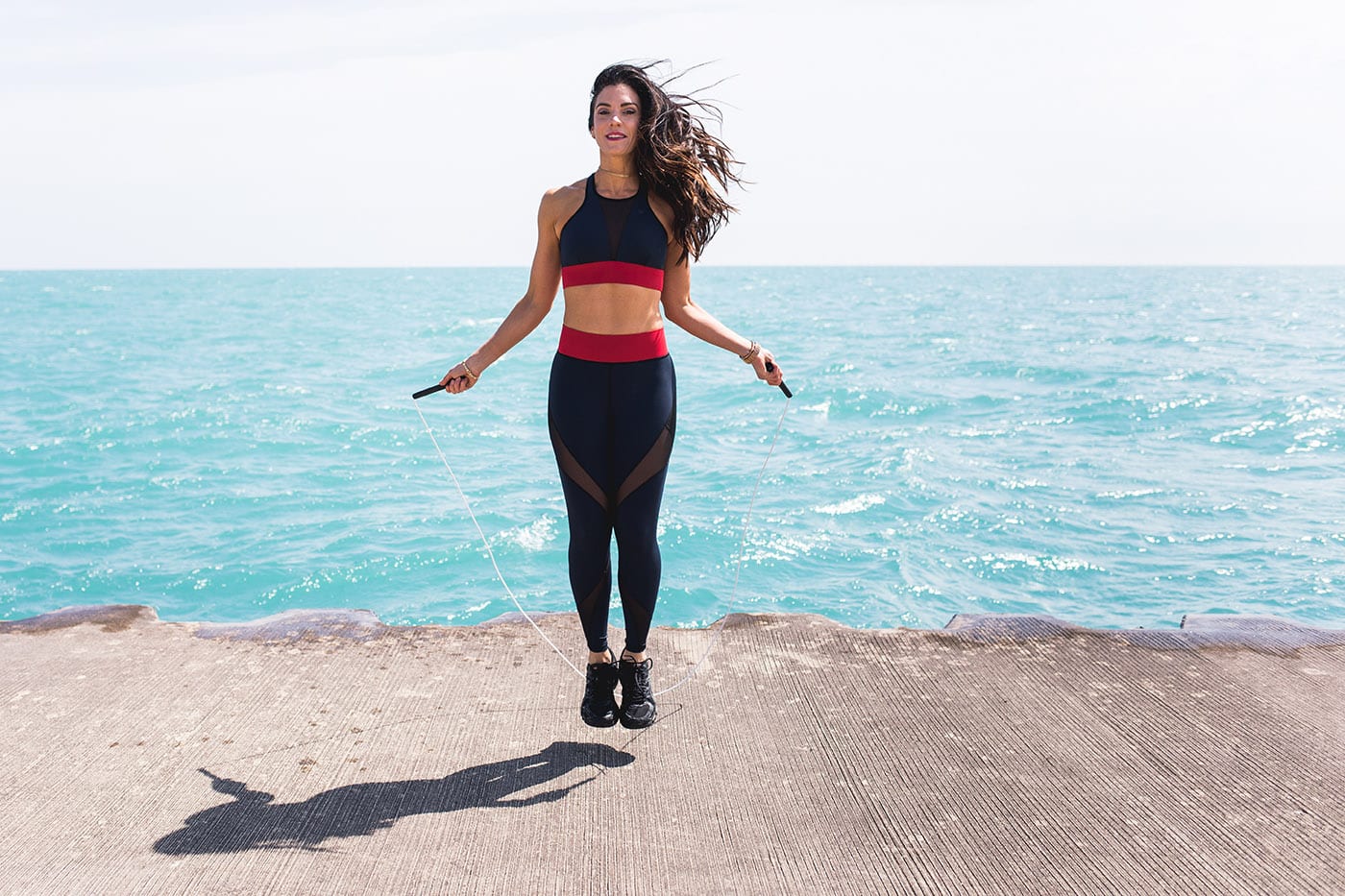 (Try Rachel's jump rope workout for free on the SweatWorking app right here)
I haven't taken too many jump rope classes in all my group fitness experiences, but every time a trainer asks that we grab a jump rope, I know I'm going to be in for a doozy of a workout. And – I know I'm going to be feeling it for days to come.
According to studies done by ACE Fitness, jumping rope is an exercise that will up the intensity of your circuit-style workouts, improve the elasticity of your lower leg muscles (preventing injuries throughout your life) and gives your brain a workout in addition to cardio for your heart.
SweatWorking Coach Rachel Jablow found jumping rope to be just the thing that would keep her wanting to come back to a workout. She trains her clients the way she likes to sweat – creating unique, innovative total body workouts that utilize jumping rope throughout. On the app, she brings you a cardio and core jump rope workout that you can try right here.
Try Rachel's jump rope workout here!
Got 30 minutes and no treadmill in sight? Get your cardio fix totally free this week on the SweatWorking app. Rachel's got a 30-minute jump rope workout that will have you sweating in seconds. Try the workout here, and be sure to follow Rachel on Instagram at @get_roped for more creative jump rope sequences.
Get to know Coach Rachel and how she fell in love with jump rope!
In a nutshell, what's your teaching style?
I think working out and staying healthy should be fun and never boring. I think if you are enjoying your workout, you are likely to push yourself harder. So I like to keep content new and fresh or put a new twist on a traditional exercise. In my jump rope classes, it's so important to convey patience and consistency. By the end of your first class, you will already be 100 percent better at jumping rope than when you walked in. And by the end of your third class, you will be comfortable with the jump rope and addicted to the practice.
What do you love most about teaching?
I love inspiring change. If my workouts can motivate you to continue on your fitness journey and keep you motivated to make health and fitness a way of life, then I've done my job.
What motivates you to go after your personal best in your workouts?
For me, it's all about using my time efficiently. Since I spend most of my day teaching classes and training other people, when I have my own workouts, I want to make sure I'm getting the most out of that time. I feel better mentally and physically when i have a good workout and push myself and so I try to make the most of that 'me' time every day.
Your best advice to anyone who takes your class/trains with you – in real life or on the app?
Be patient with yourself. Jumping rope is not easy. It challenges you both physically and mentally. It takes coordination and patience. But with consistency, practice and patience, everyone can learn to jump rope and the benefits are endless… 10 minutes of jumping rope burns the same amount of calories as running 30 minutes on a treadmill. It also increases endurance, quickness, agility, and coordination as well as increasing bone density (which is so important as we age).
Additionally, the mind/body connection is imperative in jumping rope; the mental focus improves cognitive function which improves coordination, balance and quickness.
Lastly, have fun with it! The jump rope challenges and tricks are endless. Keep reaching for that next goal!
What's your favorite book right now?
Well, it's not a new book but it's one of my all time favorites…Unbroken. It's a truly inspiring story of what the human body is capable of. It's a true story of perseverance, physical and mental strength, and faith.
Favorite way to work out outside of jump rope?
Dance cardio and HIIT!
What's your guilty pleasure?
Australian licorice!
What's something people might not know about you? 
I was a competitive figure skater growing up and try to still get back on the ice occasionally. And I'm a die-hard Ohio State football fan! O-H-I-O!!
Anywhere in the world you could travel to right now?
Africa on Safari. Or Greece. I definitely need a vacation ASAP!
Let us know!
Did this post help you get closer to achieving one of your goals?