Get to Know the Coach Who Created This Ab Blaster on the SweatWorking App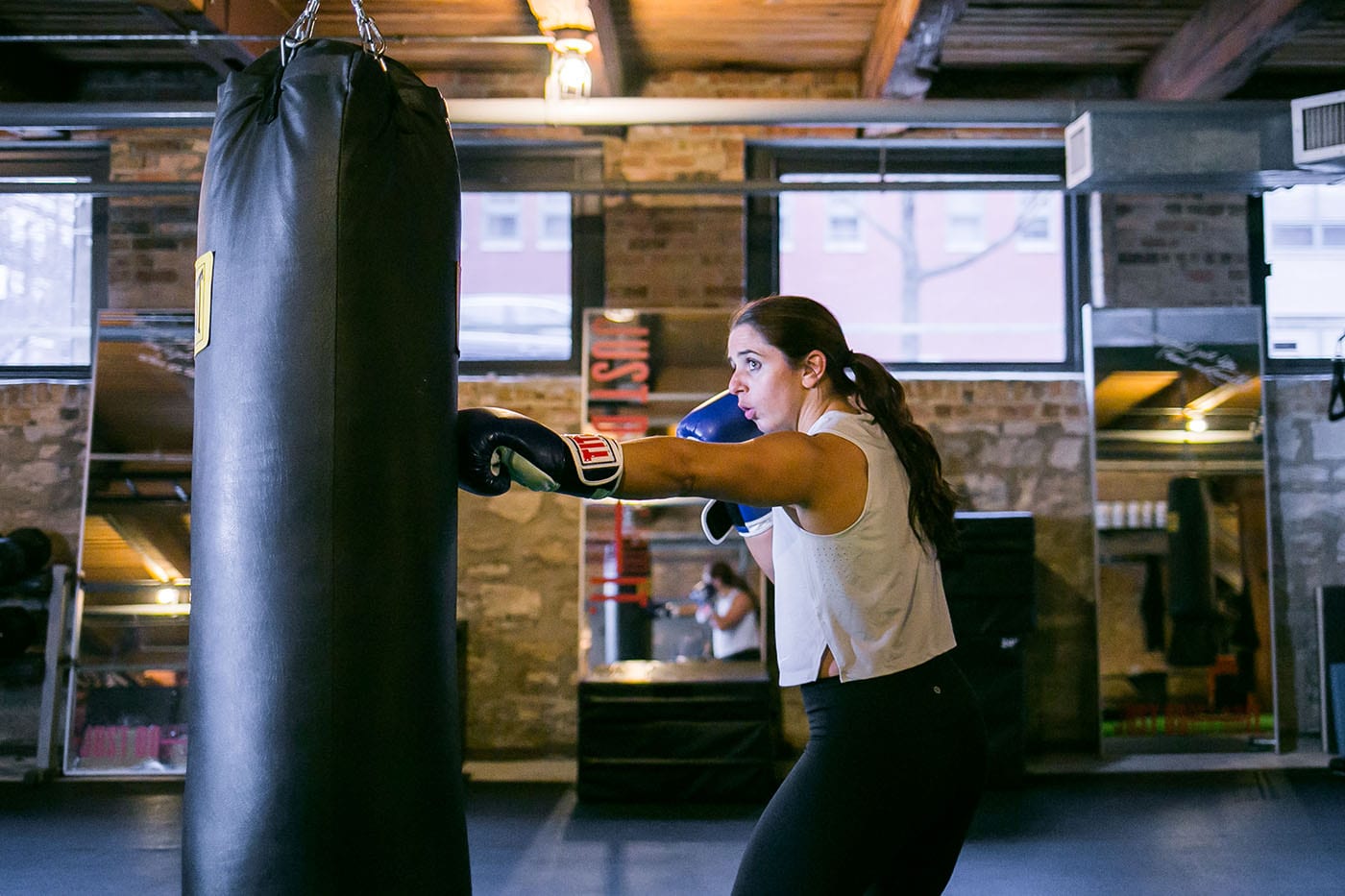 (Try Courtney's workout for free right here)
If you've ever tried a boxing workout, you know it can be pretty physically demanding. An excellent form of cardio workout, you're also working hand-eye coordination, developing agility skills and building endurance in ways you just can't with a treadmill or other form of steady state cardio.
But here's what you may or may not know about boxing – it's also a killer workout for your core.
Imagine yourself crossing, jabbing and hooking through the midline of your body to protect your back as you execute the moves your instructor calls. Now imagine bracing your core as you rotate around the punching bag, or bobbing and weaving your way through agility drills. And, just for good measure, imagine your coach calling out a series of burpees or sprints in between boxing rounds while you're at it.
And at a Title Boxing Class – like where Courtney Belcastro coaches – you're not only getting a full-on core workout for an entire boxing class, you're getting a *special* core-only finisher with each class you take.
Through the SweatWorking app, you can work out with Coach Courtney no matter where you live or where you like to work out. Her Ab Burner workout is right here – and for right now – you can try it at no cost.
Try Courtney's SweatWorking App workout here.
Courtney's Ab Burner workout on the SweatWorking App needs only a set of dumbbells. It's the "ultimate eight-move ab circuit," as she likes to say. Complete it two times through for a finisher to your regularly scheduled programming or make it your workout for the day. Either way you'll be feeling the burn tomorrow.
And before you work out, get to know Coach Courtney.
In a nutshell, what's your teaching style?
Intense & efficient. I try to maximize the time you are training with me by having the most intense, yet safe and functional workout that I can create. We all have very little time to spend on ourselves so if you're giving me an hour of your time, I want to make sure it's worth it.
What do you love most about teaching?
There are so many things! I love watching my clients achieve things they never thought the could. I love watching them work hard for a goal and crush it. The joy I feel is something I cannot accurately express in words, but it makes every 4:45 am wake up call worth it.
What motivates you to go after your personal best in your workouts?
Don't let short-term satisfaction affect your long term goal. That is my motto for pretty much anything. It may feel good at the time to not work as hard because you're tired and just trying to get through the work out, but at the end of the day, why waste that time? You already showed up and are in it, why not work hard and get closer to that long-term goal? I remind myself of that phrase whenever I feel like I want to quit.
Your best advice to anyone who takes your class – in real life or on the app?
It's not about perfection, it's about effort. My workouts can be challenging and sometimes intimidating, but all I want is for you to give it a chance and surprise yourself. It's not about anyone else but you. So take it one rep at a time and focus on progress over time. I promise I won't let you down 🙂
What's your favorite book right now?
Shoe Dog – I admire Phil Knight and all things Nike so much. It's crazy to see how far that company has come from his basement in the 70s.
Funniest thing that's happened to you while teaching a class or training?
I got the hiccups while teaching a class at Title and it wouldn't stop. Pretty much every cue was followed by a hiccup. It was so frustrating yet really funny.
Favorite way to train outside of boxing?
HIIT (like Shred415), heavy heavy lifting, and pilates. I love a good variety in my week of workouts.
Hardest workout you've ever done?
I have had some really tough boxing workouts. Mitt training, sparring, conditioning – there aren't many workouts that compare. I also worked with a strength & agility coach in high school and college on performance-based workouts. He pulled together some crazy workouts for my conditioning and development, so those would be a pretty close second.
What's your guilty pleasure?
DOUGHNUTS. All of the doughnuts. And watching old TV show reruns (The OC, Dawson's Creek, One Tree Hill, to name a few)
Anywhere in the world you could travel to right now?
Florence, Italy. That place has my heart.
If you try Coach Courtney's ab workout and like what you try, leave us a rating on the app store. And remember, you can start your 14-day free trial any time to try out more workouts on SweatWorking. Whatever your favorite way to sweat is, you can be sure you'll find something you're looking for.
You can download SweatWorking and get on to Courtney's workout here! And be sure to follow Courtney on Instagram, to hear the latest updates on where she's training and what new SweatWorking workouts are coming your way from her.