Get to Know SweatWorking Coach Trista Greco and Try Her HIIT It and Quit It Workout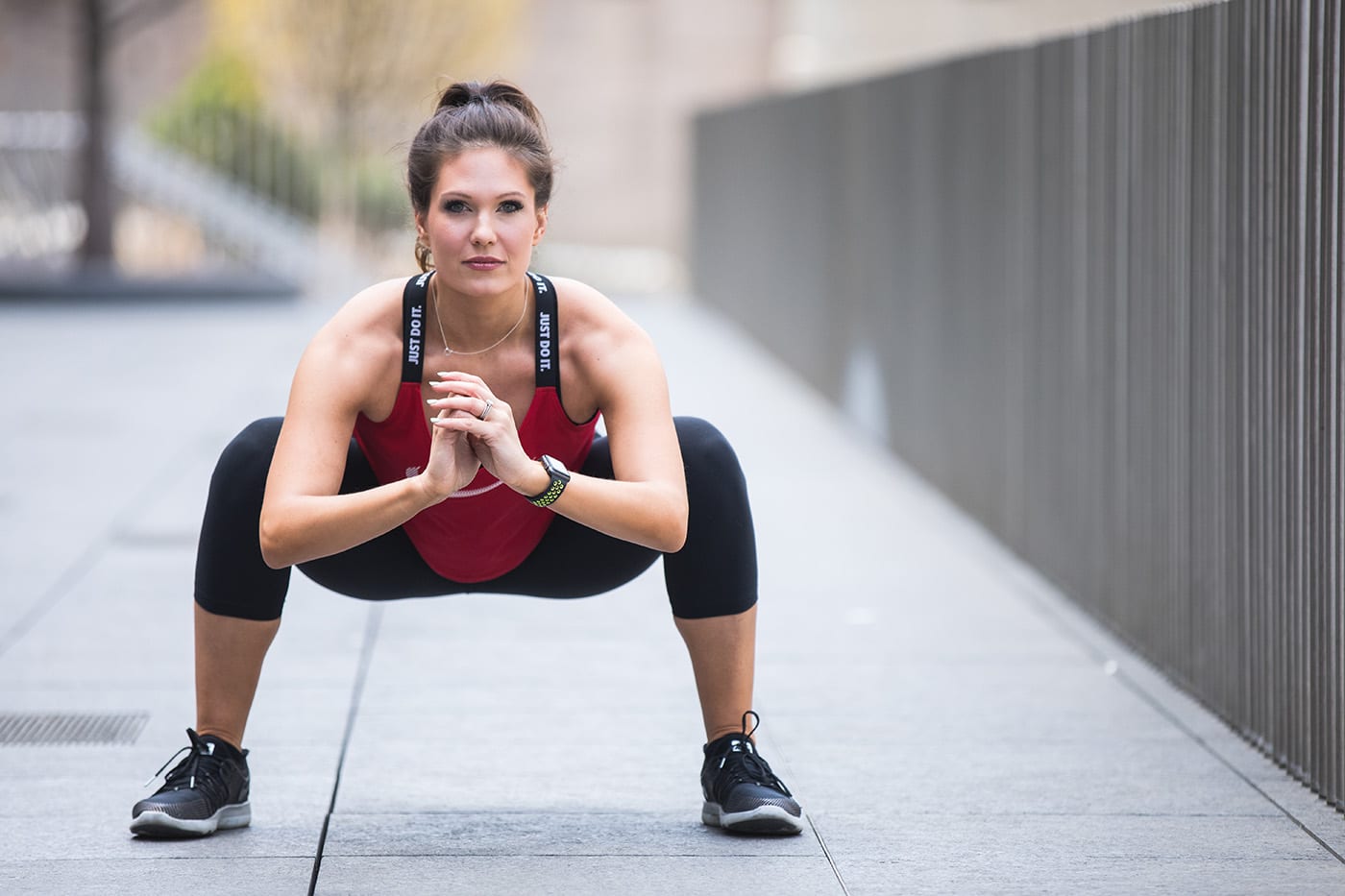 If you're on the road, have only a small space to work out or are crunched for time in your busy week, a bodyweight workout is a great way to stick to your workout goals without having to plan too much or go out of your way to make it happen.
When you don't have fancy equipment at your disposal, though, sometimes you have to get creative in order to challenge yourself and really feel the burn. Or, you can just work out with Trista Greco.
At her home base studio in Chicago, Barry's Bootcamp, she's known to make her class work their tails off both on the treads and on the floor from minute one of the workout all the way until minute 60. At home, you can work out with Trista Greco for free with SweatWorking – the platform designed to help you work out with the coaches you know, love (and love to hate) wherever you are.
All you have to do is download SweatWorking here and you'll be directed straight to Trista's HIIT It and Quit It workout. In this 25-minute bodyweight workout you won't be bored for one second as you drip sweat in whatever corner of space you can carve out for yourself.
Grab a yoga mat and get ready to get down to work. And below, learn more about the master behind this bodyweight workout madness.
Get to know Coach Trista Greco:
In a nutshell, what's your coaching style? My coaching style is a no-nonsense workout inspired by things that I would want to do. Everyone works out for different reasons and are motivated by different things so it's important to know your 'why' when you're in my class because as a coach I can't give that to you. I can give you a tough workout, but only you can get yourself to complete it successfully!
What do you love most about teaching? I love that I can influence a larger audience to live their best life and take their workouts to the next level as opposed to one-on-one coaching. I love the personal attention with one-on-one, but I get such a high when you have 50+ people in one room feeding off of each others energy to max out!!
What motivates you to go after your personal best in your workouts? I'm motivated by small achievable goals I set for myself each week. Maybe it's a certain distance I want to hit on a treadmill (or outside!!) or maybe it's going up in the next weight size for strength training, but whatever it is I get motivated by different weekly goals that I can manage and that will make me feel better after the achievement.
Your best advice to anyone who takes your class – in real life or on the app? The best advice I can give to someone taking my class is to allow yourself breaks when you need them and take it at your own pace. I love to have longer durations of exercises so that people will leave feeling successful and fatigued. I would rather give more time to complete exercises and ensure that everyone is able to put in the work than give you 30 seconds leaving you a little winded, but not worked out.
What's your favorite book right now? I'm not a fiction book person so at any given time you will catch me reading anything related to autoimmune diseases or anything health and fitness! Currently, I'm reading a book called 'Medical Medium Thyroid Healing' — it may sound boring to the average person, but I'm obsessed with taking health into my own hands and healing the things are broken.
What's your guilty pleasure? I have SUCH a sweet tooth. Summerhouse Santa Monica cookies, anyone? Those are my guilty pleasure FOR SURE.
Anywhere in the world you could travel to right now? I'm dying to go to Thailand!
Try Trista Greco's workout on the SweatWorking App
Download SweatWorking and try Trista's bodyweight workout right here. And be sure to follow Trista to know where her coaching schedule takes her and how you can find her on the app no matter where you live.
Disclaimer: This workout is not intended for the treatment or prevention of disease, nor is it a replacement for seeking medical treatment or professional nutrition advice. Do not start any nutrition or physical activity program without first consulting your physician.