5/19: #Sweatworking Takes Over River North CrossFit For a Team Workout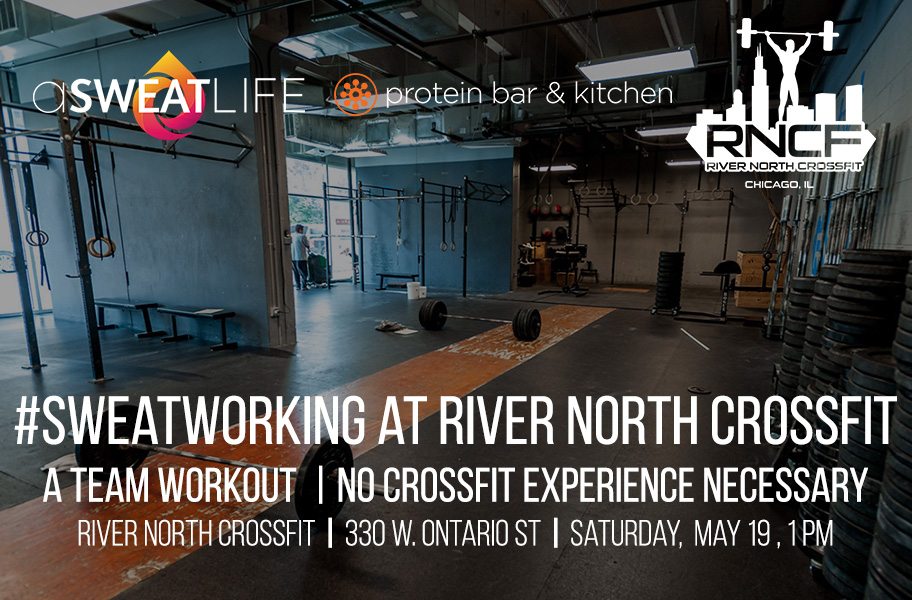 (Get your ticket to #Sweatworking at River North CrossFit)
As fitness enthusiasts, we're always excited to try out new ways to sweat – even if those workouts scare us a little. At #Sweatworking, we take the opportunity to get out of our comfort zones and try new things and we get to meet some incredible people while we're there. And, over the years, we've created some pretty cool ways to do just that.
From a #SweatworkingCrawl where we take on three or four workouts all at once, to a dry triathlon full of friendly competition at Equinox, to taking that dry tri on the road to Dallas, and all the way to #SweatworkingWeek where we curate a whole schedule of workouts every day for a week and end it with a fitness festival to celebrate the week, it's safe to say we're big fans of saying "why not" to anything that might feel scary at first.
Plus, anything done with a buddy is instantly made a little less scary, which is why whether you come to #Sweatworking with your fit posse by your side or not, you'll meet someone else who's also new to the workout and leave with one more friend than you came in with.
And it's no different with any #Sweatworking event we host – even ones that don't involve you running from gym to gym or taking on a mash-up workout you've never seen before. We know that even the name "CrossFit"  could be enough to send shivers down your spine, which is precisely why we're excited to create a #Sweatworking event at River North CrossFit to help you ease into it.
Meet us on Saturday, May 19 at 1 pm at RNCF for a CrossFit-light team workout. You'll experience what the gym has to offer, from rowing to running to kettlebells to heavy dumbbells, but you won't have to worry about any crazy barbell moves. In fact, no CrossFit experience is necessary for this workout. All you need is an open mind and readiness to meet a new friend while you're there.
Ready to meet us for #Sweatworking? Grab a ticket here.
Details for #Sweatworking at River North CrossFit
Time: 1- 2:30 pm
Place: River North CrossFit, 330 W. Ontario St
What to expect: A solo and team workout challenge that's scalable to your fitness needs
Where to get tickets: Right here!
Let us know!
Did this post help you get closer to achieving one of your goals?