January 13: Join Us for the #SweatWorkingWeek Fitness Festival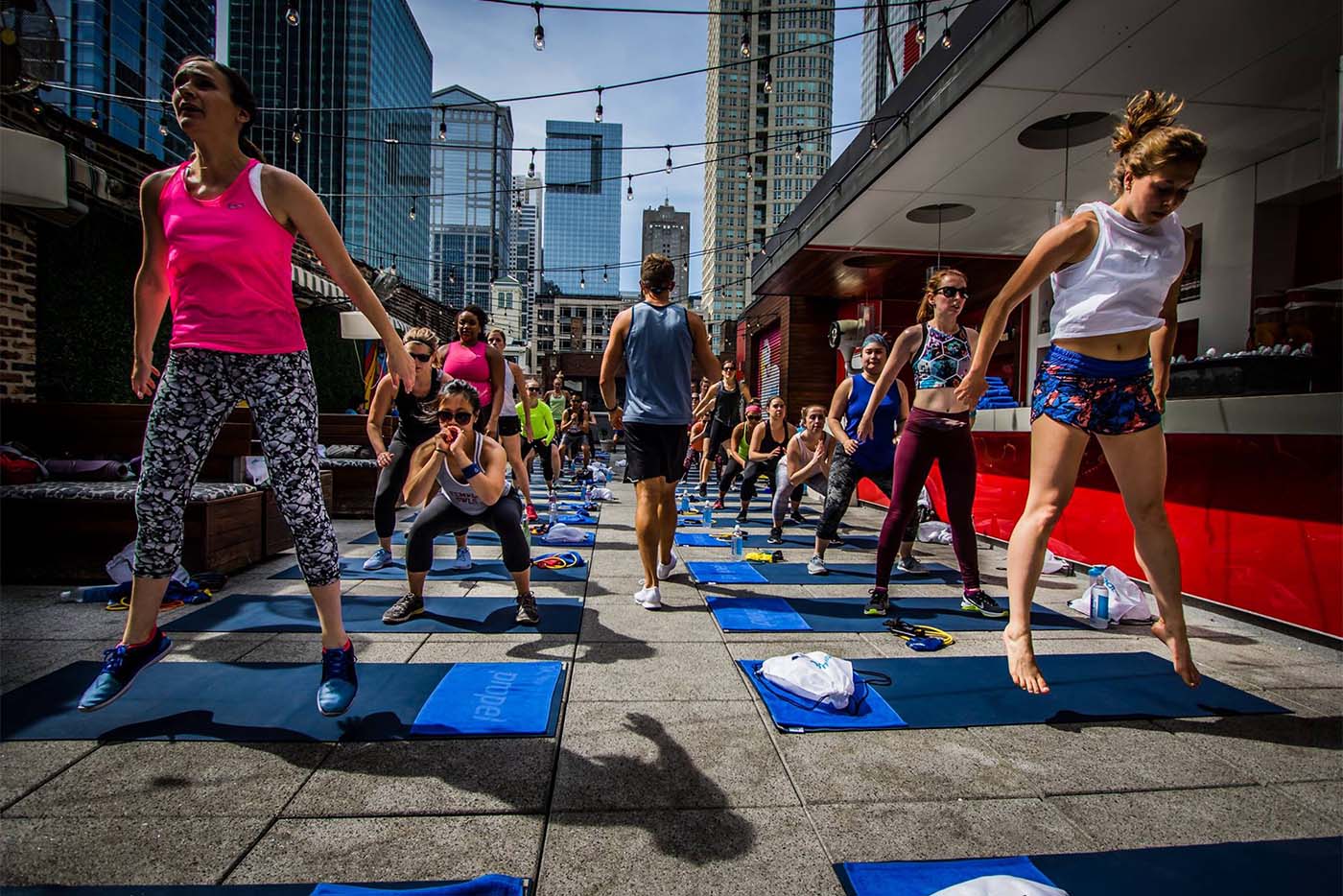 We've teased the #SweatworkingWeek Fitness Festival schedule and we're ready to tell you what all of the fuss is about. This time at the close of the #SweatworkingWeek, instead of wrapping up with one final workout, we're dedicating a full day to celebrating some of our favorite ways to move.
How are we doing that? A few big ways.
Two fitness studios running constantly: At Morgan's on Fulton, one of our favorite venues in the city, we'll have one studio with equipment-based classes and another The Reebok Chicago Fitness studio with classes that will get you sweating with bodyweight on and off of mats – think dance, barre, boxing and yoga.
Every class is a DJ class: We'll have DJs spinning all day in both studios, so you can expect the jams to be pumped WAY up.
Expect an all-day festival: On the main level where you'll enter the #SweatworkingWeek Fitness Festival, you can expect an all-day affair. The SweatWorking App will be there giving out sweet prizes, Michelob Ultra will be pouring beer and Beermosas as the official Celebration Beverage of #SweatworkingWeek, we'll have Delos Therapy in the house, snacks from Luna Bar, Fit Foodie, Bai beverages and so much more.
What's on the schedule? All of this amazingness:
In the Reebok Chicago Bodyweight Studio
Yoga with Cass is something special. Her flows are more poetry and art than anything else and when you watch her lead a class you'll see why quickly – it's love. She loves the practice. She loves the students. She loves the movement. Come experience her VibeFlow or just her vibe, which is always patient and loving whether she's leading a yoga class, bathing you in sound or giving you a tarot reading you'll never forget.
MVFitness was built to help you remember when when MTV, TRL and VH1 played all of our favorite Music Videos. Expect to learn the iconic dances from music videos old and new while getting the best workout of your life! In this 60-minute class, you'll get a jam-packed dance cardio workout while dancing and sweating your face off. The class will include a 10-minute warm-up, a "Full Body Chisel" and an opportunity to learn a sexy, fun and easy Music Video combination!
A unique, challenging, and thought provoking aerobic experience utilizing martial arts techniques combined with cardio. Expect a fun high intensity full body workout synced to the beat of music- think lots of, but not limited to, trap/rap music. Yes, the playlist is turnt! This workout also includes an arms and abs section, followed by a restorative meditation cool-down, to give you something new and fresh. This class will not only strengthen your body; it will strengthen your mental muscles, too. All men, women and fitness levels are welcome.
Courtney Belcastro will with a  friend to create a mash-up of two formats we're obsessed with – boxing and barre. Courtney will hit you hard with jabs crosses, hooks a uppercuts to you and then you'll never see the barre moves coming. Expect to leave this class energized and a little bit confused by what just happened to your muscles.
Find inner stillness and learn the postures that will help you succeed in your meditation practice with the help of Bare Feet Power Yoga. You'll set yourself up to succeed in your meditation practice this day and all of 2018.
In the Everything is Better with Friends Equipment Studio
This 60-minute version of Rae Reichlin's program Ladies Who Lift is perfect for those who set goals to get stronger in the New Year. Come join this all female strength-training workout and learn to lift in a way that will promise to lean and strengthen your body- putting you on the right track to reach your goals!
Class will include a lifting workshop during which you'll break down essential movements, followed by a calorie-blasting workout filled with squats, deadlifts, bench presses, kettlebell swings and more.
CrossTown Fitness offers 150 classes a week at its West Loop, Lakeview and Roscoe Village locations. The #SweatworkingWeek version of the gym's signature total body class will light you up for the new year. Expect to burn up to a 1,200 calories in a class and keep burning calories for up to 36 hours. This 50-minute workout will incorporate strength and endurance exercises to challenge you.
Dustin Hogue and Jeremy Liban train at different studios, so this workout may be once-in-a-lifetime. Catch them as they train you together, both bringing something totally unique to the table. Dustin is known for his impeccable rowing form and his ability to create incredible programs at Studio Three where you can find him most days. Jeremy is known as the trainer that can get you to do things you never thought possible at Orange Theory. Together, we're a little bit excited and a little bit afraid of this combo.
As the owner of On Your Mark, Nike Master Trainer and an athlete herself, Emily Hutchins knows what it takes to get you from dreaming to achieving your big goals this year. She'll help you push harder and change your mindset from "one day I'll (run/jump/swim/lift)" to "Day one."
Betina Gozo and David Carson are teaching together for one hour and one hour only at the #SweatworkingWeek Fitness Festival.
Betina Gozo has been in the aSweatLife family for just about as long as anyone can remember, creating memorable workouts that gained her acclaim in and way out of Chicago as a Nike Master Trainer and someone just about everyone wants to work with. She's now everyone's favorite bi-coastal fitness celebrity, but even with her title of Women's Health's Next Top Fitness Star, Betina is still our hometown homegirl, coming home to close out #SweatworkingWeek.
David Carson has an incredible way of getting everyday athletes to feel like pros, teaching them that they can jump higher and run faster if they train smarter … they might not be able to increase their wingspan, though. David helps pro athletes and everyday athletes alike as a personal trainer, group trainer and consultant to pro basketball teams from the pros to the middle school level.