Announcing the Fourth #SweatworkingWeek, January 8-13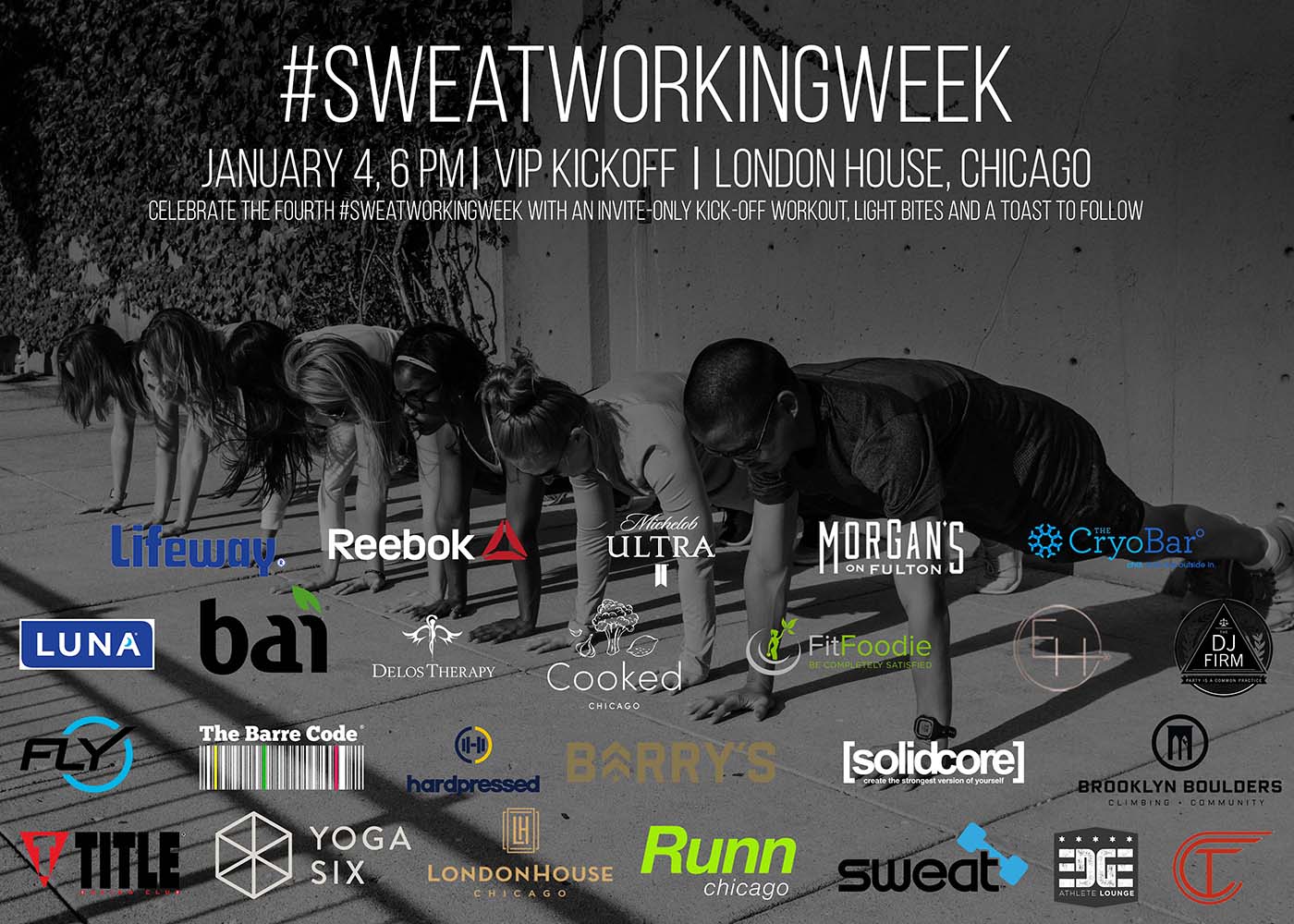 Today, we're excited to share the schedule for our fourth #SweatworkingWeek, January 8-13. #SweatworkingWeek is like restaurant week for fitness and it's our favorite week of the year – each time we host it, we do something different to keep it interesting for you and for us.

As we put together the next #SweatworkingWeek schedule, we thought to ourselves, "How can we make the next #SweatworkingWeek schedule the most LIT ever?" And then we just did those things.
January 8-13, during #SweatworkingWeek, here's what you can expect.
A schedule packed with combo classes and new studios to try
Wherever possible in the next #SweatworkingWeek schedule, we're pairing concepts or hosting several classes in one space back-to-back so that we can accommodate more people throughout the week.
You'll also see elements of some of our favorite events over 2017 – the #SweatworkingCrawl events, which pair up gyms in different neighborhoods across the city. But worry not, when we paired up gyms on this schedule, we did so all within the same building. You'll see that in Monday's combo class with The Barre Code and Hardpressed Conditioning and on Wednesday when we pair Title Boxing Club and Yoga Six.
We're also featuring some new entrants to the Studio fitness scene, like Barry's Bootcamp's RELEASE, [solidcore], RUNN and SWEAT Lincoln Park.
For more details on each class, visit asweatlife.com/sweatworkingweek.
The Lunch-and-Learns: Focused on Goals
We've hosted Lunch-and-Learn sessions since our second #SweatworkingWeek. It's an incredible way to build community outside of the gym while still learning things that can help you live your best life.
The learning:
This time around, the lunch-and-learns all build on each other in a really fun way – we're focusing the entire week on goals. Monday, we'll start with a goal setting session led by one of our favorite facilitators of BIG HAIRY AUDACIOUS GOALS, Will Haley.
During Tuesday, Wednesday and Thursday's lunch-and-learn sessions, we'll record episodes of our podcast #WeGotGoals LIVE. The live episodes will feature incredible high achievers like Kurt Seidensticker, the founder of Vital Proteins, Jessica Zweig who leveraged learnings from her content site, Cheeky Chicago, to create the Simply Be Agency and Lauren Katzberg and Julia Carmona, who created a marketplace for on-demand, in-home beauty where none existed with Stylisted.
On Friday, we'll help answer questions about a common goal – eating healthy – through a live cooking class at PRE Brands, where we work together to cook and eat lunch.
The lunch: 
Monday through Thursday, you'll not only get killer content focused on goals, but lunch from our partners at Cooked Chicago. Cooked Chicago creates delicious menus that help you live a healthier life and deliver them to your house three days each week. Looking for a jump start in 2018? You can order meals that adhere to the Whole30 or get juice cleanses through memberships and packages.
Friday, you'll be working with Chef Sarah Russo at PRE Brands to prepare your own lunch and you'll be learning as you go.
The Fitness Festival, January 13

You'll notice at the end of the week that we have "#SweatworkingWeek Fitness Festival" listed. We have something incredible up our sleeves. We're taking over the beautiful venue Morgan's on Fulton to create something truly special. In that space, we'll have two studios running fitness programming all day and one space that will serve as the heart of the festival.
You'll have to wait to see all of the details on this madness, we'll share them soon!