Nov. 12: The Reebok Chicago #SweatworkingCrawl Hits The South Loop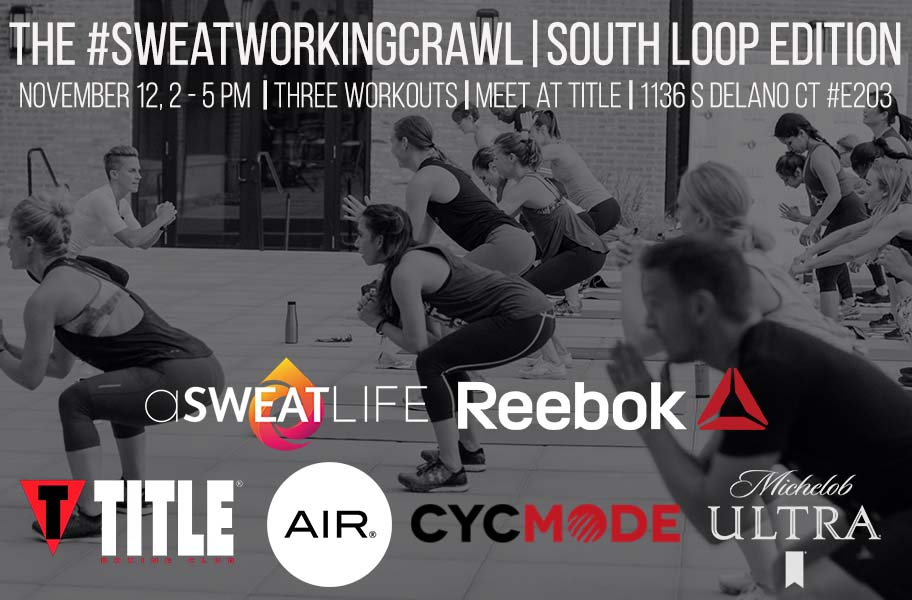 Get your ticket to the South Loop #SweatworkingCrawl here!
Since July, aSweatLife and Reebok Chicago have taken trips from neighborhood to neighborhood for an experience like no other – a multi-destination sweaty excursion we like to call the #SweatworkingCrawl.
So get ready, Chicago. November 12, we're bringing the #SweatworkingCrawl to the South Loop for one last round of sweat and good times before the #SweatworkingCrawl takes a winter break. Together, we'll take on three 30-minute workouts at Title Boxing Club South Loop, Cycmode and AIR Aerial Fitness.
Whether it's the first you're hearing of the #SweatworkingCrawl or you've been to one in previous months, this afternoon will be full of new experiences for everyone. As always, we'll make the route accessible to you no matter your fitness level, you'll go home with a goody bag full of snacks and we'll celebrate our accomplishments with a Michelob Ulltra happy hour post-sweat at a South Loop bar.
What are the three workouts?
At Title Boxing Club, we'll take on a 30-minute version of the gym's signature total body boxing workout. Expect to see boxing drills that will have you sweating in seconds mixed with high intensity interval training drills like burpees, squat jumps, jogs around the gym and, of course, a killer core section at the end of class. Included in your ticket is a pair of new wraps from the club at a discounted price. 
At Cycmode, the first-ever cycling experience of its kind, utilizes visual technology to take you on an immersive indoor cycling experience like you've never tried before. The stadium-style bikes move with your body, keeping you in the moment all class long and giving you an extra core workout from start to finish.
At AIR, you'll get a taste of just how difficult (and fun) training with aerial silks can be. We'll partner up for this portion of the workout and you'll leave with no less than 100 supremely Instagram-worthy photos (you'll have so much fun attempting the tricks AIR will throw your way, you won't even realize how much of a workout it is).
Throughout the journey from gym to gym, you'll have the chance to post those highly Instagrammable photos – along with any other workout photos of the day – and one winner of this social media challenge will be selected to win a grand prize from the gyms. This winner's entire team will also take home some sweet goodies.
Ready to sign up? We can't wait to see you at 2 pm on Sunday, November 12! Grab your ticket right here.
What are the details of the #SweatworkingCrawl?
How do I sign up? Right here, thanks for asking.
What is this? This fun event is fueled by camaraderie and will have you working your tail off while you sweat in new ways and in familiar ways. It's a killer combo you won't want to miss.
Where is this? We'll all start together at Title Boxing Club, 1136 S Delano Ct W, #E203. (yes, there's parking)
When is this? November 12, we'll start the crawl at 2 pm! We ask that participants arrive between 1:30 and 1:45 pm to get put into teams and sign waivers.