Taking over Equinox for a #Sweatworking Dry Triathlon
I take great pleasure in seeing crazy ideas come to life. This past weekend's #Sweatworking that took over Equinox's Gold Coast location was the realization of one crazy dream: The Dry Triathlon.
Normally a triathlon requires one to swim, bike and run, and we absolutely could have taken over the Equinox pool, but as a semi-selfish, bad swimmer, I just didn't want to.
So we dried up the triathlon – we took three classes I've tried and loved and turned them into a mega-fitness-event during which we rowed, biked and ran.
In this large, luxurious gym in the ground floor of the shops at 900 N. Michigan, we had access to some of the best trainers and programming in the city. These fitness professionals led three teams through three 30-minute classes: Ropes and Rowers (rowing), The Pursuit (biking) and Precision Running (running).
What was at stake? Everything. The two top finishers took home prizes that included a month-long membership to Equinox, $50 to spend at Snap Kitchen, a Lifeway Kefir gift pack and $200 to spend at Trunk Club with a stylist. Every member of the top team had access to our complimentary (and now sold-out) event with Nike before anyone else. I repeat, everything was at stake.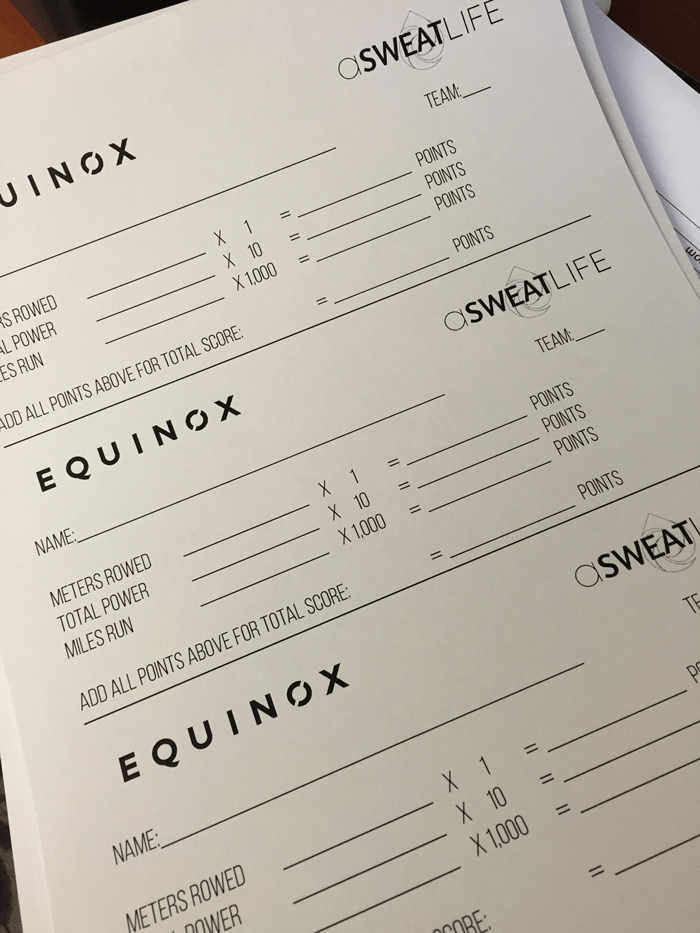 Never before have we asked #Sweatworking attendees to do math. The scoring for the Dry Triathlon required a bit of arithmetic (mostly just adding zeros to the ends of numbers), but they were up to the challenge, especially because they knew that all of this work – including the math – was for a terrific cause. We were able to partner with Equinox to donate all ticket sales to the Greater Chicago Food Depository and gave more than $1,200 to the organization . Every $1 provides four meals, so that was approximately 4,800 meals for hungry Chicagoans!
Saturday January 23, we stormed the gym. Before totally interrupting the workout of Miami Heat Coach Erik Spoelstra (we're a little bit sorry, mostly not, though), we gathered in the main studio to go over the ground rules.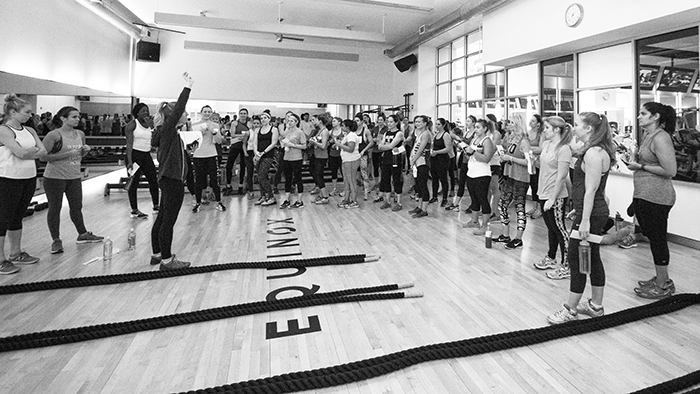 (All photos in this post – except for the scorecard – are by Christiana Basso – contact her on Instagram for booking)
We broke into teams, which formed strong bonds and an even stronger desire to win immediately. I think I even heard some team cheers.
Meet team one.
Team two.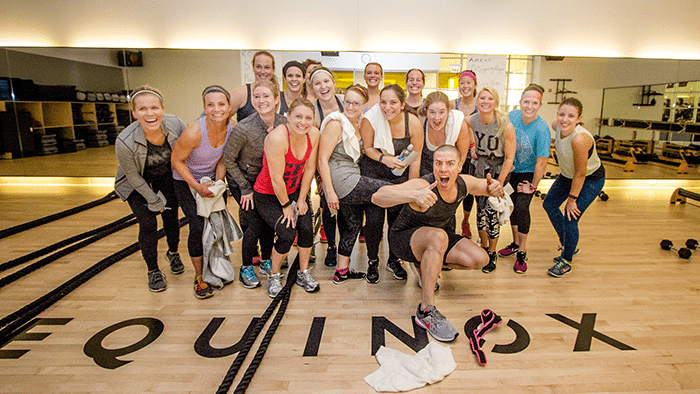 And team three.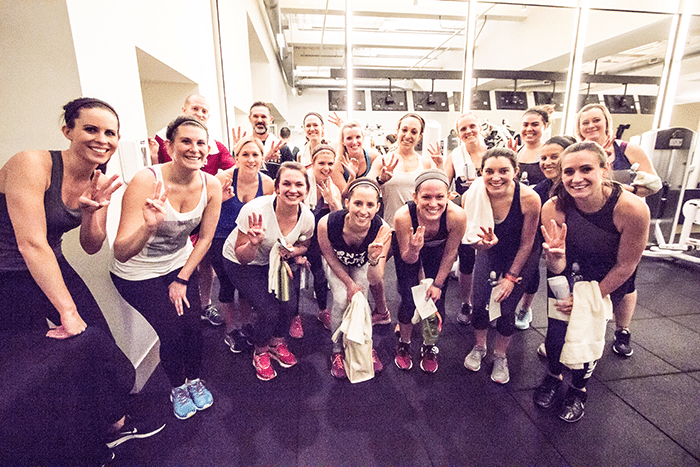 The teams imparted on a journey of about two hours of fitness, including breaks, 90 minutes of total work.
Everyone raved about thePursuit, the data-driven studio cycling class. Rosy, smiling faces came out of that space every time we changed-over classes.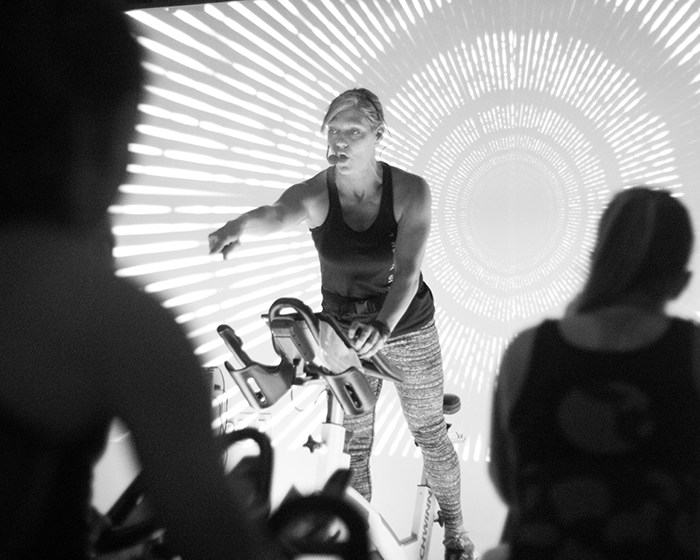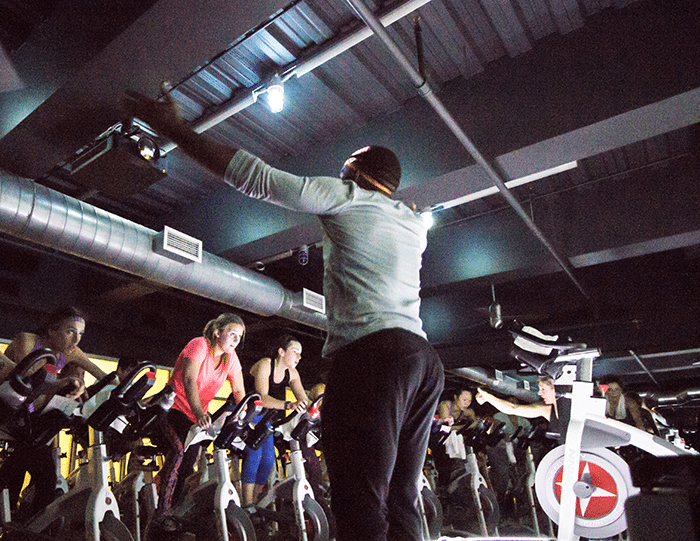 Precision Running was paired with an RX series. One half of each team ran the treadmills, finding their ways up and down hills and to their fastest miles.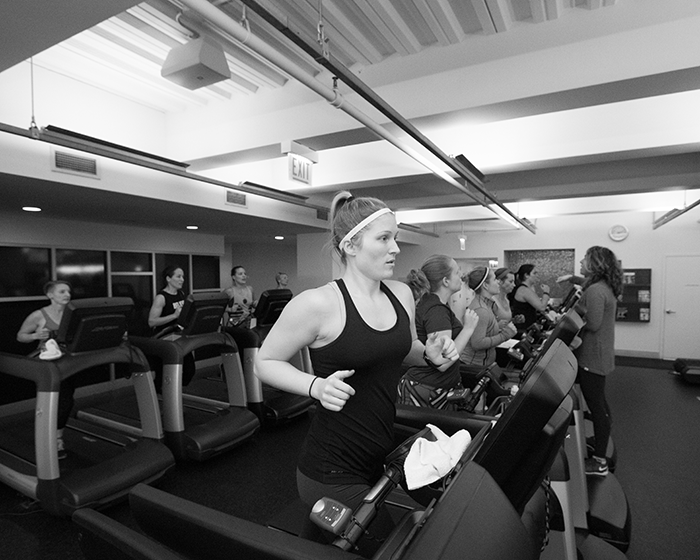 On the floor, the other half of the team worked out the kinks rolling over a softer version of a lacrosse ball, with some guidance, of course.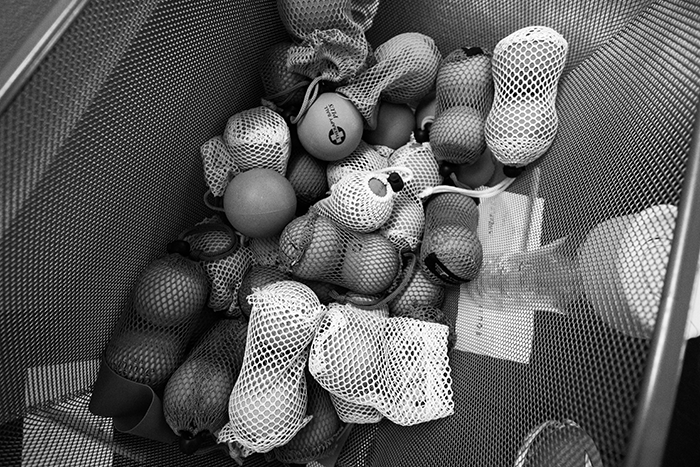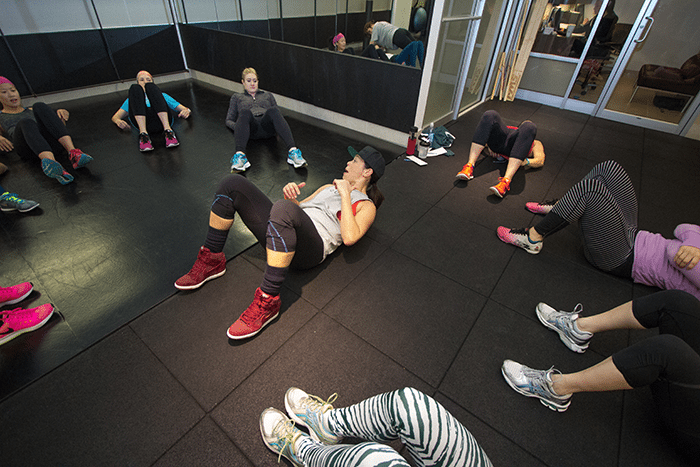 The Ropes and Rowers class in the main studio was an intense, circuit-training workout that showcased the two pieces of fitness equipment included in the name: battle ropes and water rowers. But the name can be deceiving because it was much, much more. The class worked every group with dumbbells, body bars and more in exercises.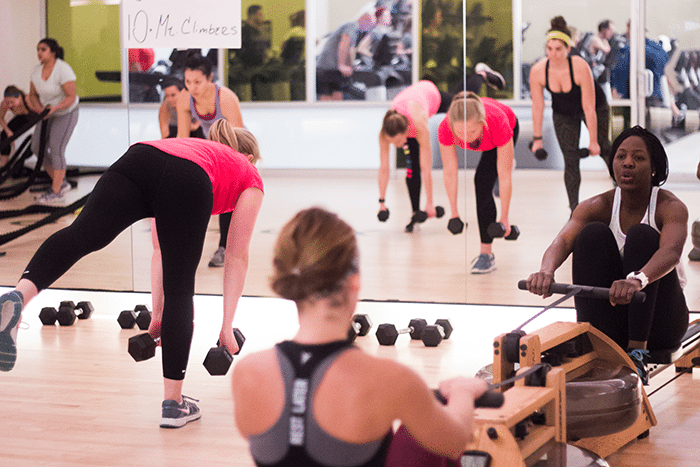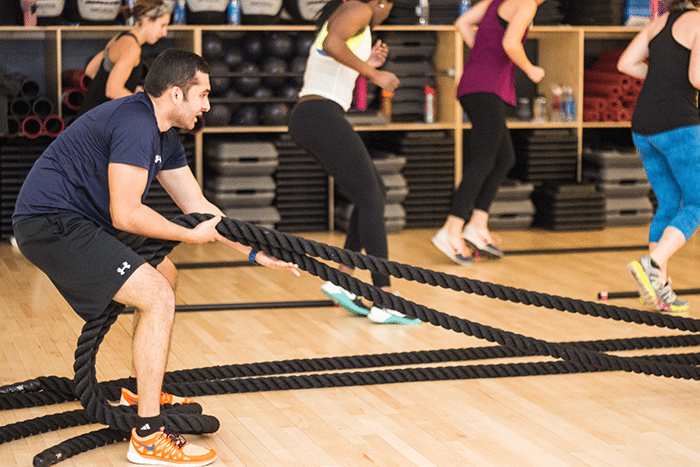 Look at those waves.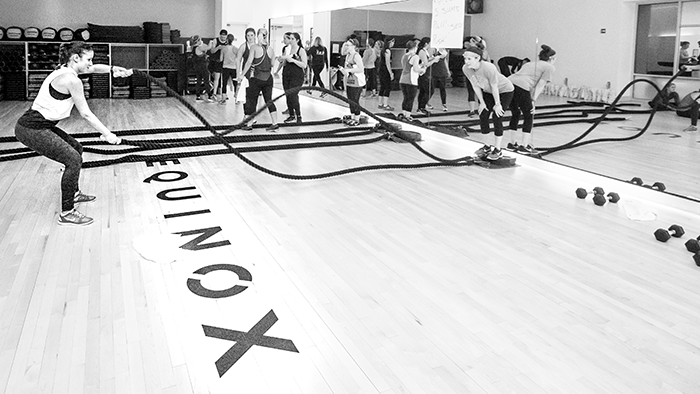 So who won? Everyone was a winner in our hearts, but according to the point system, team two won the team prize and the event's individual winner was Nell Shuttleworth.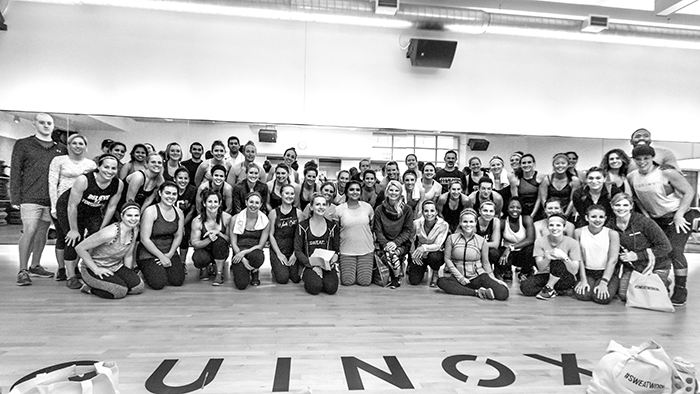 Whether they took it all or not, everyone was a winner … especially because they all took home #Sweatworking totes filled with goodies including passes to Equinox, Luna Bars, Propel Electrolyte water, Mamma Chia Chia Squeezes, Skinny Pop, gift cards to Snap Kitchen and more.
We had Lifeway Kefir in the house with its newest product, an even more protein-packed version of kefir with 40 grams packed into the tiny bottle.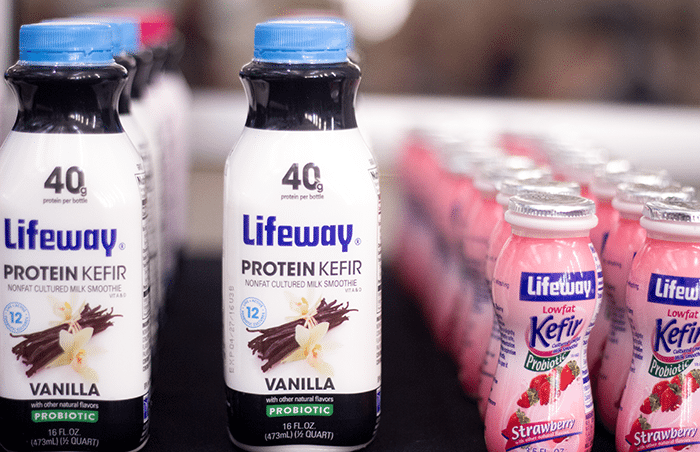 Mamma Chia brought chia-infused drinks.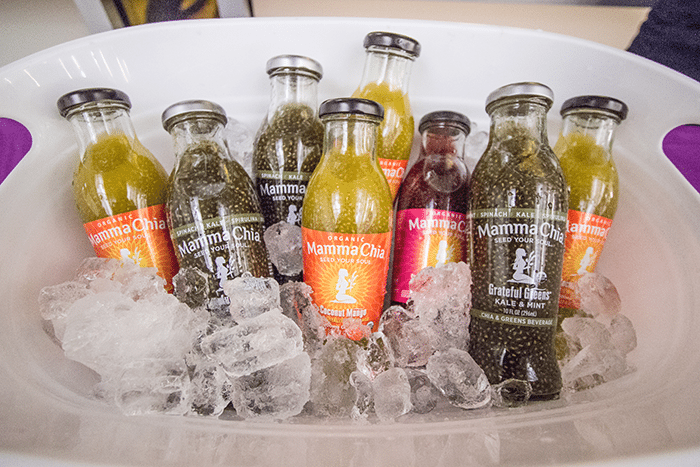 And I've never seen people eat tiny, adorable cakes faster than the #sweatworking Dry Triathletes who saw these beautiful treats by Nothing Bundt Cakes and made them disappear.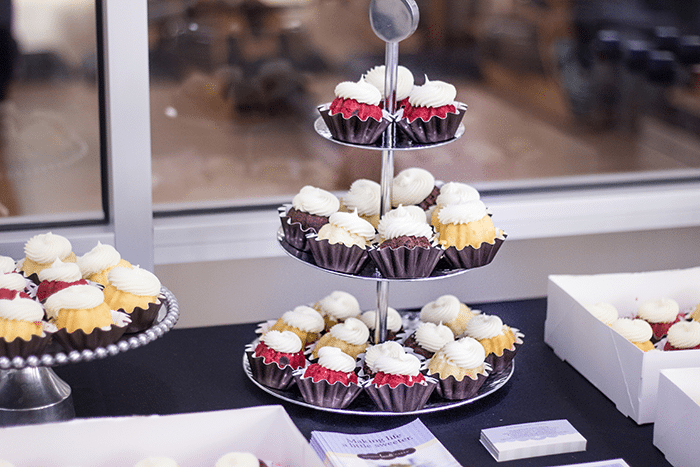 Snap Kitchen brought snacks and juices, which helped to refuel these athletes who worked for a solid 90 minutes.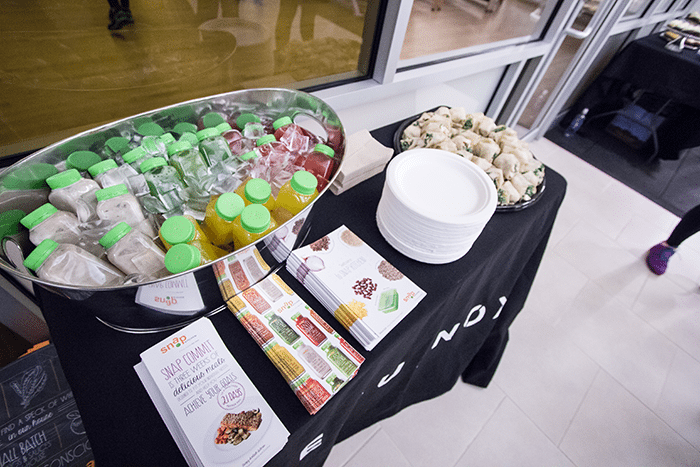 Want to be a part of the next one? Join us at the first in a series of DJ-driven event led by Emily Hutchins (Nike master trainer, owner of On Your Mark and general bad ass) at Chicago Athletic Association. It's sure to be amazing.