#SweatworkingCrawl: March 25, Takes on Four Workouts at Studios Fuse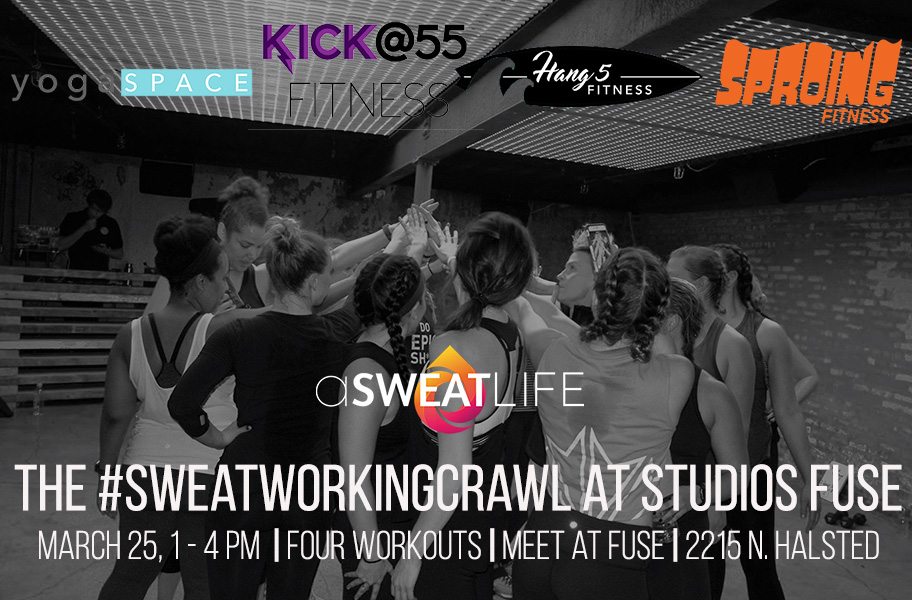 (Get your ticket to the Crawl here)
What do HIIT workouts, yoga, surfing and soft surface running have in common? They all come together at Chicago's new shared fitness space concept, Studios Fuse, and they all make up the #SweatworkingCrawl, happening March 25 at 1 pm.
Studios Fuse, launched in February 2018 in Lincoln Park, combines Sproing Fitness, Hang 5 Fitness, [email protected] and Yoga Space into one joint fitness space that offers a unique set of workouts, all under one roof.
Sproing Fitness uses a unique soft surface trainer to create a high intensity interval training workout on a soft surface that reduces impact in comparison to treadmill running (50 percent less impact on your knees, 41 percent less on your back, 32 percent less on your ankles). You'll experience a 30-minute version of this HIIT workout that incorporates Tabata intervals (20 seconds of work, 10 seconds of rest) in a total body workout.
Hang 5 Fitness infuses the lighthearted sport of surfing into the group fitness setting. You'll hop on a surf training board for a core workout that also challenges your balance for 30 minutes of heart pumping fun.
[email protected] Fitness opened its first location in River North in 2016, offering 55-minute workouts that are known city-wide as real @55-kickers. Expect 30 minutes of strength and cardio-focused boot camp-style circuits. You'll use weights, ropes and boxes, run through agility drills and light your core on fire as the clock runs out and everyone chants the final 10 seconds of work together as one big, sweaty team.
At Yoga Space, you'll have 30 minutes to flow from pose to pose, connect your breath to your movement and feel ready to take on your next workout.
New to a #SweatworkingCrawl? We can't wait to meet you! You'll have 10 minutes to transition from workout to workout and grab hydration or snacks if you need them. This time around, the workouts are all in one location so you'll have plenty of time to get from studio to studio.
During and in between workouts you'll have time to post your sweatiest moments to Instagram for a chance to win the social media challenge. The winner gets one special prize and his or her entire team will also win something special at the end of the afternoon.
Ready to sign up? Grab a ticket right here, and remember it pays to book with a friend.
Details, please:
When is this #SweatworkingCrawl? Sunday, March 25 from 1-4 pm
Where will we meet? We'll meet at the Studios Fuse main lobby and divide into four teams from there. You'll rotate among four 30-minute workouts with 15-minute breaks in between each.
Where do I sign up? Right here, thanks for asking!
What do I need to bring? Bring a mat for yoga and wear your favorite workout clothes and shoes built for a mix of activities!
Let us know!
Did this post help you get closer to achieving one of your goals?