Stop Shopping, Start Experiencing at Reebok Chicago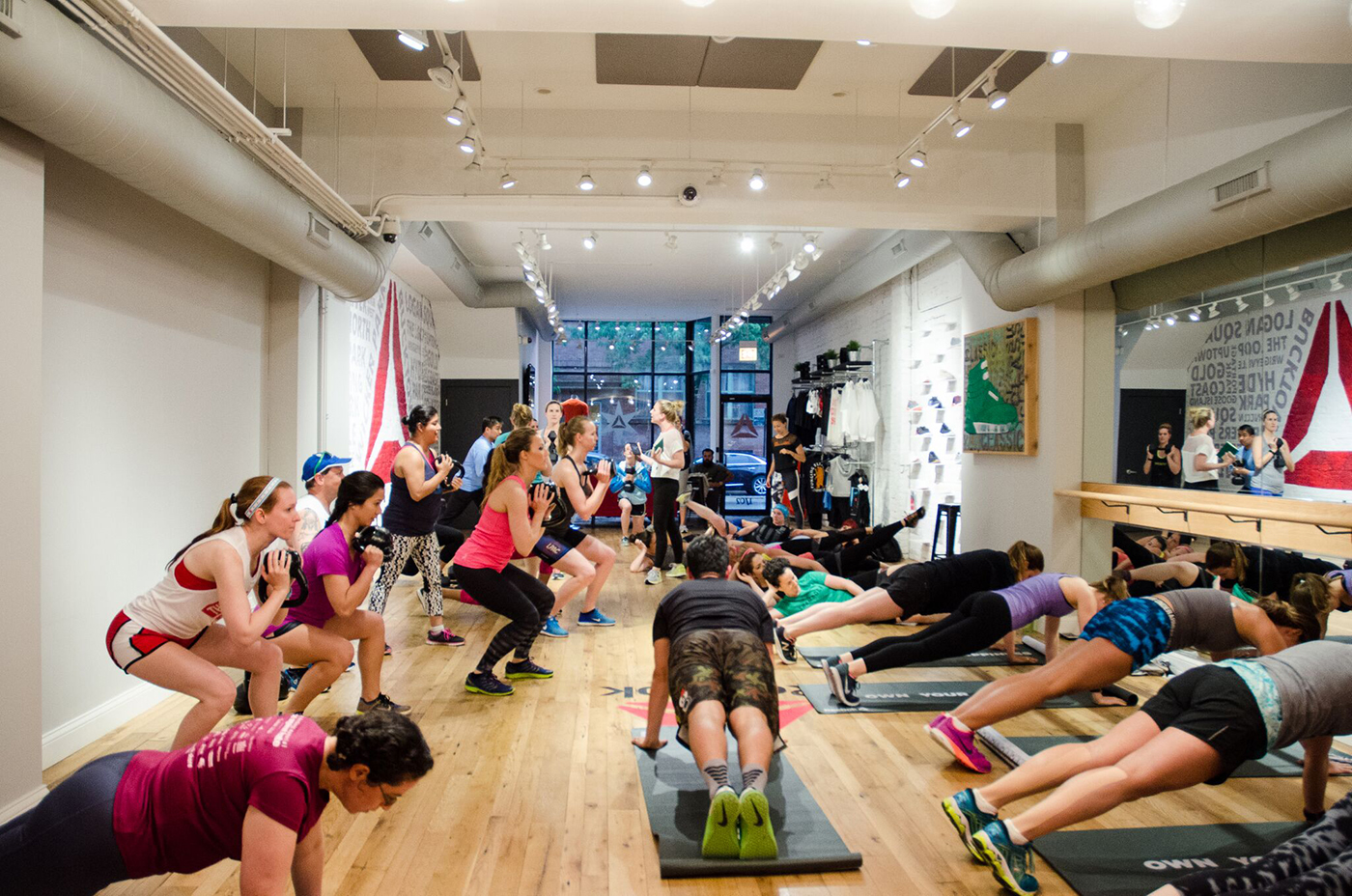 Walking along Damen Avenue in Chicago, you'll pass a number of shoe stores, jewelry shops and clothing brands' brick-and-mortar locations. When you reach Reebok Chicago, you'll see a few outfits in the window and a pair or two of to-die-for Reebok Classics displayed in the window. Inside, you'll be greeted by something unexpected.
Through the doors at Reebok Chicago's showroom, the first thing to notice is an open studio space; second, large displays of graffiti-style art from the Chicago-based artist Sentrock; last, you'll see clothes. And that's just what Reebok intended.
Reebok Chicago's studio space is made for all things fitness, first and foremost.
"The whole purpose is to lower the barrier of entry to people in the neighborhood who maybe want to try different types of classes but maybe don't want to go to a studio or don't want to pay the price of just one drop-in rate," Kristen Steinhubel, Experiential Marketing Manager of Reebok Chicago said. "They can try the different trainers, try different fitness styles, try different studios and ultimately, continue taking classes at those studios."
The vibe inside that space? Full of culture and community – the very reason Reebok selected the Bucktown/Wicker Park neighborhood to set up shop.
The neighborhood, Kristen says, "combines a little bit of everything [we love] in Chicago – trendy fitness studios, our target age group and market and the community is eclectic. It fits everything Reebok wanted."
Spend some time inside and you'll see what new products Reebok has, but you'll also get a dose of community and culture. Reebok Chicago opened its doors with an art run with Runstreet and aSweatLife. On June 14, we gathered in the freshly finished space for a workout inside, focused on a strength for runners and a run along the 606 trail outside.
Connection to community continued with the brand's official launch party on July 21. "We partnered with Modern Notoriety, a well known sneaker blog in the area," Kristen said. "Part of their series, 'Through the Lens,' we gave local photographers product and they shot it all around Chicago. We had those prints printed and displayed like an art gallery the day of the event."
In addition to good music and good art, you could get a t-shirt printed on site, sample ice cream and popsicles from a stand outside or build your own hot dog from a truck across the street.
"It reconnected the lifestyle side of Chicago back to the Reebok brand," Kristen continued.
Still, first and foremost, Reebok is fitness forward. "Reebok as a brand is fitness-focused, not sports-focused – actually fitness," Kristen said. "We want to build product for anyone who's involved in any aspect of fitness."
That's why you can experience more ways to work out and try product rather than just buy it. For this particular store, think "brick and click" instead of your traditional cash-and-carry.
"We have current product there so you can come in, touch, feel, try on and figure out your sizing for apparel and footwear," Kristen said. From there, they order everything online for you with free two-day shipping.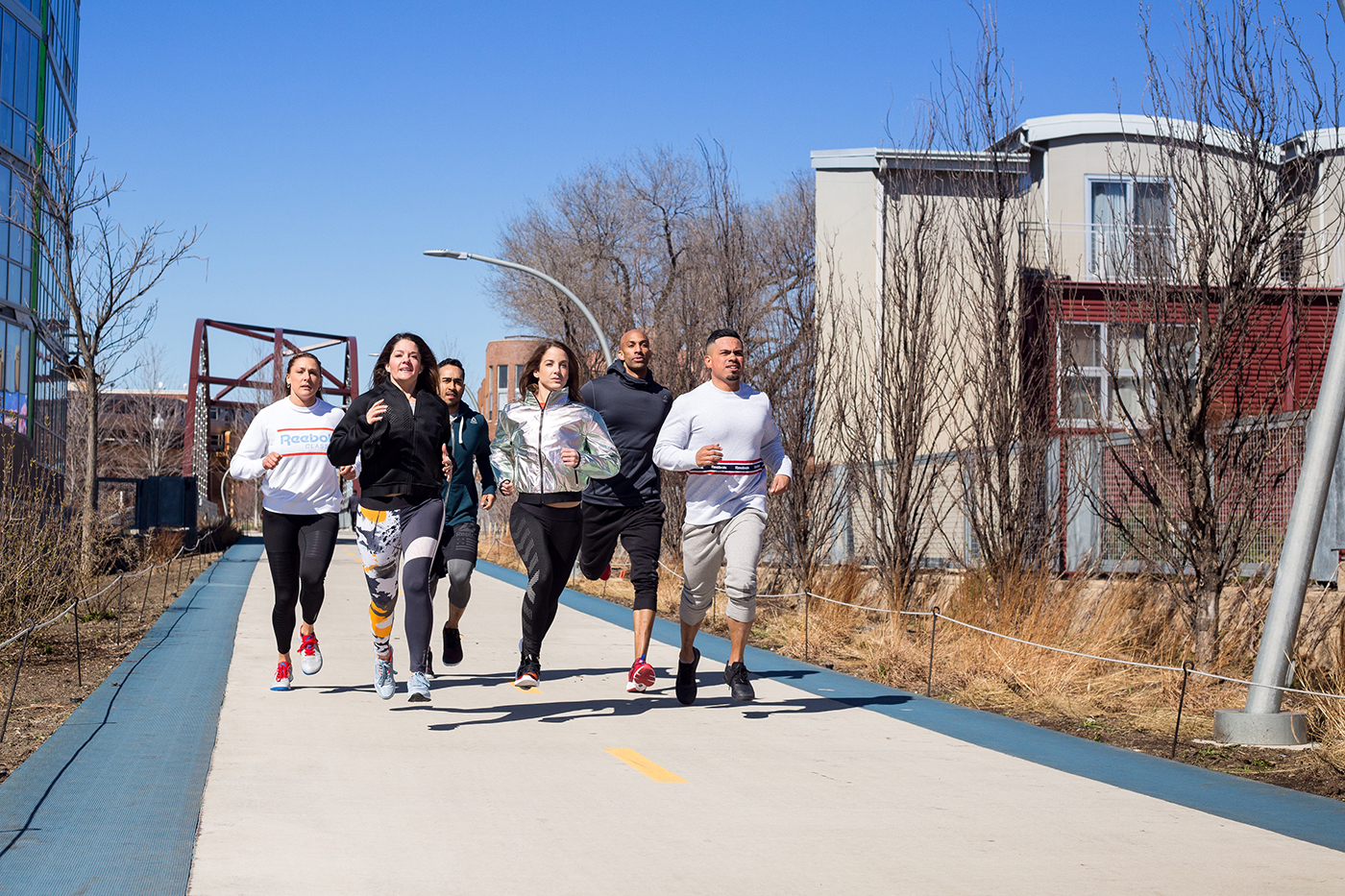 And you don't have to buy anything to get in on the fitness action. "Every Tuesday and Thursday we'll host all kinds of fitness classes," Kristen said. "Anywhere from yoga to bootcamp to the HIIT-style training to barre classes. Even a granny hip-hop style dance class. We're open to anything."
That community feel extends beyond Wicker Park and Bucktown; Reebok Chicago is setting roots within the community of Chicago as a whole. Partnering with aSweatLife, you can take on Sweat Crawls across Chicago's various neighborhoods each month; the next one will be on August 26.
Follow Reebok Chicago on Instagram to stay up to date on the workouts you can find at the store, located at 1702 N. Damen Ave.
Let us know!
Did this post help you get closer to achieving one of your goals?