August 26, We'll Host The West Loop Sweatworking Crawl With Reebok Chicago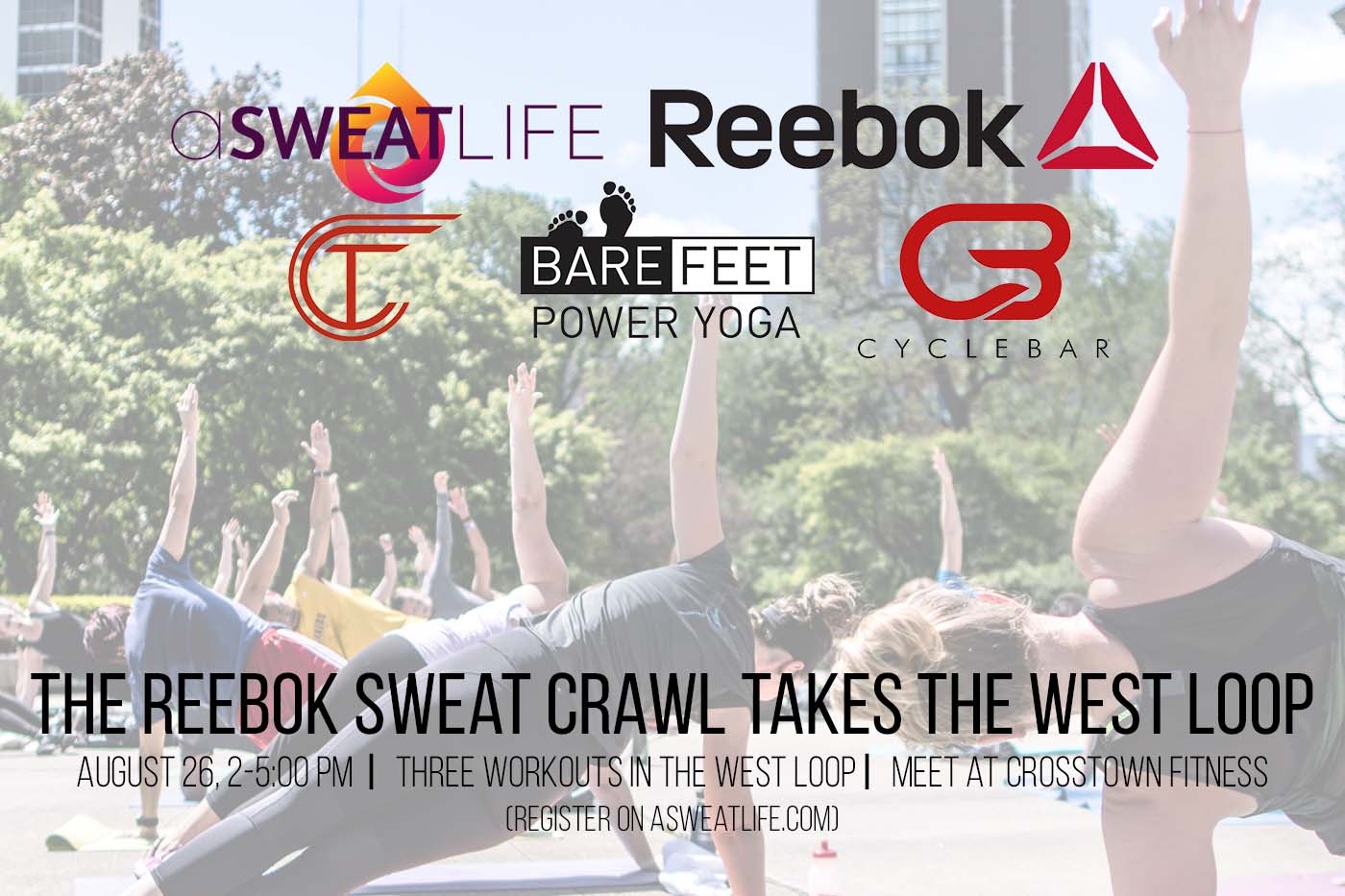 After the first #Sweatworking Crawl in Bucktown – our chance to take up more of your afternoon while hitting select neighborhood sweat-spots – we knew that we weren't done crawling yet. Our partner Reebok Chicago agreed to help us take this show on the road and we're inviting you to join us as we sweat our way through the West Loop August 26.
We've partnered with CrossTown Fitness, CycleBar Fulton Market and Bare Feet Loft to create a uniquely West Loop experience that you won't want to miss. After each unique workout, we'll take a jog as a team to a new spot.
Get there early because Base Salon will be in the house doling out braids to keep you looking fresh.
Because we're always looking to keep things exciting, our Instagram challenge will have even higher stakes. One winner will take home $25 Gift card to Reebok, a four-pack of personal training to use at CrossTown Fitness, a five-pack of classes for Cycle Bar, one month of unlimited yoga for one person and $100 to spend at Base Salon. And the best news? Everyone on the winner's team will get a prize including a special goody bag from Reebok and a 14-day pass from CrossTown Fitness. 
Here's what you can expect from the day.
There's a lot to love about the #Sweatworking Crawl – it comes action-packed with something for everything. Here's the highlights reel:
Three mini classes: Each class will be a 30-minute version of a signature offering at each studio.
Plenty of passing time: You'll have 15 minutes to move from studio-to-studio as a team, so if you need to run/walk, you'll be absolutely fine to do it.
Team work to make the dream work: You'll be with one team for the entire #Sweatworking Crawl, sharing sweat, high-fives and camaraderie.
Chances to win:

 There will be a social media giveaway during the event with prizes from our friends.

All the snacks

: As always, there will be snacks afterwards.
Want to know more about each studio? Glad you asked! 
CrossTown Fitness: With more equipment than you can imagine, CrossTown Fitness empowers its trainers to create unique programs that challenge you and change your body. No two classes are the same.
Bare Feet Power Yoga: Bare Feet Power Yoga and its two locations in the west Loop create an incredible community that allows yogis to come as they are, be as they are and leave as they are.
CycleBar Fulton Market: This studio was built to create a unique studio cycling experience that has something for everyone. You'll find rides driven by the beat of the music and rides built to amp up your performance and boost your stats.
Ready to sign up?  
Remember, booking in a group will save you $5 a ticket. Because everything is better with friends.
Let us know!
Did this post help you get closer to achieving one of your goals?