What the Apple Event Means for Your Fitness
Like it or not, our iDevices have become an integral part of our fitness today. You can use your iPhone as a food tracker, a pedometer, a heart rate monitor or a sleep tracker. Hundreds of apps give you on-the-go workouts that you can do with little or no equipment, or to track your run and add a cool filter to show how many miles you ran. Without your iPhone, said run would be music or podcast-free and you wouldn't be able to text your friend that they really need to bring you an extra bottle of water before they meet you for a class.
*Note: I know you can do all these things with an Android, too. But let's keep things focused here.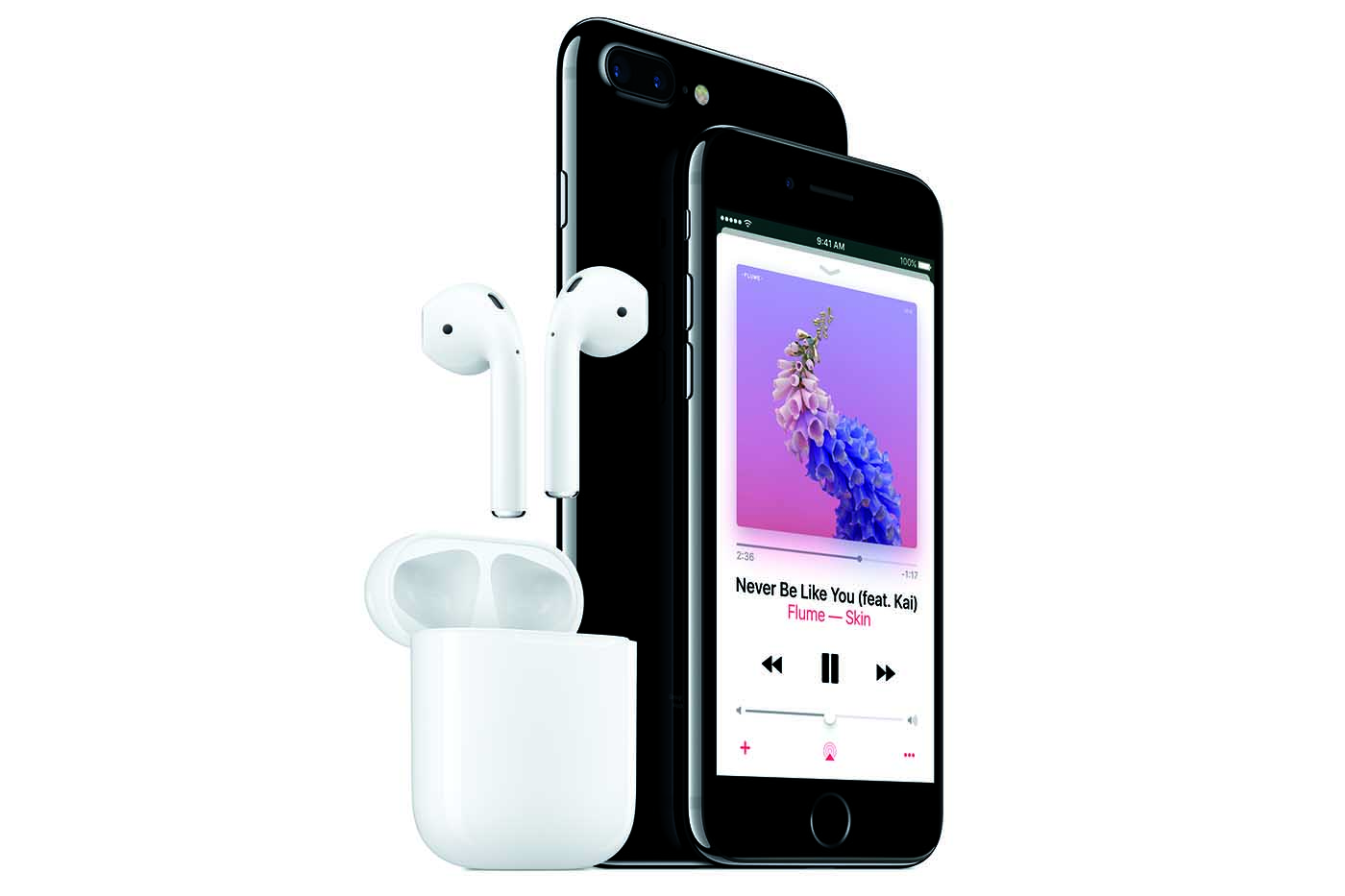 While most of us were at our desks sneaking peeks at said iPhones on Wednesday, the tech elite of the world converged at the annual Apple Event, a happening so eponymous it needs no other descriptor. It's at this event each year that Apple unveils the latest and greatest iPhone, along with whatever else they've been cooking up in their lab – which often includes how their devices can elevate your health and wellness. (It's also Cass Gunderson's greatest day on Twitter of 2016.)
Didn't have time to tune into the live stream? Here's a quick rundown of Apple's announcements from Wednesday, and how they're going to affect your fitness.
The news: The headphone jack is outta here.
What it means for you: We've reviewed wireless headphones before; now, it's time to start looking at these more seriously. Without the headphone jack, your runs will have to be powered by wireless Bluetooth enabled headphones. The Apple alternative is the AirPods, cordless headphones that look like they're ready to get lost very easily (also, I'm irrationally upset that no one thought to name them AirBuds).
The bright side? No cords to get tangled in your armband or jacket. Plus, the AirPods will have 24 hours of battery life and will be able to be recharged through the "Lightning connector," a glorified dongle that you can stick in the charging hole and use as an adapter to the aux cord or your trusty old Apple ear phones. Plus, the AirPods connect to your phone or watch automatically, only activate when they're in your ears and can be used for certain tasks like asking Siri a question.
Gird your loins – these cost $159. Because courage (and $$$).
The news: The new Apple Watch will have GPS and is water-resistant up to 50m.
What it means for you: You can finally track your running routes with your Apple Watch Series 2 (which you can't do with similar fitness tracking watches that also have apps and text alerts, like the FitBit Blaze). As for swimming, the fine print on the Apple website says you can use the watch for shallow water activities like swimming in a pool or ocean, but stay away from scuba diving or water-skiing, and make sure you're not using a leather or stainless steel watch band.
The news: Apple is introducing the new Apple Watch Nike+.
What it means for you: This is the watch where running and design intersect. This watch has the same built-in GPS tracking as the Series 2 watches, along with a permanent home screen installation of the Nike+ Run Club app. The Nike+ Run Club app is a favorite around Team aSweatLife, but just in case you need a refresher, it allows you to track your progress and be cheered on by your friends as you run your first, fastest and funnest miles. With the watch, you can opt in to reminder notifications to get a little extra dose of running motivation. You can even create a training schedule to help you stick to your goals.
As distance runners know, sometimes your seemingly-lightweight phone starts to feel like it weighs a million pounds by mile 9. With your lack of headphones and the ability to load playlists onto your watch, a completely phone-free run (but with the ability to play music and track mileage) is in your future (whether you have a Series 2 watch or the Nike+ watch).
Plus, the design is made for athletes (especially athletes who say their favorite color is neon). The Nike Sport Band is lightweight and features strategic holes for ventilation, so your wrist never gets too sweaty or irritated. The face pays tribute to Nike's signature Volt neon yellow with big, easy-to-read numbers and icons – perfect for glancing down during a speed interval. In short, you'll want it (and it's a huge upgrade over Nike's old Fuel Band and SportWatch).
The new iPhone7 and Apple Watch Series 2 are available for pre-order September 9 and available for purchase  September 16. The Apple Watch Nike+ is available for pre-order September 9, and will be available in late October. Set your alarms now, people.