Finding Strength in Numbers With Team aSweatLife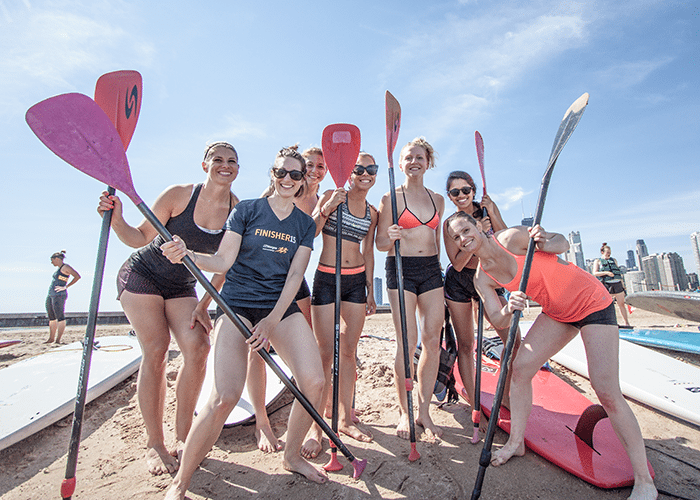 (All photos in this post by Christiana Basso)
Since joining team aSweatLife, I've had more positive experiences in a workout environment than ever before in my life. The sense of camaraderie and inclusion is overwhelming. For that, I am so proud to be a member of the team. It's this we're-all-in-this-together mentality that makes me so excited to keep coming back.
That post-workout feeling of total community with a group of people who care about similar things caused me to ask myself the question, "Why don't we talk about this more?"
Chicago knows fitness. On any given day you can find a million and one ways to absolutely destroy your body just enough to put it back together again with some deep dish pizza, and then do it again tomorrow. But I had a hard time believing that the reason why we at aSweatLife (or anyone for that matter) continue to put ourselves through the ringer with new and crazy workouts after newer and crazier workouts just because we should.
There's a deeper reason why we sought out this community and why we keep coming back. I asked some of our writers what their take on it was – why they love it, what this community means to them and how they feel about themselves and working out in general.
Because I admire the hell out of all of them I wanted to share with you all how incredibly proud I am of our team for everything we do individually and for what we share as group with the community. Here's what I learned:
I learned I'm not alone in feeling awkward or strange for sharing that I feel great after a workout.
I'm way more inclined to talk about how hard the workout was, not about how I crushed it.
"Sometimes it almost feels boastful," Nikki told me. And I agree with her. But why is it off-putting to own up to our accomplishments and talk about them openly?
Catherine mentioned a vivid experience after going to a Title Boxing #Sweatworking event, describing how proud she felt.
"I said, I feel so good! And I haven't said that in a while – or ever," she told me.
But why could that be? (Readers, I'm genuinely asking you this question!)
I learned we could all afford to re-read Cass' post from last year, and take a moment to say "thank you" to our bodies.
I'll completely own up to being hard on myself. I don't say "Thank you" enough or appreciate the incredible strength I possess. And I know I'm not the only one.
"I often dwell on the setbacks rather than accomplishments," says Jeana. "If one thing goes wrong, all I can think about is that thing. When those moment happen, we have to step back and say "this is a thing I can learn from," acknowledge it, and remind ourselves how far we've come."  
I learned little accomplishments deserve more credit
.
We have dedicated marathon and crazy trail runners, dance instructors, yoga gurus and all-out workout junkies who do it all on team aSweatLife. But the physical fitness accomplishments we're most proud of have striking similarities. The sense of pride comes from the feeling everyone had versus the exercise she did.
"A few years ago, I couldn't do a single pull-up," said Dani. "Now I can do about 11. Seeing that progress from impossible to conquered felt amazing."
Since Mananya wasn't always a fan of the gym, cardio was one of her biggest obstacles to conquer. "Just showing up to Hardpressed was half the battle," she said. "And I finished [the workout] 30 minutes later, and I went back again!"
Lori's reply to the moment that made her proud was the most wildcard answer: a trapeze class. "The first time I did a trapeze class, I was scared to death, but it was one of the greatest things I ever did." she said. "I had never felt a rush like that in my life."  
And Kelsey summed it up perfectly. "I beat myself up about it because I've never done a marathon or a triathlon, [or any of] these big goals. But I did some chin-ups the other day and that was awesome. It's those small triumphs, and it's the times we truly have fun that are so important, too."
I'm personally guilty of only counting the workouts that nearly break my back as worthy of making me feel accomplished. But I had an absolute blast paddle boarding with the team during a Cross Town Fitness class at North Ave beach early Saturday morning, and I'm damn proud of standing up on that thing, even if I didn't sweat buckets while going for it.
I learned that there's something special for fitness lovers when it comes to their workout time.
The fact that we are team aSweatLife might mean we all share a love of working out and getting sweaty, but, as is true for so many of us out there, that time in our day means so much more.
"It's my time for myself. It's my hour when I put my phone away, I'm not talking to anyone, and it's just my time," says Nikki.
"I realize I don't think about burning a certain amount of calories when I'm in a [group fitness] class. That's not why I'm there," says Catherine.
"I work out because it makes me stronger mentally and emotionally. I feel that come through in the personal situations I face and at work; I've never felt stronger in my life," Mananya told me.
But there are still so many external drivers for working out, whether they truly resonate with fitness junkies or not.
"I feel like almost every class you go to, the instructor talks in terms of calories or getting that "beach body," and it's really more about feeling stronger and being able to do certain things. I go skiing with my dad every winter, so that requires being able to do lunges, for example," Catherine says.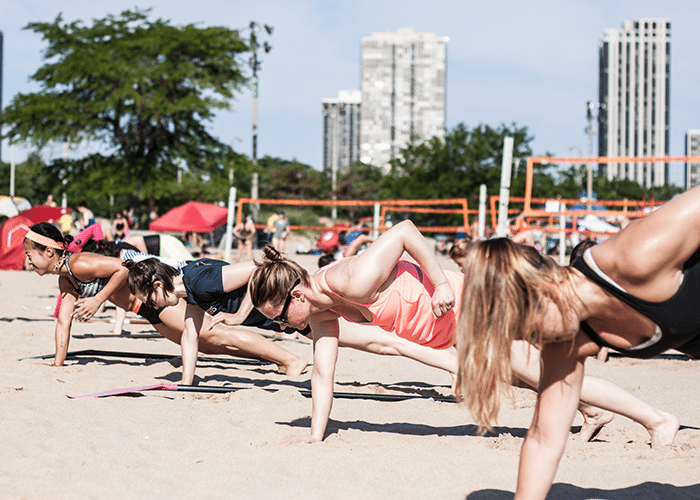 She's right. There's a whole element to exercise, its functional purpose, that exercise enthusiasts and fitness instructors sometimes neglect. But on an even more fundamental level, I feel like a better version of myself if I make it a part of my daily life. I used to feel badly for prioritizing it over something else (read: work events, happy hours, boozy brunches). But that time is sacred to me, and I am going to work much harder to preserve it if it's really something I want to do, rather than making choices based on what I think others would like me to do.
I learned we all agree on the value of trying new things.
Fitness can be daunting. There are many ways to get involved, but the door can seem closed off – until it's open. You just have to open it yourself and trust that there are people out there, like the team at aSweatLife, who have been there before and want nothing more than to raise others up and celebrate those little accomplishments along the way.
"You've got to come out and try new things. I had never done stand up paddleboarding before today but I can't wait to do it again. You just have to get out of your comfort zone. everyone is at a different level," Kelsey says.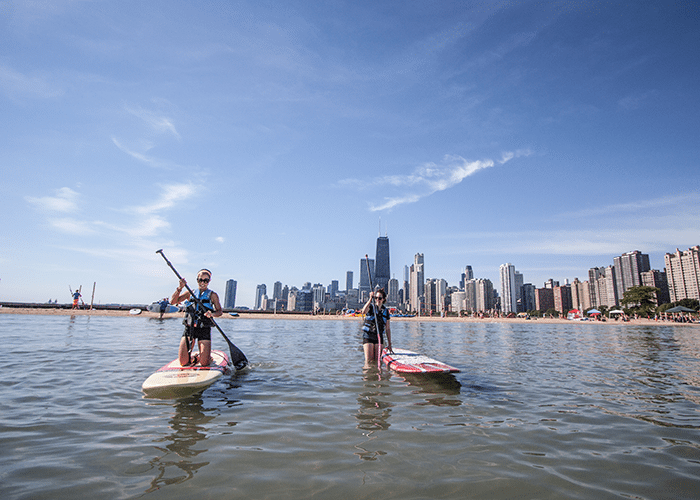 That's what we hope to do with #Sweatworking. We want to bring new folks into the mix, helping prop that door open. And sometimes, simply trying something out is an accomplishment in and of itself. For Lori, it was the compliment she gave herself. By putting yourself out there you immediately break down the first barrier, and if trying is the goal, there's no way you can fail.
Betina Gozo, our coach with Cross Town Fitness and paddleboarding instructor, put goals into perspective for me.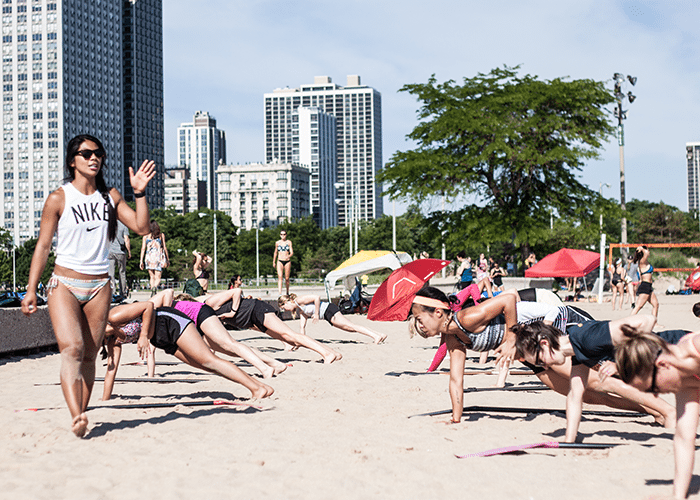 "People put a lot of pressure on themselves," she said. "They feel they aren't good or strong enough. And we move so fast we don't take the time to think about how well we did. I think if people hold themselves accountable to smaller, more attainable goals, like 'this week I'm going to make it to one class,' you'll find more success."
I learned it's all about perspective.
Sure, there are external motivators to work out, and you'll find them around every corner. Members on the team acknowledged them, but said they simply choose to focus on the plethora of other, better vibes out there.
"I've stopped paying attention to the stuff that makes you feel bad about your body," Nikki told me. "I've decided that the things I expose myself to on social media are going to be positive, and that's been pretty impactful for me."
And I learned the positive vibes are not all in my head.
Everyone who is a part of team aSweatLife truly loves and embraces the Chicago fitness community.
I dragged the team out of bed at 8 am on a Saturday to meet at the beach and take Betina's HIIT & SUP paddleboard class, and everyone was so game for it. Why? Because our community isn't only physically strong, it's also an authentic friendship among like-minded individuals. And since we care about seeing this community grow, when someone says "let's jump," you can bet there will be a group behind you shouting "how high." Plus, when there's a group to ready try new things with you, everything becomes less intimidating.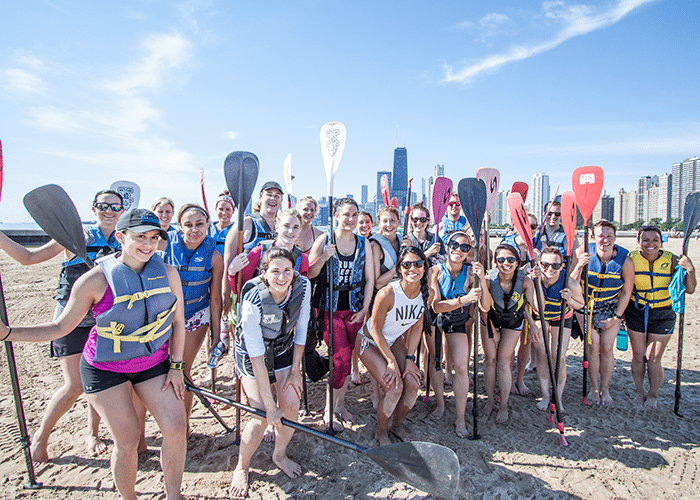 "You can't show people what [being active] feels like in an Instagram post," Cass says. "You have to encourage others to try a new workout with you, especially those who otherwise wouldn't. There's nothing more motivating than empowering each other, and once people get it, they usually end up surprising themselves with what they can do."
I found through talking with all my fitness friends this week that it's still really hard to give ourselves a compliment. And I think I'd find that to be true no matter who I'm talking to. Humility is one thing, but being hard on ourselves is too common. I've found, though, that supporting others makes me feel so much better about myself.
"It's important to lift each other up," Jeana agrees. "You can't be a strong force for yourself if you can't be a strong force for each other. That's the environment of #Sweatworking. Once you do that, it's easier to do it for yourself."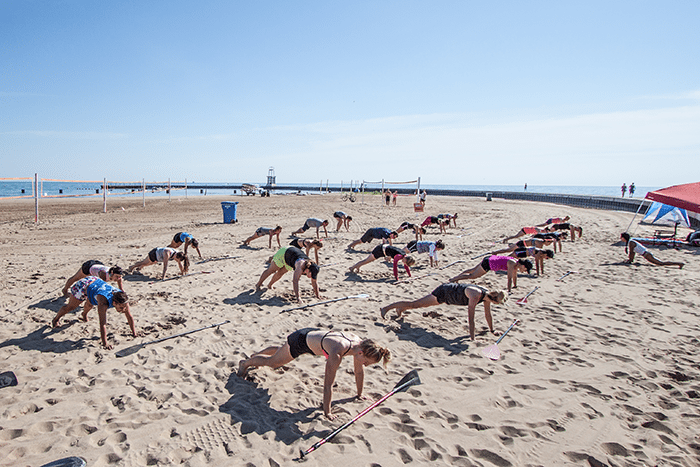 Writing this post allowed me to take a pause and say "thank you" to my body. I'm not perfect, and I know there will always be days I'm too hard on myself. But in this moment, I'm saying "thank you." Thank you to myself for being open to try new things and push myself further than I thought I could go, and thank you to this team who exemplify everyday what it means to be a part of a strong community.
And my hope for you in reading this post is notice one accomplishment, however great or small, you've had this week and praise yourself for it. Share it with someone else. Don't belittle it. And if you feel compelled, share it with us. So here's to continuing to shift the conversation, and holding the door open for all to walk in.