Fight Night at Title Boxing Club Lincoln Park
Ah #Sweatworking. That time each month when we pull our squad together to sweat, shake some hands and hang out over snacks.
When we took over Title Boxing Club in Lincoln Park in April, we added a fourth to-do item to our list:
Sweat
Shake hands
Mingle over healthy snacks
Work some stuff out on the heavy bags
Just like every month, the #Sweatworking crew showed up ready to work, excited to try something new.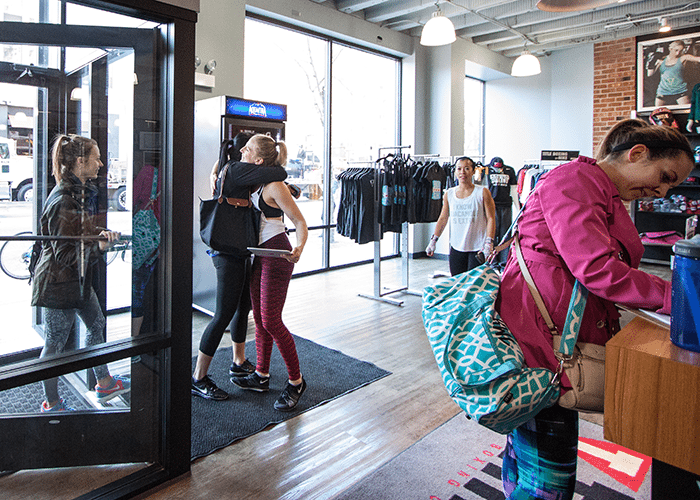 (All photos in this post are by Christiana Basso)
But the second the group had its hands wrapped, something changed.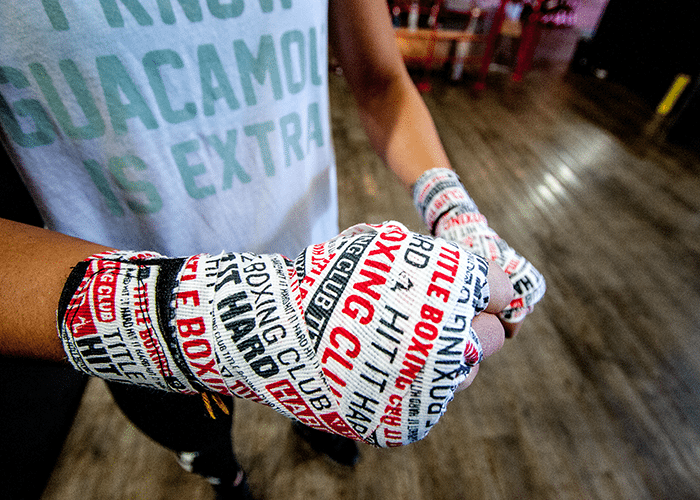 After seeing this event and punching my way through it, one thing became clear: there is a little fighter in all of our brains. In a life full of emails that end in, "Thanks!" and baby showers and doing the right thing, the fighter stays silent. Until the moment is right.
That moment was #Sweatworking where we met this sea of heavy bags. The fighter was ready to rumble.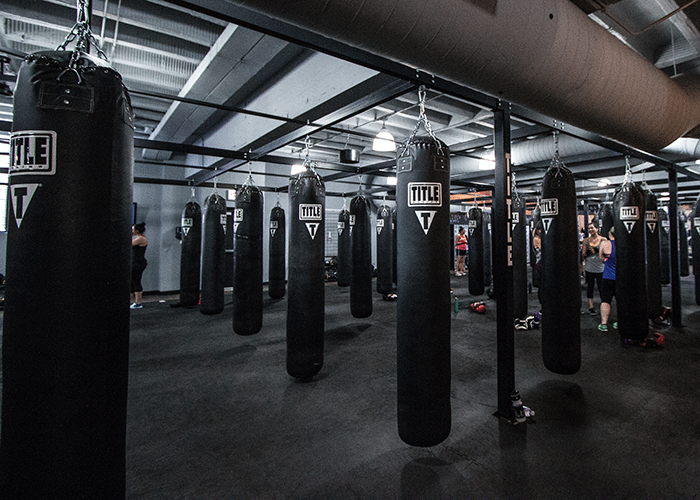 And we met each other – my favorite moment of #Sweatworking.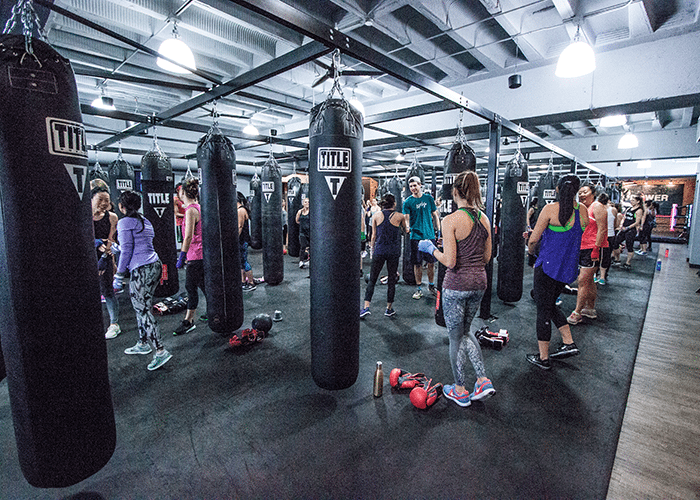 After the proper introductions, our instructor Courtney Belcastro got down to the business of teaching us the proper technique for the punches and leading us through what Title Boxing Club calls a warm up.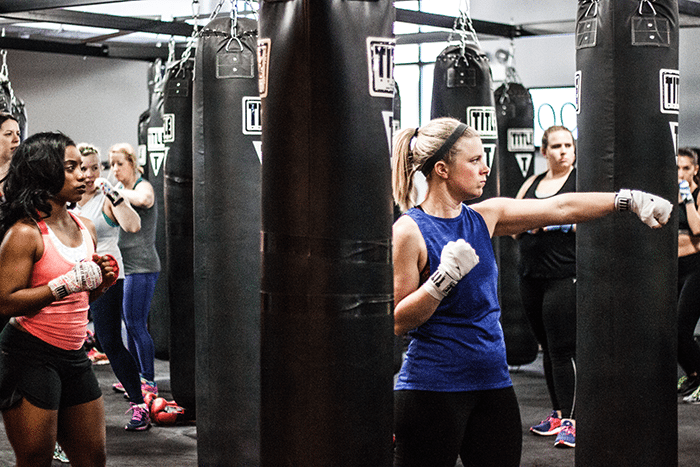 Don't let this name confuse you. The warm up is an all-out conditioning round for 15 minutes. We got down and dirty, doing everything from med ball squats to lunges to burpees a few times.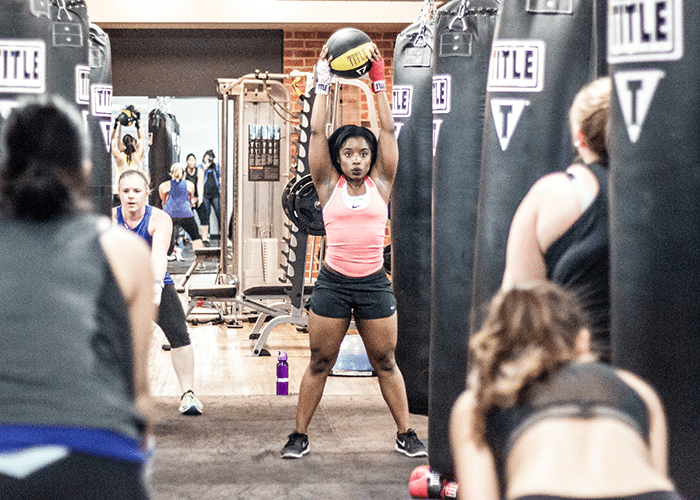 Just look at the faces as Courtney explains these skaters. These faces are saying, "warm up?!?"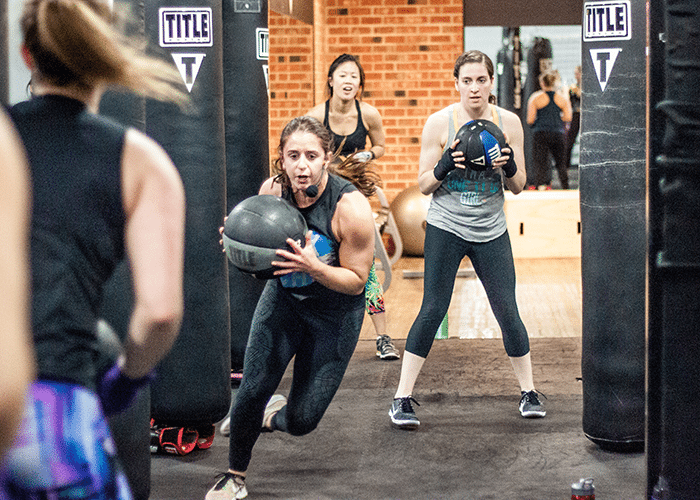 Push-ups happened more than one way.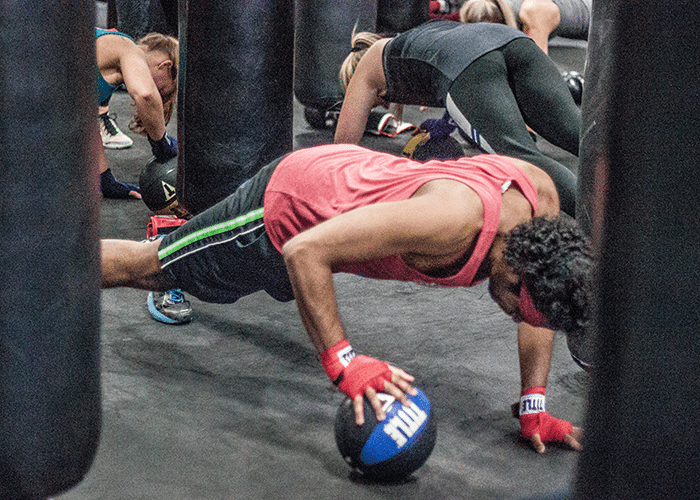 And guess what – the heavy bag's heaviness serves another purpose. Its girth offers something terrific to sprint against.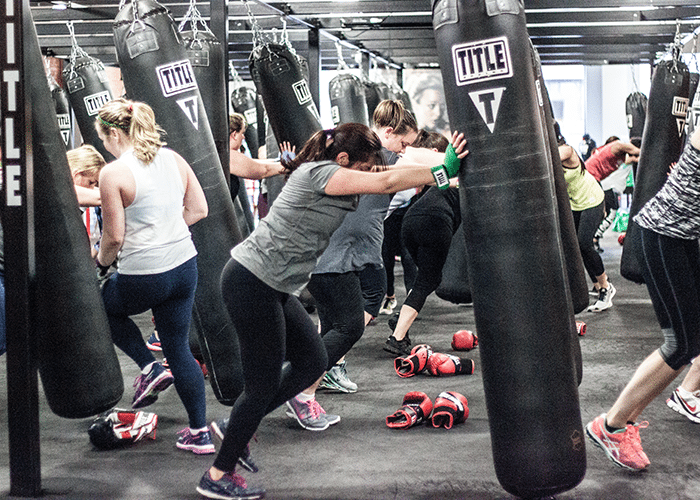 By the time the warm up was over, it was going down. We were ready to hit the bag that we had to sprint against. After that sprint, the bag was the enemy.
But first, this: here is photo of me, helplessly sweaty. You know what's not easy to grab a towel with? Your hands strapped securely in boxing gloves.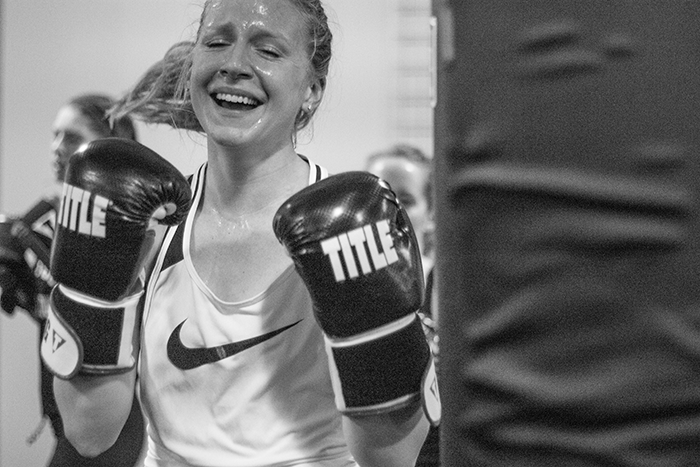 In the middle section of this class – 30 minutes – we did eight rounds of boxing combos. Courtney would call out a series of punches that she instructed us on in the beginning of class – jab, cross, hook or uppercut – and we'd execute those punches with all of our might.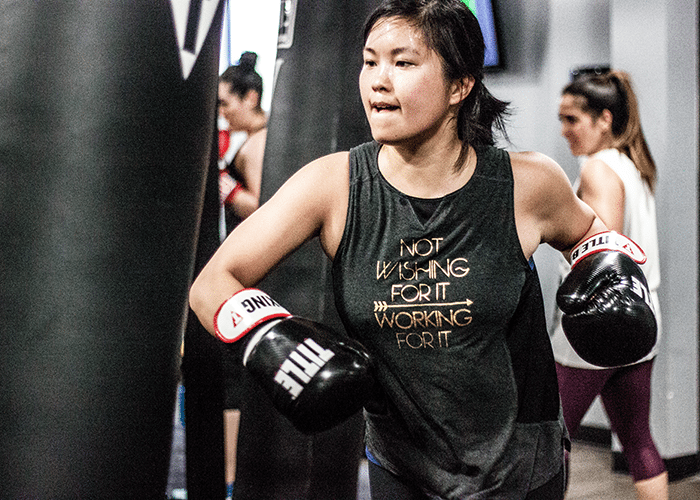 Between each round, there was an active recovery, which was not so much a recovery as it was a break from the aforementioned wailing. During that break from the combos, we'd do some grouping of lower body and cardio exercises.
During one such break, Courtney had us get down on the ground, lay face up and close our eyes. On her cue, we got up as quickly as we could and went to town on the heavy bags. This was, no doubt, to get the fighters in the room ready for that BIG punch that knocks them on the ground, enabling us all to prepare for that moment when we would gather everything in ourselves and get back up.
We were basically living Southpaw.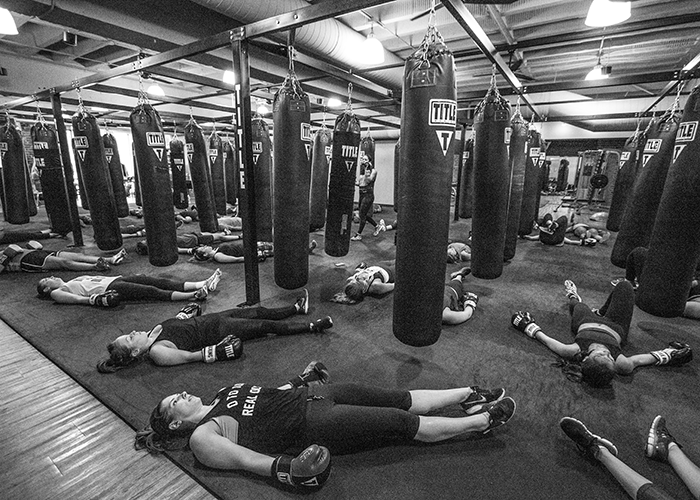 And go to town we did.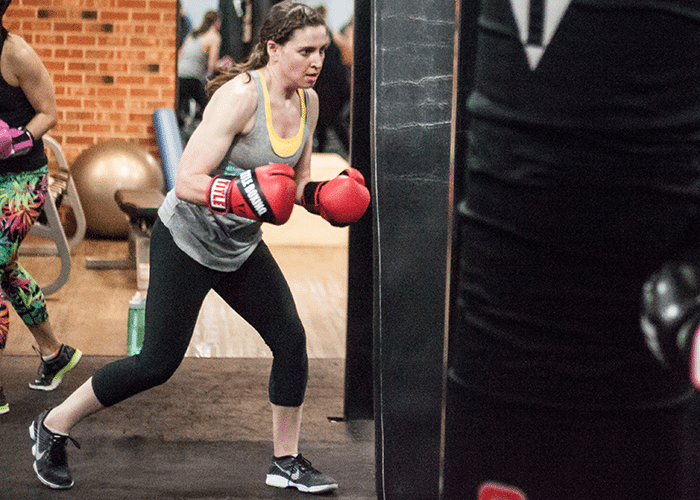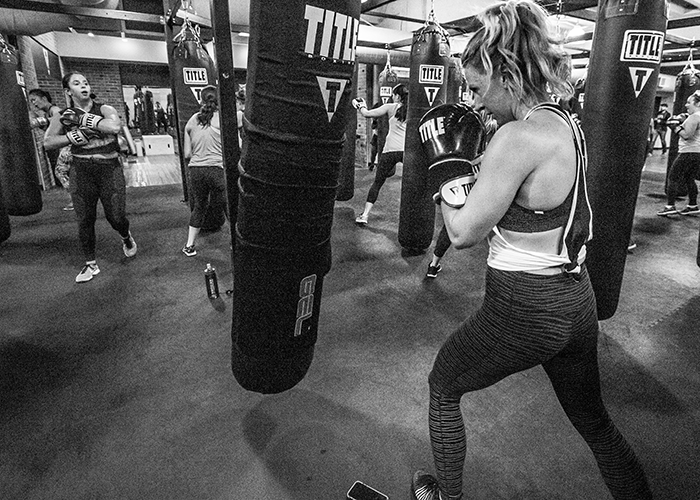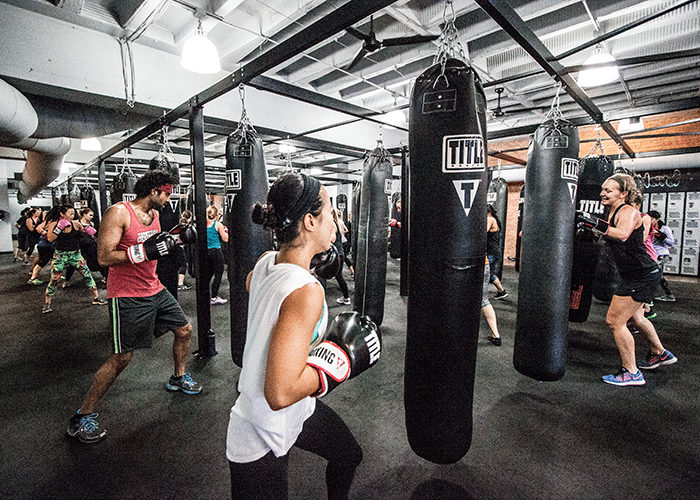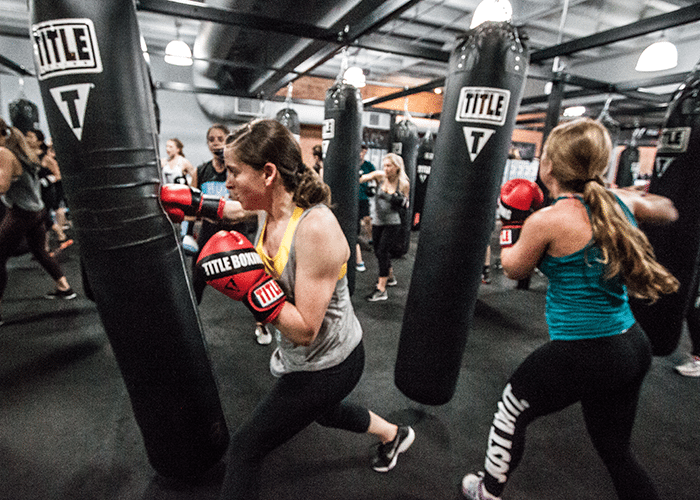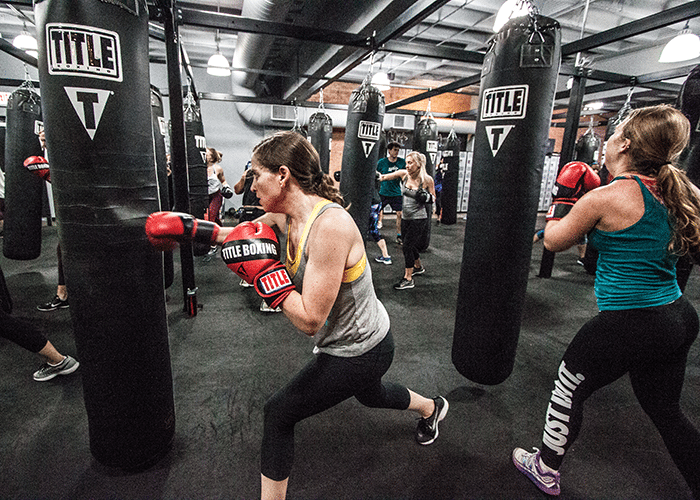 After a closing set of 15 minutes of abs – probably the most challenging ab series I've done in my life – we mopped up our brows, gather our new friends and showed the world what swagger looks like.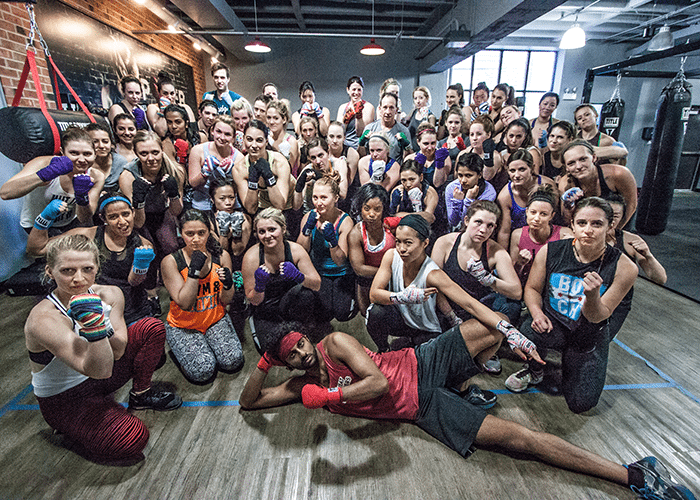 Afterwards we grabbed goody bags from Sprig, sipped on some Vita Coco, High Brew and Bai and snacked on Luna Bars, Skinny Pop and Pretzel Crisps.
Think this looks like fun? Join us for an entire week of #Sweatworking events and get in on the action with #SweatworkingWeek, like restaurant week for fitness. Learn more about the unlimited classes June 6-12.