Chicago Outdoor Workouts to Fill Your Summer With Fitness
Each summer when the temperature is just right, Chicagoans poke their heads out of hiding to realize that summer truly has arrived. From that point forward, it becomes a pastime of windy-city-dwellers to find ways to do absolutely everything outdoors.
Drinking, eating, socializing, listening to music – but the greatest of all of these is fitness. As soon as the bathrooms unlock and the water fountains turn on, the Lakeshore path bustles with the action of – and sometimes competition between – bikers and runners.
But outside of the lakeshore path, studios and gyms find ways to keep you sweating, even when the idea of going inside can feel like torture. Here are a few must-do workouts to occupy those warm summer days.
Surfset at the Langham
Where: The Langham Hotel, 330 North Wabash Avenue
When: Tuesdays at 5:30 pm; Thursdays at 5:30 pm; Saturdays at 10 am and 11:30 am; and Sundays at 10:30 am. This class offering starts July 5 and goes through August 30
How do you sign up: Call the hotel's Chuan Spa at 312-923-7650 or email [email protected]
What can you expect: Surfset is the workout that you may remember from Shark Tank. Using the idea of a surfboard and it's intrinsic instability, you'll do some motions you're used to and some that are more familiar to those who surf. We tried this class format indoors and we've been addicted ever since. In your bare feet, get ready for a heart-racing, muscle building workout that will build balance and strength all at once.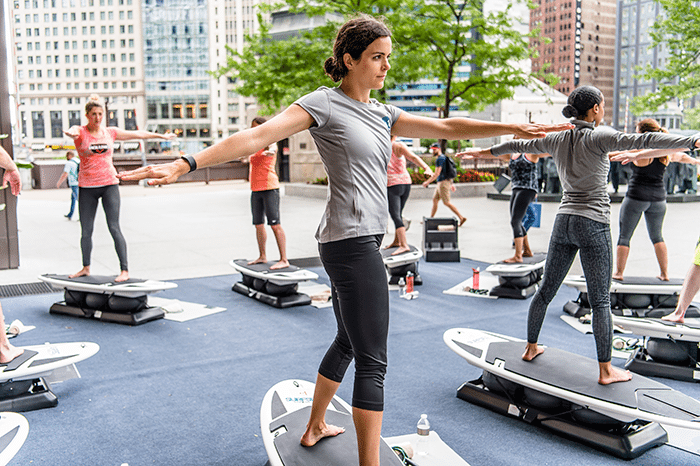 Sweat at Joy District
Where: The rooftop at Joy District, 112 W Hubbard Street
When: Saturdays at 9:30 am
How do you sign up: Sign up like a regular class here for $25 for a drop-in. Various other class packs bring this price down.
What can you expect: Our friends at SWEAT are taking their signature workouts out of the studio, away from the treadmills and into the sun at Joy District for the summer. Expect a hearth-pumping Saturday workout with convenient access to the boozy brunches of Hubbard Street afterwards.
Studio Three Rooftop yoga at Joy District
Where: The rooftop at Joy District, 112 W Hubbard Street
When: Fridays at 1:45 pm (check Studio Three's Schedule here)
How do you sign up: Sign up like a regular yoga class here for $20. Various class packs can bring that cost down.
What can you expect: Studio Three is taking advantage of your office's summer hours at Joy District's rooftop. You can flow while all of those other poor working schmucks wonder what the sunshine feels like. Start your weekend after getting your vibes way up.
Equinox Summer Bootcamp series
Where: Equinox Lincoln Park, 1750 North Clark
When: Tuesdays and Thursdays at 6 am
How do you sign up: Register here. Members pay $99 for a session and non-members pay $299, which includes membership at Equinox Lincoln Park for duration of session. Session one goes from July 5-28 and session two runs from August 2-25.
What can you expect: Equinox is offering a chance to feel like a kid at summer camp again – a really fit summer camp. Its boot camp, or summer camp series, starts your mornings two days a week with outdoor group workouts. Participants are asked to commit to the full program – eight workouts total.
Exhale outdoors
Where: Exhale Gold Coast is taking over Rafaello Hotel's Drumbar, 201 E Delaware Place. Exhale Evanston will flow on the E2 rooftop at 1890 Maple Ave, Evanston.
When: Exhale Gold Coast: Wednesday at 5:45 pm. Exhale Evanston: Tuesdays at 9:45am.
How do you sign up: Sign up like a regular class here for $25 for a drop-in. Various class packages can take that number down.
What can you expect: In the city, you'll flow near the lakeshore at the happy hour hot-spot, Drumbar. You'll go through an hour-long, Exhale-style yoga class followed by a happy hour at Drumbar. In Evanston, you'll flow pool-side for some sun and savasana.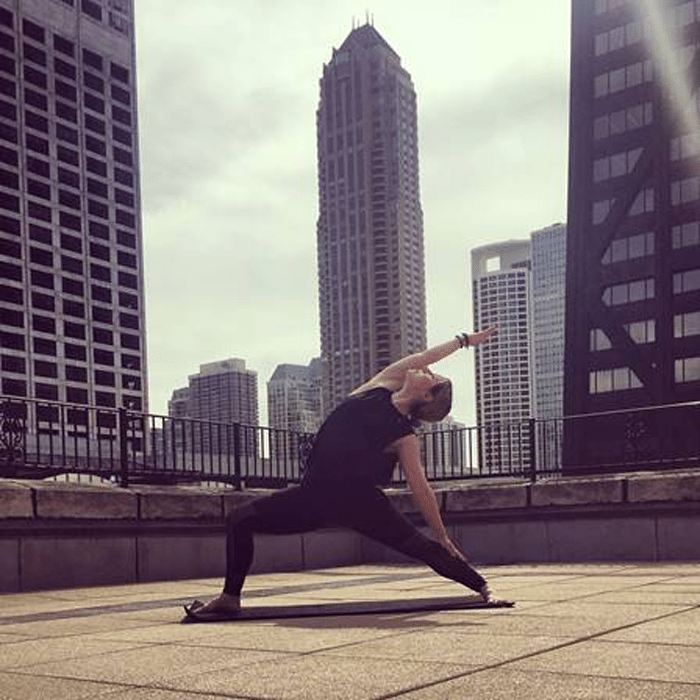 Rooftop yoga at the Ritz-Carlton Chicago
Where: The Ritz-Carlton Chicago, 160 E. Pearson Street
(take the elevator to the lobby on the 12th floor, then take the stairs or the elevator on the lobby level down to floor 11 where the hotel's spa is. The class meets at the spa where you'll be taken up to the 75th floor rooftop)
When: Sunrise Yoga is offered Friday at 4 pm, and Saturday-Sunday at 8:00 am for $20.00. In the event of inclement weather, class will be held indoors.
Signing up:  To reserve a mat, sign up through classpass or class the Spa at 312 573 4915.
What to expect: Experience 360 degree views of the city in a rooftop experience that is higher than anything I've ever seen – 75 floors way, way up. Enjoy views of the lake as you hold your warrior and savasana before the city wakes up.
Shred on the Roof at the Park Hyatt
Where: The Park Hyatt Chicago at 800 North Michigan Avenue
When: Wednesday mornings from 7:30am-8:15am
Signing up: Sign up like a regular class by either calling Shred415 or online.
What to expect: Lauren detailed the workout in a recent post, but you can expect a high-intensity workout like you're used to at SHRED415, except without the treadmills. You'll do moves with bands that you'd never expect and leave feeling like you're ready to take on the day.
CrossTown Fitness at the lake
Where: This gym boast two outdoor meeting places. Diversey Harbor, meeting at the corner of N Cannon Drive & Fullerton Avenue. Chicago SUP, Just south of Castaways at North Avenue Beach.
When: Tuesdays and Thursdays 6:30 am and 6:30 pm at Diversey Harbor. Saturdays 8:30 am in partnership with Chicago SUP.
Signing up: Sign up like a normal class here for $30 for a day-pass or you can try three classes in seven days for $40.
What to expect: CrossTown Fitness delivers a tough total body workout at both outdoor locations using sprints, bodyweight exercises and more, but when you join the CTF/SUP class Saturdays, you can expect a relaxing paddle session following your workout.
Let us know!
Did this post help you get closer to achieving one of your goals?