Surfset Fitness at Moirai Health and Fitness
Studio: Moirai Health and Fitness, 820 N Orleans Street
Class Focus: This is the ultimate instability workout that takes place on a surfboard. Almost every exercise you can possibly do is done on a destabilized surfboard that's about 6 feet long – think mountain climbers, pushups, squats. It's a whole new level.

Cost per class: $35
The Fab Fit take:
I have been obsessing over Surfset Fitness since I saw it in SELF Magazine as one of the hottest new workouts and on my Friday-night-in guilty pleasure, Shark Tank. Spoiler Alert: Mark Cuban owns a piece of the business. But until this month, there was no where in Chicago to find the workout.
Thanks to the helpful sales associate at Lululemon on Rush who told me about the studio (and my apologies for hitting you ever so lightly and shouting, "Shut up!"), I caught wind that Moirai Health and Fitness's would start offering Surfset classes this week.
The workout was intense – the board is super destabilized, like an even-squishier, longer, flat-side-up Bosu ball.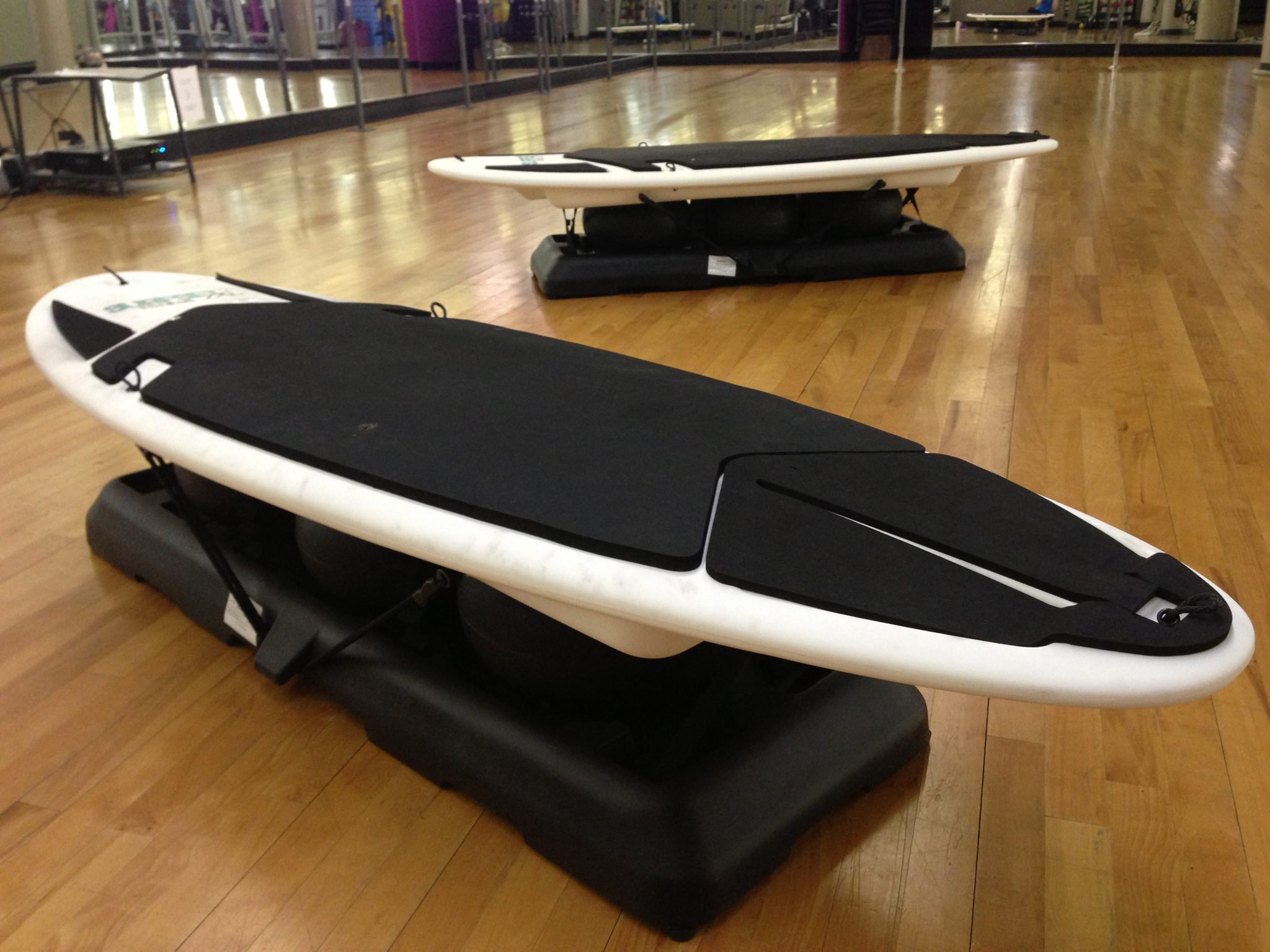 We did everything from warm-up to cool-down on the board. Starting off with cardio, we alternated between two main moves: wave runners (you may know them as mountain climbers) and an exercise that had us hopping alternating feet on and off of the board while holding onto its sides. The instructor, Kimberly, was extremely helpful in getting me up to speed on how to use and stabilize on the board. I moved from flailing at the beginning of class to feeling like I had finally found my sea legs at the end of class. Pun intended.
The toning sequences that followed cardio were nothing to joke about. Doing traditional moves on this totally unstable board required even more balance and core strength to stay steady and keep up with the reps.
Starting with legs, we did a lot of variations of squats: squats facing the front of the board, sumo squats with alternating leg lifts on each side and squat pulses. We moved through three really good sets – read: my legs were on fire – and then moved on to arms.
Pushups already require a lot more than just arm strength, but pushups on the Surfset board targeted arms and core. Holding onto the sides of the board, we did a few variations – pushups, pushups with alternating knees to elbows and a dive-under which is a move that flows from a downward dog to a chaturanga.
Bringing everything together from cardio to toning, the class finished with a surfing series, which basically mimicked the motions a surfer would go through to get from the sand to actually catching a wave. It was seriously fun and the only thing it was missing was the sun.
To finish the class, we held two challenge poses, a Warrior III and a pistol squat. Neither one of these is easy on the ground, but add a destabilizing element and it got real.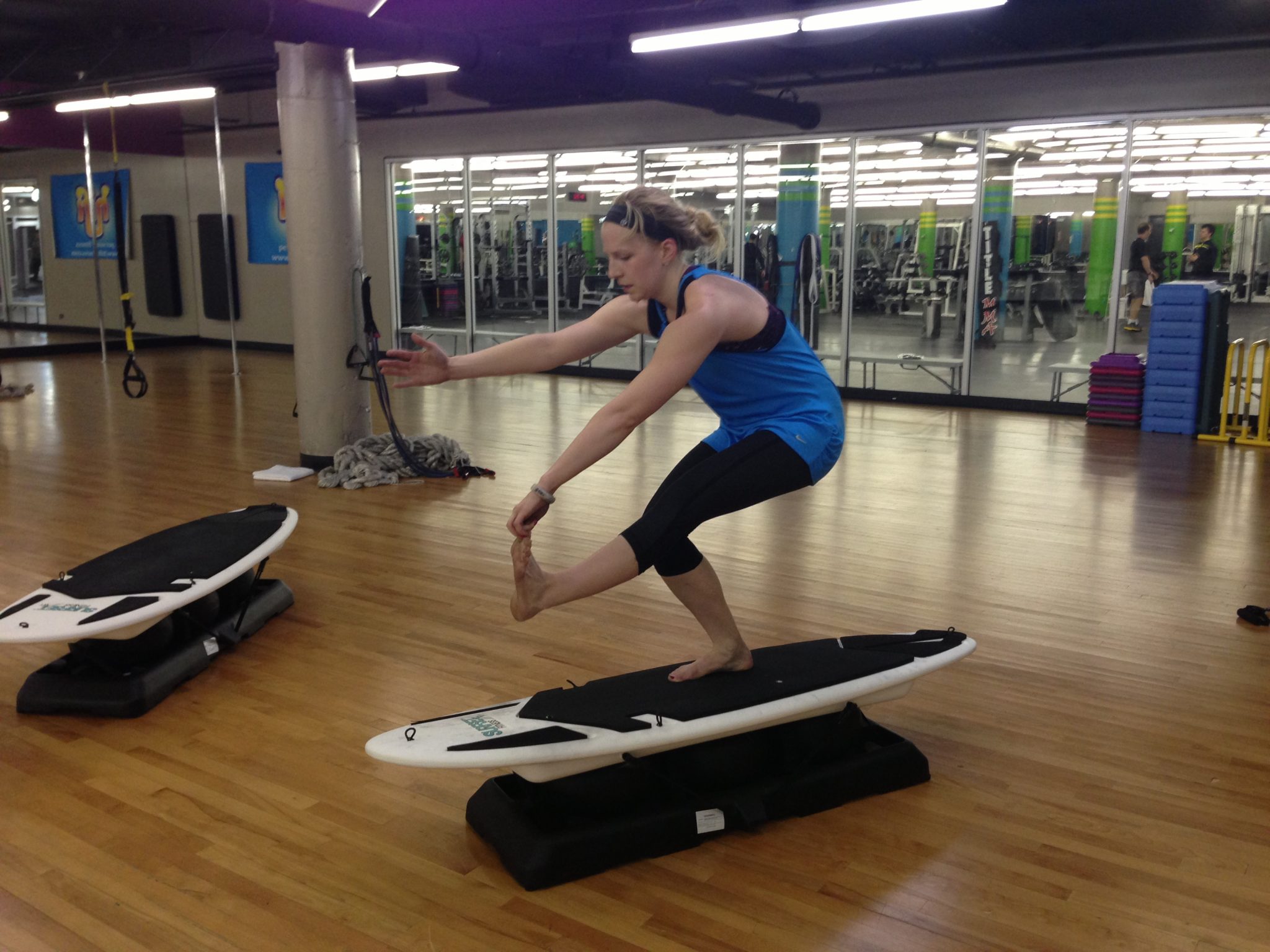 (If  you look closely at me in this pistol squat, I'm sweating a ridiculous amount, so please don't look closely)
This class offers Chicagoans the chance to experience what surfing does for your body even if we only get 3 months of sun. The six-person maximum class size will ensure that you're getting the instructor attention that you need to get stronger and more balanced on the Surfset board.