Healthy Ways to Celebrate the New Year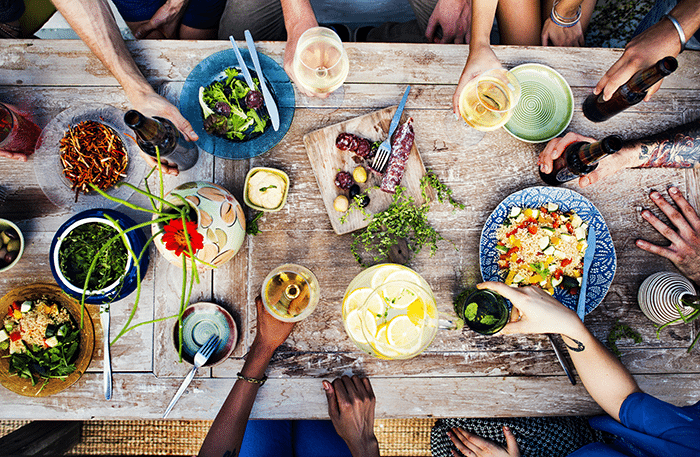 I'm kind of over New Year's Eve. I've had some fun years in the past – from house parties to Wrigleyville to trips to Nashville –  but with the recent arrival of my AARP card, the appeal of sequins and cocktails has faded once I think about the logistics of deciding where to go, figuring out transportation and mentally estimating bar tabs.
Last year, I stayed in – well, I babysat, which I highly recommend to anyone who's looking to make a couple hundred bucks. However, more excitingly, I woke up the next morning refreshed and hangover free, starting the New Year off on a fresh, energetic foot.
While I completely support your right to champagne at midnight, there are tons of options out there for those of you looking for a more low-key New Year's Eve. Here's how to have a healthy new year.
Head Out For a Midnight Run
Grab a group of friends and take a quick jog around your favorite running route. Bring flashlights and doctor your jackets up with reflective tape (or add Nike's Flash Pack to your Christmas wish list). Head to your favorite neighborhood to ogle at Christmas lights, or make your way to the lakefront path to get a glimpse of the city skyline as the clock strikes midnight.
Remember, even though most people will be partying indoors, stay safe with these safety tips for runners. Run with a group, bring your pepper spray keychain and be extra cautious when crossing streets.
Take a Late Night Yoga Class
Moshka Yoga's River West studio offers a candlelit yoga class from 7-9pm on New Year's Eve, and the intention for the class couldn't be any more appropriate: to reflect on your internal journey, and to consider which of your qualities you want to bring more of into the world in the new year.
Host a Spa Night In
Gather your girlfriends and arm yourselves with Lush's latest facials, deep conditioning treatments, and nail polishes for an all-out pampering session. With healthy snacks, your favorite Netflix to binge-watch, and okay, a couple glasses of wine, you'll spend New Year's Eve rejuvenating yourself and your pals.
Hit the Dance Floor
Not a fan of the low-key New Year's Eve? No one says you have to be a homebody to have an active New Year's. If the aforementioned sequins and cocktails are more up your alley, hit the dance floor at a bar or club. Stay hydrated while you're working up a sweat, and be prepared to be sore the next day.
Volunteer
Whether it's on New Year's Eve or New Year's Day, ending or starting the year by volunteering has to be some sort of good karma. Check with some of your local charities to see if they need any extra help, or take matters into your own hands by gathering canned food from your friends that you can drop off at a local shelter.
Breakfast for Dinner, Anyone?
There may have been a few years in my checkered past where a New Year's eve ended at the Waffle House on Richmond Road in my hometown. As gratifying as hashbrowns scattered, smothered, covered and diced are, this year, I might start a new tradition of hosting a breakfast-for-dinner party. After all, breakfast is my third-favorite food group (after pizza and donuts), and it's the most important meal of the day – so why not have it twice? A few of our favorite breakfast recipes can be found here and here.
At the end of the day (or year, as the case may be), celebrating the New Year is about looking back at everything that made 2015 great, and looking forward to what's to come in 2016. Include elements of both in your celebration, and you'll be ready for the best year of your life.
Let us know!
Did this post help you get closer to achieving one of your goals?