Fit Apps: Sworkit and Sworkit Pro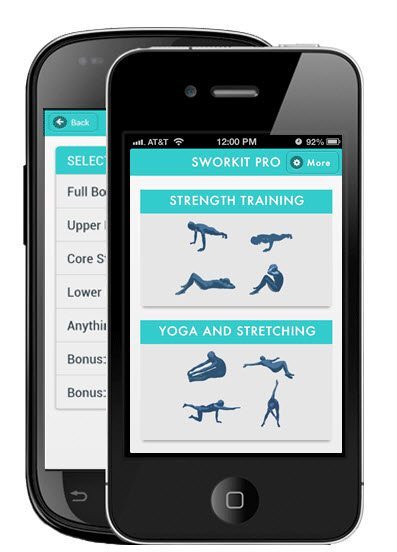 (Screenshot courtesy of Sworkit)
(Disclosure: Sworkit gave me a download code to get Sworkit Pro free of charge and two additional codes to giveaway to readers. I always only write about the apps and workouts I like)
I'm really into lunch hour workouts lately. I know, I've been walking away from my desk for lunch (Insert a collective gasp from salaried workers nation-wide). Once I realized that I wasn't doing my hair for work most of the time anyway, I figured why not just spend 30-45 minutes a day messing it up? Plus: It's good for your productivity to take breaks (says a "mounting pile of evidence").
I tried Sworkit this week at my office building's gym, but if you work in a home office or don't have a gym at work, all workouts are entirely body-weight based (read: can be done without any additional equipment). Something else I love due to my total hatred for routines is that the exercises are randomized so you should feel like you're doing a new workout each time.
I did a strength workout the morning before trying Sworkit, so I use this circuit training app to get my heart rate up for an extra 30 minutes! The app works in 30-second segments, so you'll go from 30 seconds of lateral jumps to mountain climbers to pushups. Every 2 min and 30 seconds, the app gives you break.
On your next lunch break or the next time you're traveling without a gym, download Sworkit for free (on iPhone or Android). For $.99, you can also get Sworkit Pro (on iPhone or Android) with bonus workouts and exercises.
Want a free download of Sworkit Pro? The first two people to email me at jeana (dot) fabfit (at) gmail (dot) com get a download code to get it!
Let us know!
Did this post help you get closer to achieving one of your goals?