The 10 Best Wellness Books to Read This Summer
One of the best parts of summer (IMHO) is being able to pack up a beach bag, bike to the lake, and lie on a blanket while reading a book and enjoying the sunshine.
Summer for me has always been a time to take energy I'd normally reserve for longer work hours and pour them into my personal projects which are often inspired by a good read.
Reading Born to Run in summer 2015 inspired me to take my casual running routine into marathoning, while reading The Body Keeps the Score in summer 2019 helped me fine-tune my scope as a therapist.
This summer, I'm still finding myself itching for inspiration on how to improve my overall wellness and self-care. I've spent some time researching wellness-oriented books that can help each of us adjust our own experience of wellness in the realms of movement, body image, time management, and more.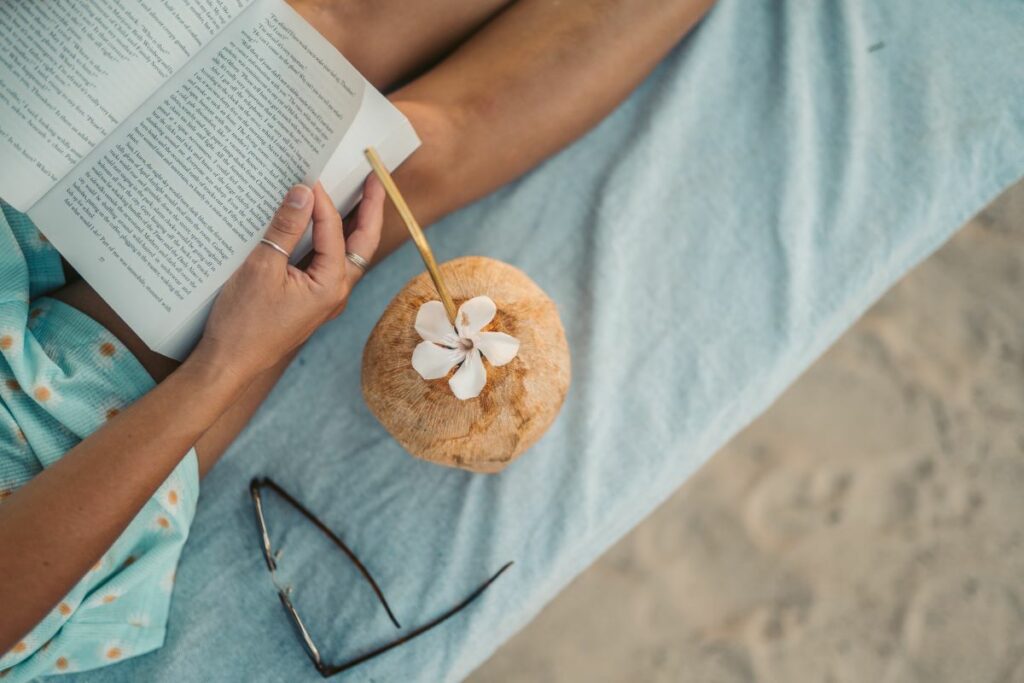 The best wellness books to read this summer and beyond
Check out the list below to find a book to add to your reading rotation.
1. Indistractable: How to Control Your Attention and Choose Your Life by Nir Eyal: Admittedly, I haven't read this book yet. It sits on my desk beside me as I'm distracted by my computer, work, or my pets. That said, one of my therapy clients has read this book numerous times and reports learning something new about how to manage his time effectively with each read. When I'm less distracted, I plan to dive in myself.
2. Burnout: The Secret to Unlocking the Stress Cycle by Amelia and Emily Nagoski: The Nagoski sisters work together to validate readers' experiences of stressors and exhaustion while also teaching them how to manage their emotions. This book is geared toward women and discusses burnout within that context.
3. Atomic Habits: An Easy & Proven Way to Build Good Habits & Break Bad Ones by James Clear: This might be the book I've heard about the most in the past few months as readers have found the guidance to be incredibly valuable. Clear discusses how to change perceived bad behaviors into positive habits in a few simple steps. These small "atomic habits" can make large valuable changes in our everyday lives.
4. How to Break Up with Your Phone: The 30-Day Plan to Take Back Your Life by Catherine Price: If you're like me, you feel a sense of dread when your phone reveals how much screen time you had in the past week. I would tell you what my average screen time is, but it's a little embarrassing. This book, through guided activities, has helped me to relearn how to use my phone as a tool instead of a lifeline.
5. Why We Sleep: Unlocking the Power of Sleep and Dreams by Matthew Walker: I can't remember a period of my life when I was able to lay my head on my pillow, fall asleep, and stay asleep until the following morning. My experience is more like lying in bed, rolling over 13 times, going to the bathroom three times, and trying to turn off my inner playlist. Walker's book provides cutting edge research on how we sleep and uses it to offer guidance on how to take control of our sleep routines.
6. Set Boundaries: Finding Peace: A Guide to Reclaiming Yourself by Nedra Glover Tawab: As a therapist, I think the word I use most often with my clients is boundaries. Tawab shares valuable information about what boundaries are, how they can support our overall wellness, and how to set effective boundaries. As Tawab says, "Healthy boundaries help you create the life you want."
7. Do Hard Things: Why We Get Resilience Wrong and the Surprising Science of Real Toughness by Steve Maness: While training for marathons, my mantra has always been, "I can do hard things," so you can bet your bottom dollar I was intrigued when I saw this book. Magness walks readers through four pillars to support them in understanding their relationship with toughness. He then encourages readers to use this understanding to achieve lofty goals.
8. The Comfort Book by Matt Haig: This book offers exactly what it describes, which is comfort. Haig provides numerous pieces including essays, meditations, and maxims to support readers in finding a sense of comfort. If you're in a place of uncertainty or at a low point, this book may be the inspiration or source of comfort you're looking for.
9. Real Life Money by Clare Seal: Money is on the minds of many Americans. According to a recent survey completed by Capital One and the Decision Lab, 77% of Americans are feeling uncertain about their finances. Part of managing financial uncertainty is building confidence with your finances and learning about your options. Seal uses her life experience to help you learn how to navigate your own financial landscape.
10. Why Has Nobody Told Me This Before by Dr. Julie Smith: Imagine you're able to put your therapist in your bag and pull them out when you need mental health support. This book is about as close to that scenario as you can get. Dr. Smith writes about common mental health challenges and tools that everyday folks can use to manage them.
The bottom line: Working toward our best selves can mean something different for everyone. I hope the books highlighted here offer you something new and enlightening for your summer reading material. If you find a book that's been helpful for you, feel free to send me a note as I'm always growing my own reading list!