Why Running Might Help Your Mental Health
Maybe you're feeling anxious with everything going on in the world right now. Maybe you're entering a stressful period at work, or you're struggling with an important relationship in your life. Outside of your mental healthcare practice, what can you do to manage all these feelings? 
There are many proven benefits that exercise has on mental health, and I want to advocate for one type of exercise in particular: running, especially moderate to longer distances. Distance running, which for road racing is considered a half-marathon or more,  has been a game changer for my mental health, and even if you don't consider yourself a "runner," you can still enjoy the positive impact running can have on your mental health. Here are some of the mental health benefits of running longer distances, and how to start running if you're new to it.
The mental health benefits of running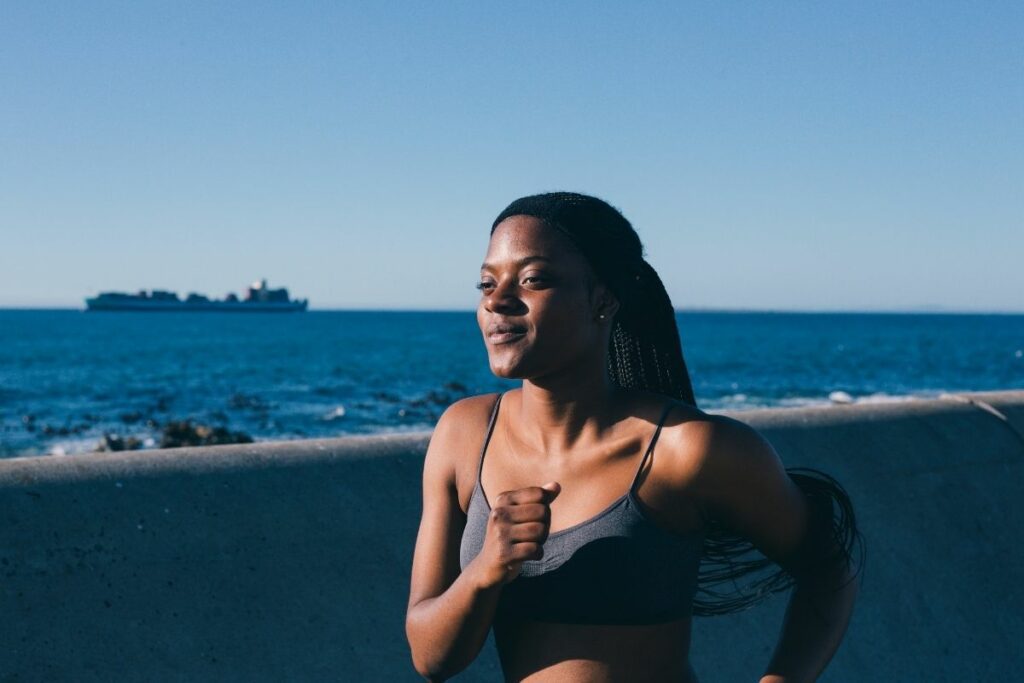 Stress reduction
When exercise is done regularly, the benefits will be enjoyed regularly. Sometimes things are that simple! With that in mind, long distance running, perhaps 20 miles or more over the period of a week, reduces "stress emotions." The chemicals released during running truly have a longer lasting effect than just during the run. One of the benefits running has over other forms of exercise is that endorphin boost. The "runner's high," while debated, is often experienced after completing a run. Whether it is an endorphin release or pride, it's like an extra dose of serotonin everyday, 
Another simple way that long distance running reduces stress is that it puts you into an almost meditative state, moving in a repetitive motion over and over. A moving meditation is a shift of consciousness while performing simple movements. One foot in front of the other, over and over again. Plus, most running occurs outside, and time outside has also been shown to reduce stress. 
Increased self-confidence
Sure, anyone can be a runner, but believing you can do something and then seeing yourself do it is the best thing you can do for your self-esteem. Psychotherapist and runner Sarah Kelly states that "Distance running gives people an opportunity to challenge their own ideas of what they are capable of. When I trained for my first marathon, every week, I was inspired by the fact that I was running a distance I had never run before. This mindset can translate to other areas of life where we may feel insecure or unsure of our abilities."  
And if you set a similar goal for yourself of running a longer race, your training plan usually follows a build-up structure. Checking off the weeks and miles of training is nothing shy of badass, and watching your running log and mileage stack up gives you concrete proof of what you've accomplished.
Less screen time
We can all use a break from scrolling or even just staring at our phones, but it's hard AF to put the phone down some days. But when you're running, it becomes much easier to put the phone down. Even if you chose to listen to a podcast or a playlist, you aren't actually looking at the screen – and that time off-screen will pay off for your mental health. Screen-free time has been shown to increase attention span and overall happiness. The longer the run, the longer time away from the screen! 
Build strong relationships
As a psychotherapist and a psychoanalyst, I have spent years studying the various ways people relate to each other and develop relationships. One thing I've noticed is that friends you meet through running might know more about you after just one long run, than friends you've had for years. But why?
My personal theory: running involves a lack of eye contact, lack of screens, and a shared goal. Freud used the famous couch to get his patients to talk more because he believed that forced them to look inside themselves and not at another person. When you run and talk, you aren't looking at your run partner – but you are having a shared experience. Plus, there's nothing that bonds you for life *quite* like asking someone to look out for you during a bathroom pitstop.Either way, challenge yourself to go on a long run with someone. I bet you come home with a new bestie.
Having friends has a lot of benefits to your mental health. Feeling a sense of belonging is important to one's mental health and self-esteem. When you run with a friend you have a shared sense of belonging and purpose. Social connections can also help offset stress. Sometimes listening to a friend talk about their life helps you ease some of your own stress by getting out of your head for a little while.
How to become a long distance runner
It can be intimidating to start increasing your distance. The key to success is building up slowly (generally no more than a 10% increase on mileage a week) and letting go of your belief about "who" is a runner and how fast you have to be.
Sign up for a race
Whether you're brand-new to running or ready to tackle longer distances, signing up for a race will help frame your training plan and keep you accountable.f you run now, pick a distance that feels a bit out of reach and make it a goal. For many people, a half marathon is that perfect entry point into longer distances. Or, if you have the time and desire, sign up for a marathon. It's so empowering to see where your legs take you.
Join a run club
Most places have run clubs. Find one and show up. It will feel scary, but you will experience pride for pushing yourself to show up. Runners are usually a welcoming bunch, you might just make your new best friend or meet a partner along the way. Having friends to run with increases the pleasure in running and in life!
Remind yourself you are a runner
There is no speed or distance that makes someone a runner. If you want to run and you go outside and run you are a runner. Don't let the bullshit in your head convince you otherwise.
Running my first marathon was one of the best days of my life. Showing up for a race and standing there with so many people who are about to embark on a challenge together is magical. The act of distance running helps improve mental health by both the meditative state you can find yourself in and the boost in confidence you will feel when you run farther than you ever thought possible. You can do hard things! 
Let us know!
Did this post help you get closer to achieving one of your goals?