Should You Work Out In A Studio, or At Home?
Prior to March 2020, I loved a studio workout. At the time, I was a Studio Experience Team member for Core Power Yoga. I loved dabbling in various studio offerings with my aSweatLife family. Of course, this all changed when the COVID-19 pandemic shuttered the doors of in-person studios for several months.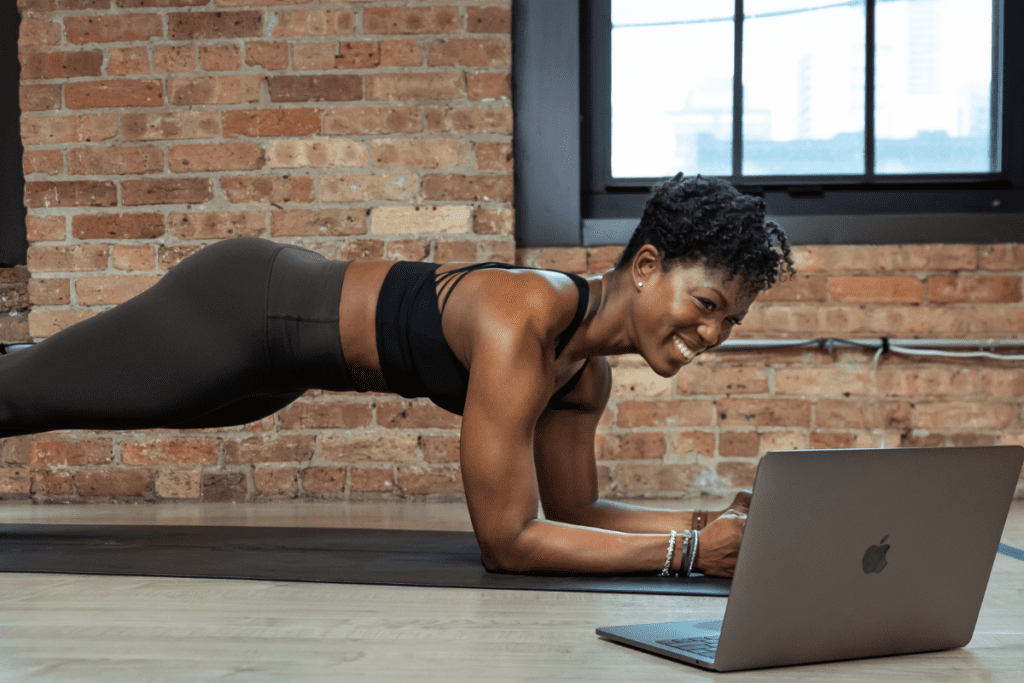 Many studio owners and trainers turned tragedy into opportunity and pivoted to various at home workout options. Patrons of studio workouts pivoted as well and the online workout industry experienced significant growth. I found myself using CPY On Demand, YouTube, and Instagram Live to maintain my fitness. I even purchased some home gym equipment.
With vaccinations and increased knowledge of how to maintain safety while exercising, many studios and fitness professionals have returned to-in person workouts. As a consumer, I found myself wondering which option is the best fit for me. I imagine many other consumers do as well. Below are some of my considerations for how I choose whether to work out in studio vs at home.
The case for choosing a live studio workout
There are few experiences that rival the feeling of going to a studio, putting your all into the workout, and building a sweat bond with other patrons in the gym. When studios closed, I craved the connections I made with other yogis, using state of the art equipment, and getting to leave my typical spaces to do something for myself. These reasons and others are discussed below for why I often choose to go to the studio for my fitness:
Build connections: Studios and gyms are great spaces to meet new people. Many close friends of mine are people I met while working out in studio. Additionally, if you're an aspiring fitness professional, working out in studio is a great time to network. 
Access state-of-the-art equipment: Prior to March 2020, I lacked awareness of the typical cost of gym equipment. It was quite the shock when I learned that a single pair of dumbbells can cost upwards of fifty dollars. Working out in studio means we can access the best equipment without shelling out half of our salaries. 
Receive real-time assistance and feedback: Fitness professionals have extensive training on how to spot and correct incorrect form. For example, I was unaware of proper chaturanga form until a teacher walked me through the movement step by step. This was not only helpful; it was valuable for my health. Improper form is one of the leading causes of sports injury. Receiving real time guidance may keep you healthy and working towards your goals longer.
Feel more motivated: Sometimes when I begin a workout, I feel pretty lousy. However, when I am at the studio, that feeling often goes away when I see those around me enjoying themselves.  It also feels encouraging to hear the joy and energy of fitness instructors. I feel more motivated to take advantage of the workout.
Leave your home: Though this may sound silly, it's important for us to leave our homes from time to time if we can. Going to a gym is an excellent opportunity to focus on exercise without feeling distracted by the demands of your home.
Why you may choose to stay home
As I write this article, the Omicron variant of COVID-19 has begun to emerge. I plan to spend the holidays with family, and I'm grateful that I can safely do yoga from my living room. Below are some other reasons you may opt to workout at home.
Go at your own pace: Working out at home allows consumers to choose exercise that feels best for them in their bodies. Many consumers report feeling ashamed in studios if they can't participate in the prescribed workout due to personal needs. At times, consumers report that their instructor has commented on their abilities in a harmful manner. Working out at home allows people to engage in movement safely from emotional and physical perspectives. 
Convenience of time and flexibility: As a therapist, I have a bizarre set of working hours that often makes it challenging for me to attend a studio workout. Online and on-demand platforms allows me to enjoy my workout at a time that makes sense for my schedule. Additionally, if I am traveling, I know that I can access my workouts no matter where I am.
Low cost: While at home gym equipment can be an investment, home workouts can be as affordable as free. Bodyweight workouts and free videos can allow those on a tight budget to enjoy the benefits of fitness instruction. Here is a fun listicle about which household items you may have that can function as weights. 
And of course… evade illness: I hate to say it – especially two years later – but we continue to exist in a pandemic. For many people, going to the gym is less of a simple choice and more of a risk-benefit analysis. The level of risk will vary for each person. If it feels high for you, at home workouts are an excellent alternative for a studio workout. 
It often feels great to have options and now we have the convenience to exercise wherever feels best. Know that whatever you choose, is the right choice for you.