I'm a Fitness Instructor and Here's Why I Want You Back in the Studio (As Soon As You're Ready)
The at-home fitness boom is here to stay, even after vaccines are widely available and gyms fully reopen. People have fallen in love with virtual fitness instructors and the variety of classes they can affordably try. Perhaps you've bought an at-home spin bike or taken up running outside. Maybe bodyweight workouts with limited equipment at home suffice for your exercise routine, and you're saving money on a membership. 
I'm a huge proponent of exercising in whatever way motivates you best and makes you feel great. However, I also hope you'll return to your local gym or studio as soon as you feel safe enough. Many people and companies, and even the media, are banking on at-home fitness as the future. But as a group fitness instructor who has been teaching over eight years, I'd like to counter and say that at-home fitness should serve as a complement to the gym, not a replacement, for a few reasons.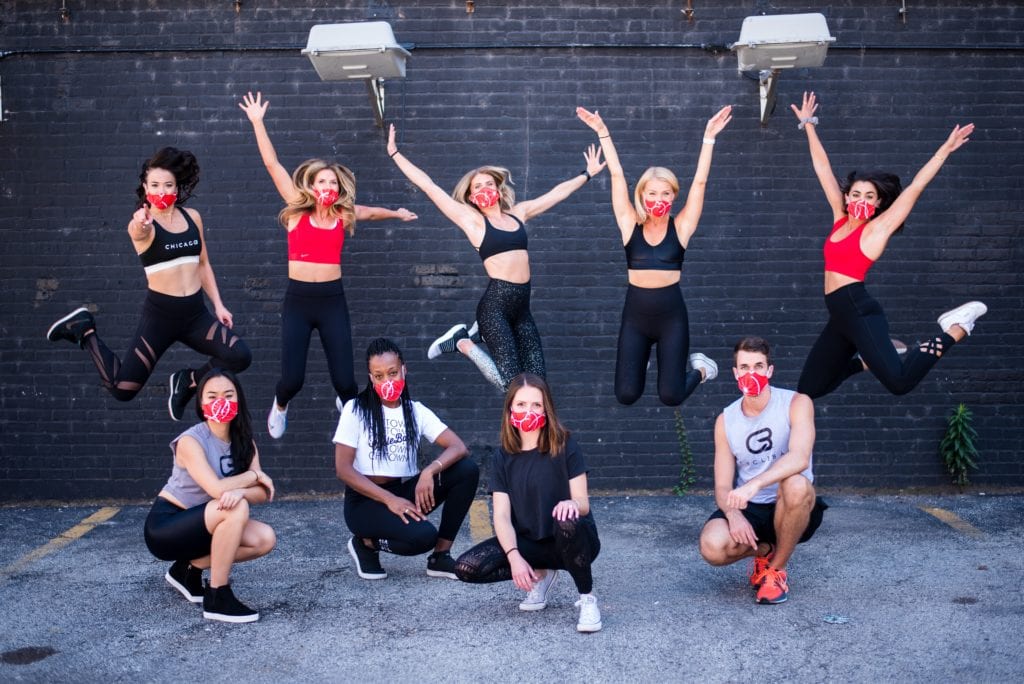 Take advantage of a trainer's watchful eye
When you work out at home, you are typically doing it solo. While many streaming workouts include high-quality demonstrations of exercises and descriptive kinesthetic cues, there's no trainer to provide you feedback in real time. Even on Zoom, the fitness instructor doesn't have a 360-degree view of you. They could still be missing minor errors that could hinder your fitness progress. As an instructor, I like to know that my regulars are moving safely and effectively when they exercise.
Enjoy having the right space AND the right equipment
In the vein of safety, workouts at a gym or studio ensure that you have proper flooring and equipment. Most homes are not designed with the consideration that someone will be doing high-intensity exercise inside. If you are taking an at-home dance or HIIT class, cement, tile, and carpet are not ideal surfaces for running, jumping and other movements and can wreak havoc on your joints. The hardwood floor in a fitness studio is very different from the one in your kitchen.
Support your local entrepreneurs
Furthermore, when you sign up for a live group fitness class, you are supporting local fitness entrepreneurs. Sure, you might think that every instructor can take their business online, but that is not realistic. Building a business online is really hard. Group fitness instructors must consider having a strong Internet connection, lighting, sound and streaming equipment, as well as rights to copyrighted music, to pull off a quality class. Then you have to find people who want to pay for your service when they can easily turn to other giant fitness tech companies that offer Hollywood-level production values and a lot more variety.
During the pandemic, when I taught some virtual classes from my apartment, I found it challenging just to get 10 or 15 people to sweat with me for free. Even if my regulars paid a monthly subscription fee, the revenue would not be enough to live comfortably. Gyms and studios can provide passionate fitness professionals a dependable income and a platform to reach hundreds of members. And don't forget all of the other jobs gyms and studios create – like managers, member services, maintenance, and cleaning.
Community goes both ways
That brings me to my final reason I hope you won't entirely convert to at-home workouts – community. There is nothing quite like sweating to the beat of your favorite song with a group of strangers in a dimly lit studio. When a virtual class ends, users turn off their electronic device and walk away. When an in-person sweat session ends, you have the chance to meet new people and form a bond with someone who just endured the same 45-minute roller coaster as you.
As a fitness instructor, of course I want bodies in my classes. But more importantly, I love bringing people together, growing a fitness family, and getting to know individuals as more than just a face on a screen. Some of my favorite moments at CycleBar happen once the lights come up after class, when members tell me about their week or what they're going to watch next on Netflix.
To reiterate, I'm not condemning online fitness classes. But, I'm hoping you'll see them as a complement, not a replacement, for going to the gym. For those of you who never exercised before the pandemic but found an online program you enjoy in 2020, I hope you will soon check out a live group fitness class to experience the magic of it, once you feel safe enough to do so. For those who have always belonged to a gym or studio, but fell in love with an at-home program last year, please come back when you're ready, at least a few times a month. More than likely, your instructor misses you.