Meet Camila Ramón—Peloton's First Cycling Instructor to Offer Classes in Spanish
National Hispanic Heritage Month may be coming to an end, but for Peloton and their many Spanish-speaking riders, the fiesta is just getting started. Camila Ramón, who had her Premiere Ride on October 5, is Peloton's first instructor to teach Cycling classes in both Spanish and English. Born in Argentina, Camila grew up in Miami and brings the heat to every ride. And if you follow her on IG, you'll quickly pick up on her bright energy, her dedication to creating bilingual content, and her sense of pure fun. It doesn't hurt that she has an adorable pup named Rex, either.
Ambassador and cyclist Nimbe Juarez recently took Camila's premiere Spanish language ride and her cooldown ride afterwards.
"Even though Spanish is my first language, it takes me time to get used to it—but I definitely felt welcome and at home. Her music was so great and so was her energy," says Nimbe.
And as a Latina, Nimbe appreciated the personal stories Camila shared and how she connected with all of the audience members—Hispanic or non-Hispanic.
"What really got me was her commentary and how she connected with the audience," Nimbe explains. "She made references to being Latina and our culture and how when we go visit home we have to visit family. Also, she dedicated a song to our parents/immigrant family that has or had to work 2 to 3 jobs. That really hit, because we are here and celebrating and it's because of all the sacrifice. I can't wait for more of her rides."
We got to chat with Camila Ramón about her journey towards becoming Peloton's first Spanish-speaking Cycling instructor. Here's what she said and what you can expect from her on the Bike.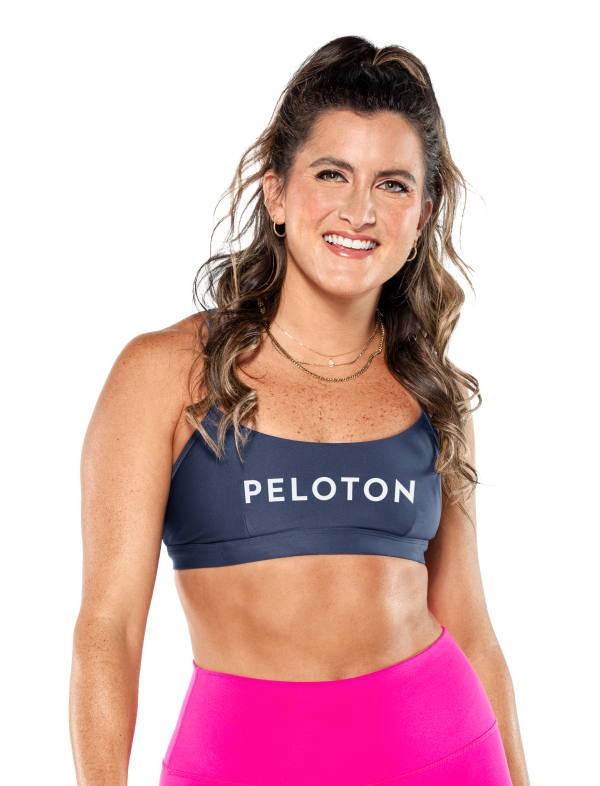 Tell us about yourself! How has your identity in the Latinx community influenced your fitness journey?
It has influenced all my professional choices and my experience during my own personal fitness journey greatly. I studied communications and international relations growing up because the international space (specifically Latin America) interested me. I went on to work in Public Relations representing global businesses in Latin America and the Caribbean. Once I made the jump into fitness, I realized there was a gap in the fitness conversation within Latin America. I made the choice to start working within the Latin American market, specifically helping women develop a positive relationship with exercise and their bodies by shifting the focus from aesthetic goals to performance and strength goals and cultivating a beautiful and supportive community.
What are the unique ways you weave your culture into your classes and how you interact with Members?
I tell authentic stories about my experience as an immigrant coming to this country, about my experiences in Argentina and Miami, and about cultural nuances that are present in my day to day life. As a Latina, family is everything to me. And I see members as a direct extension of my family, so I treat them the same way I would treat someone I love and joke around with them just as I would with my primos (cousins).
As diversity, equity, and inclusion are at the forefront of our minds, what does it mean to you to lead the way for more Latinx instructors on such a big stage?
First off, I am extremely honored to have the opportunity to be here, working for a company that is actually putting in the work and listens to its employees. From a personal standpoint, I hope this will open the doors not only for more Latinx instructors, but for more Afro-Latinx and specifically Afro-Latinx women. I hope my story will inspire more Latinx professionals to fight for their dreams, more fitness companies to consider us for these kinds of positions, and not disregard the US Hispanic population that is important and needs to be heard.
Can you share a meaningful moment during your Peloton journey thus far?
My launch was the most amazing moment of my entire journey so far. I'm not sure what I expected when we launched but it definitely was not this outpouring of love, and genuine support from not only our Peloton community, but Latinos all over the globe. It's been incredible and so motivating! I think Latinos have been waiting for this moment for a while and I feel really honored to be here!
As we wrap up Hispanic Heritage Month, what do you want Members to take with them into the rest of the year?
I'm not going anywhere and this is just the beginning. We are the second largest ethnic group in the United States and we are meant to be represented, heard and valued year-round. Our music, artists, professionals, and our VOICE is important. Keep fighting for our representation and like I say in all my classes: you've got all the power and strength to reach your goals within yourself.
What does this moment—being the first cycling instructor to lead classes in both Spanish and English—mean to you?
This is a dream to me. I feel honored and lucky to be the first Spanish-forward cycling instructor on the platform, to join the beautiful Peloton community and start our amazing journey together. I also feel respected as a professional, by not being put into a box by the business and being given the opportunity to teach in both languages which I feel is very authentic to who I am. This is a monumental moment for the Latinx community — not because I am teaching in Spanish, but because we get to control the narrative and train for health, happiness, and performance, rather than aesthetic pressures present in our society. I can't wait to see what the future has in store.
Find Camila Ramón and her schedule here!