These Outdoor Chicago Fitness Classes at FFC Make the Most of #SummertimeChi
This post was written in partnership with FFC. As always, we only write about the brands, experiences, and products we truly love.
Every winter, Chicagoans bundle themselves up and bravely forge into the outdoors, facing blustery winds, sideways snow, and frigid temperatures on a daily basis. Throughout it all, one thing keeps them from moving to southern California: the promise of a sweet, sweet summer, filled with outdoor activities.
During a Chicago summer, the warmth is too precious to spend any more time indoors than you need to—that's why so many people take their workouts outside as soon as they're able. And this summer, Chicago's FFC locations are helping you take advantage of the beautiful weather by curating a weekly scheduled packed with outdoor Chicago fitness classes throughout the city.
"For us, offering so many outdoor workouts for this summer was a simple decision," explains Lois Miller, Director of Group Fitness at FFC. "With everything that happened in 2020, people sheltering at home, working from home, running classrooms for kids from home we wanted to celebrate summer in Chicago in a big way and get people moving outside. Community for FFC is huge and being able to share what we love and we do best is one way to give back."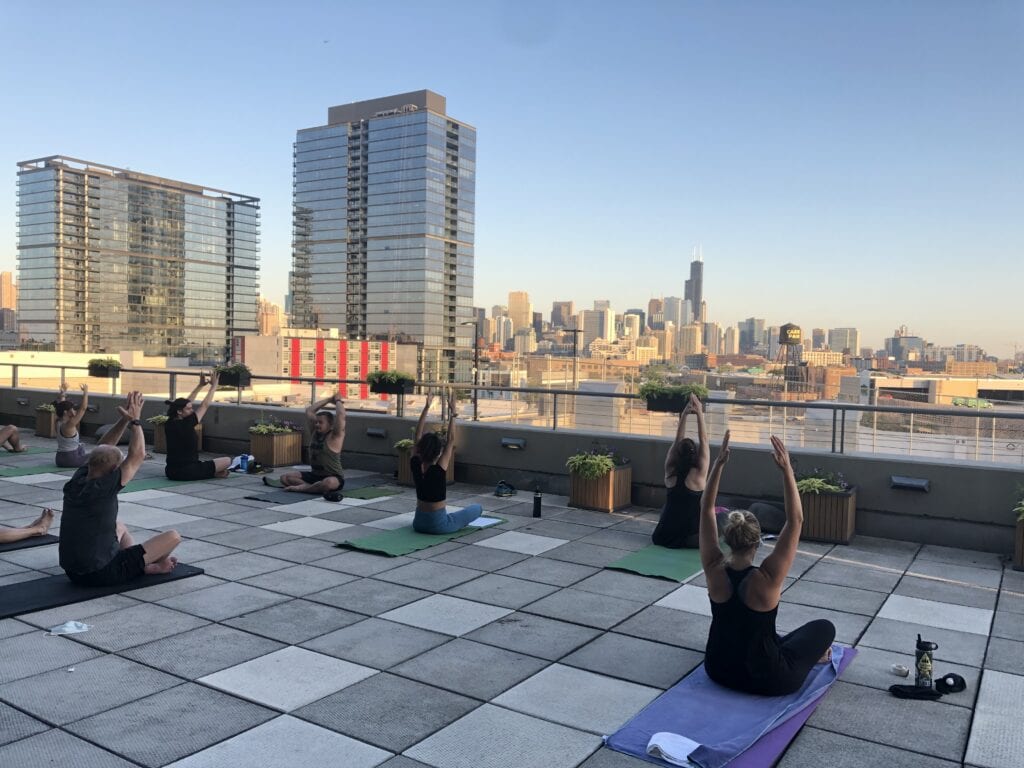 Free outdoor fitness with FFC
What's better than a sunny, outdoor workout? A sunny, outdoor workout that's totally free. For those of you keeping your fitness costs down right now, FFC offers several options each week for free outdoor workouts.
On Tuesdays at 7pm and Sundays at 10am through August 31, join FFC for Yoga In the Park at Lincoln Park, near the intersection of Clark and LaSalle. Or, to get the full variety of FFC group class offerings, head to Fitness At The Field on Saturday mornings at 8am from July 10 – August 21. This series, held at The Field Museum, showcases a different FFC group class each week. From Zumba to Boot Camp to Vinyasa Yoga, you'll get a taste of everything.
Outdoor Chicago fitness classes at FFC
"While we definitely used our clubs' outdoor spaces for classes pre-pandemic, member interest and attendance at our outdoor classes has been high since reopening last summer," says Natalie Casper, a marketing manager at FFC. "We regularly host yoga, spin, dance and strength formats at clubs where we have outdoor or rooftop space."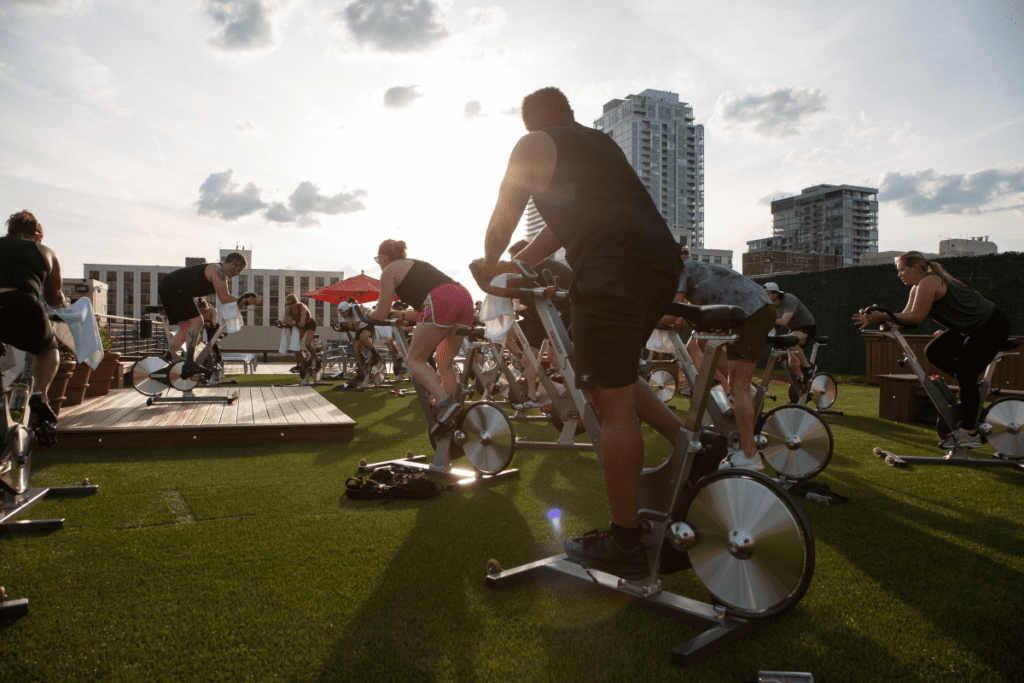 Adds Miller, "Member response to rooftop classes has been nothing short of incredible! Our members are proud to be a part of the FFC family and our rooftops feel like an oasis. To be able to still enjoy taking group classes and do so outside is a win win. We take full advantage of our beautiful Chicago summers and are making up for lost time."
If a rooftop fitness class sounds like your idea of a good time, these FFC locations boast gorgeous views and swanky roof decks:
Three FFC group fitness classes you can't miss…
…especially if you love rooftops and city views. Miller had a hard time narrowing it down, but her top can't-miss group fitness classes during the summer are:
Mondays 5p AMRAP at  FFC Elmhurst  – AMRAP is As Many Reps As Possible. "The rooftop at Elmhurst is located on the same level as the outdoor pool and just steps away from a beautiful lounge and bar," she explains. "This high intensity workout combines strength, cardio and core exercises to build strength, improve muscular endurance, cardiovascular health and conditioning."
Rooftop Yoga at Gold Coast Tuesdays 530p  – "The rooftop at Gold Coast is like no other. Not only is it expansive, but beautifully designed with plants and a newly installed turf. The feeling of a challenging yet user – friendly yoga workout brings people together with the Chicago skyline as your backdrop." 
Rooftop WERQ at Lincoln Park Thursdays 545p –  "Our Lincoln Park top floor rooftop/sundeck has beautiful south facing views. With a light breeze that comes through in the late afternoon makes for the perfect time to dance your heart out to all the latest top dance hits."
And stick around for some luxurious post-class amenities, Miller advises.
"From eucalyptus towels, to our in house cafe, Local 84 with the smoothie of the month, each of these locations are meant to be enjoyed. All three locations have an indoor pool, Elmhurst has an outdoor pool with lounge chairs and plenty of room on the sundeck. Locker rooms provide towels and our spa areas are modern and pristine," she shares.
Want to scout these locations for yourself? Schedule a tour at a FFC location near you to try one of their group fitness classes. Or, sign up for our #SweatworkingWeek event at FFC West Loop, and you'll get to check out their rooftop yourself at our post-workout pool party!
Let us know!
Did this post help you get closer to achieving one of your goals?