How to Celebrate Midsommar Like A Swede
This blog post was written in partnership with N!CK's. As always, we only write about products, brands, and experiences we truly love.
Not to be dramatic, but this past winter was maybe the longest and darkest I've ever experienced (thank you, Chicago, for 16 straight days of snow and gray skies). I've never been so excited to feel the sun on my skin, to smell my bougie sunscreen's light scent, or to feel pleasantly overheated as I have these past few weeks. Humans: we're basically houseplants who just need water and sun to thrive.
And what better way to commemorate the warm return of summer than with a little celebration? Instead of waiting for July 4th to roll around, this year, we're going all-out for Midsommar, the traditional Swedish celebration that marks the arrival of summer with a weekend full of dancing, feasting, and spending time outdoors with loved ones.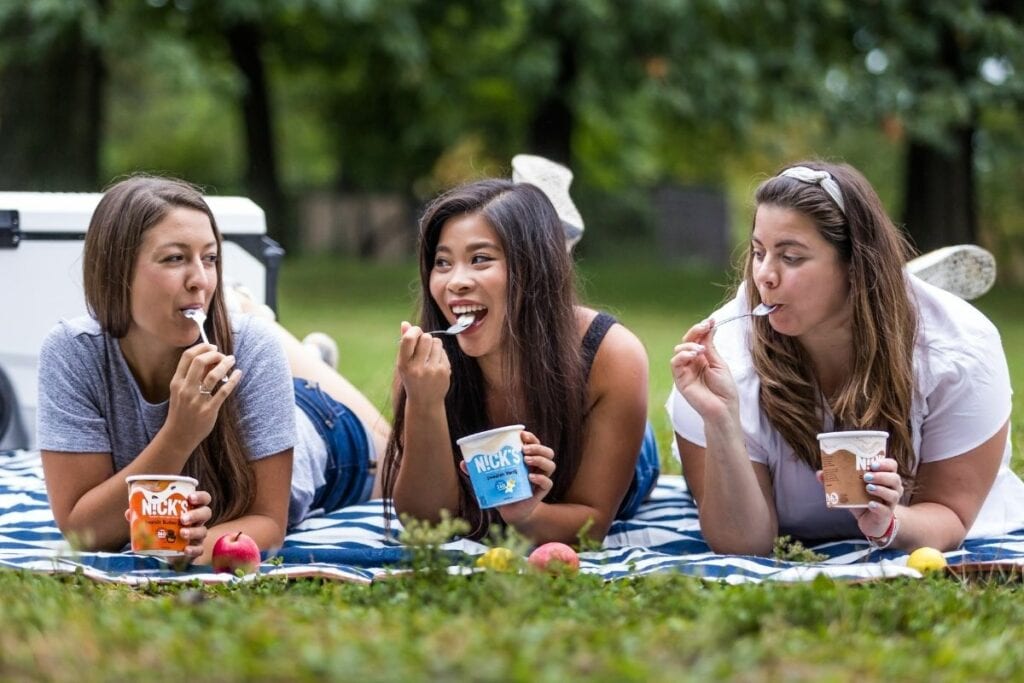 This year, Midsommar falls on Saturday, June 26. Want to add a little Swedish flavor to your Midsommar celebration? Here's how to celebrate Midsommar like a true Swede.
Flower power
Flowers are a key ingredient in a Midsommar celebration. Traditionally, Swedes begin the day by picking flowers to use for making wreaths to place on their hands and on the maypole (more on the maypole later). Allegedly, weaving flowers and greenery into crowns is a way to capture nature's healing properties and ensure good health for the next year.
And if you're looking for a summer situation-ship, here's a hot tip from the Swedes: place seven different varieties of flowers under your pillow during Midsommar. Legend has it, you'll then dream of your future spouse.
How to add flowers to your Midsommar celebration: Make a friend-date at the local farmers market to stock up on fresh bouquets (the peonies are looking prime right now at our market). Then, weave your flowers into a blank crown like this one. Or, set up a party with several of your friends using this all-supplies-included flower crown kit. 
Dance, dance revolution
The main focus of Midsommar traditions is the maypole: a tall, decorated pole that Midsommar celebrants dance around. In the past, the maypole tradition was adapted from Germany, where the maypole was decorated with flowers and greenery and raised on May 1 (hence, the name). However, in Sweden, there's not a ton of fresh greenery in May, since spring comes later. So, the tradition was moved to Midsommar.
At Midsommar, Swedes dance around the maypole, sometimes wearing traditional folk costumes for centuries-old dances like the frog dance (yes, it's as goofy as it sounds—see this video for details).
How to add dancing to your Midsommar celebration: If you're not up for learning (and doing) the frog dance in public, we get it. Instead, make this Swedish hits playlist the soundtrack to your Midsommar party, and if the schnapps are flowing, encourage your guests to hit the dance floor. 
Feast mode
A traditional Swedish Midsommar menu starts with different kinds of pickled herring and boiled new potatoes with fresh dill, soured cream and chives. Then, you move onto a grilled main course (like spare rib or salmon).
But that's nothing compared to the highlight of the feast: fresh, ripe strawberries with cream. Or, more specifically, the first strawberries of summer, an event so monumental that the press dedicates a ton of coverage to whether or not the first strawberries of the season will be ripe in time for Midsommar.
And to drink? Cold beers and flavored schnapps. Skål!
How to add feasting to your Midsommar celebration: Fresh strawberries and cream are a classic—but this year, try amping up the summer factor by combining them into one delicious pint of ice cream. N!CK's Strawbär Swirl blends luscious vanilla ice cream with swirls of strawberry ribbon. And vegans in the crew don't need to miss out—Strawbär Kräm features the same delicious flavors in a surprisingly creamy vegan-friendly ice cream.