How to Start Your Virtual Training Business
Remember back in April, when your Instagram notifications were all a-buzz? This trainer was going live, that studio was starting a high-intensity strength class, this fitness influencer was answering your questions about protein powder. It was overwhelming for consumers, and for trainers, the impulse to be all over social media was reactive and based out of fear—fear that they would get lost in the shuffle, that people would forget about them without in-studio workouts, and that they'd lose their already-variable income.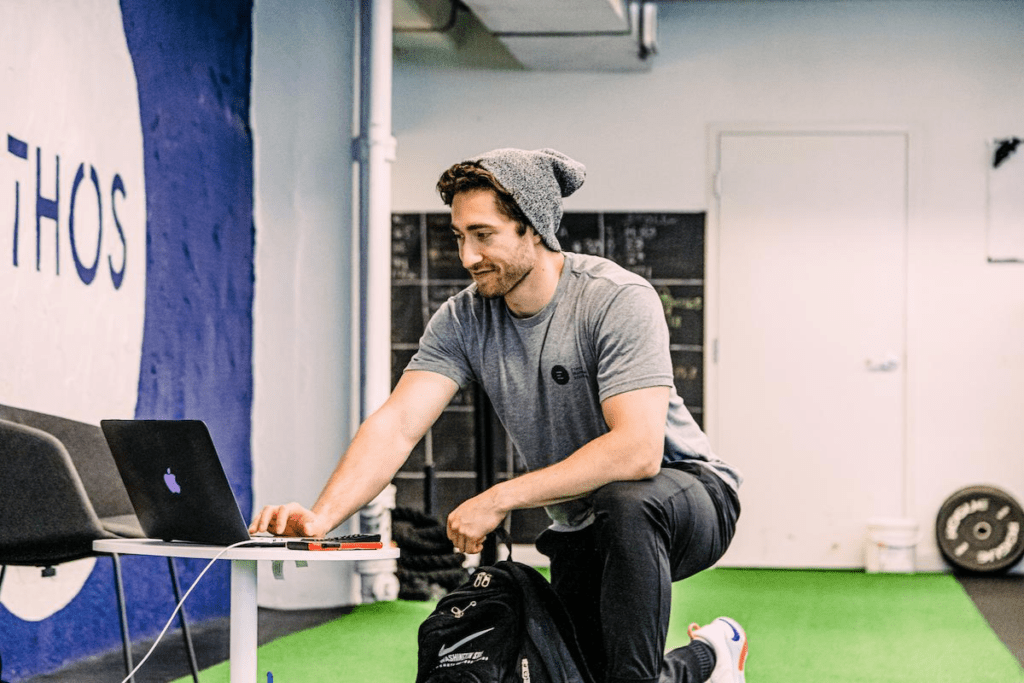 But according to Jayel Lewis, a certified fitness trainer, fitness consultant, and founder of The Fitness Curriculum, trainers really have an opportunity right now to expand their virtual training business and avoid burnout at the same time.
"[Virtually, trainers are] so much more accessible," she explains. "The consumer has adapted to virtual training platforms. They may have been resistant before, but now they understand that time is of the essence. They can hop out of bed, brush their teeth, put on clothes, and show up for the virtual training."
"It's a time to survive or thrive," Lewis continues, arguing that the pandemic is actually an opportune time for trainers to look at their business and identify the most efficient business model for them. "One-on-one sessions are great, but that's when you get into burnout or Zoom fatigue, because you're trading time for money. Being able to offer something to many people at one time (like a program or a filmed class) helps trainers avoid burnout."
Here's what trainers need to know when making the pivot to virtual platforms and clients.
First, identify your audience and your niche
Every trainer won't appeal to every client, so why would you waste your time trying to give *everybody* exactly what they want? Instead, Lewis suggests sitting down and brainstorming your customer avatar and what unique skills and perspective you bring to training.
"Trainers should be able to identify who they're helping, their audience and their niche," she explains. "They need to understand how they help their audience solve a problem and how the trainer provides value."
For example, are you certified in pre-natal fitness? Are you a whiz with resistance bands or making at-home workouts harder with typical household objects? Or maybe you're a running coach who's passionate about helping "never-runners" achieve their first 5K. By identifying what makes *you* special, you can better target your potential customers who actually want to work with your virtual training business.
Spend some time building out your back-end processes.
No, this isn't a cute way of saying it's butt-and-legs day.
Says Lewis, "Trainers are really good at showing up and being 'on,' but I think lot of trainers get overwhelmed with the backend, like payment processing, what kind of contracts (if any) they need, waivers, things of that nature."
Lewis also recommends taking time to consider how you'll retain clients, whether that's through an email drip campaign, regular video check-ins, adding on nutrition services, or something else.
"Client retention is huge," she stresses. "So much has been taken away from us, but fitness is still being provided to us, and trainers don't understand how warm their audience is and how much more of an impact they can have by offering different things."
Does a trainer need a website to build a virtual training business?
Surprisingly, no, says Lewis.
"A website is necessary at a later point in your business," she acknowledges. "And if you already have that, that's amazing. But if you're focused on developing your virtual training business and being cost-effective, you don't need a website in order to track clients."
Instead, put your technological efforts into a landing page or an opt-in page that gives you potential clients' contact information. A general best practice, says Lewis, is to offer potential clients something of value (like a five-minute mobility routine video, or an e-book on how to count macros)for free in exchange for their email address.
"That can be created in a platform like Kajabi so you can start collecting those emails," she advises.
The best resources and tools for trainers starting a virtual training business
Lewis recommends the basics: a professional (yes, that means paid) Zoom account and a GSuite account for emails, scheduling, and sharing documents with clients.
Beyond that, she uses Kajabi for creating online courses, marketing campaigns, and landing pages. Lewis also recommends trainers look into a platform like Acuity, which helps make scheduling easy for both trainers and clients.
And what about actual training and education for trainers moving to virtual? Meet The Fitness Curriculum. After noticing many trainers were burning themselves out by working all hours of the day and stacking clients back-to-back-to-back, Lewis realized that pivoting to virtual training could help save many professionals in the fitness industry. She created The Fitness Curriculum as a 12-week group coaching program for trainers looking to monetize their brand by building a profitable online business. (Lewis also offers one-on-one consulting.)
Know this: Virtual training isn't going anywhere.
While some people may see virtual training as a stopgap measure until we can safely congregate at big gyms and group fitness classes again, Lewis knows that isn't the case.
"This isn't going anywhere," she emphasizes. "A lot of trainers reacted to virtual training; now it's up to them to be proactive and use this time to their advantage to scale and monetize their business."
She continues, "If you look at trendsetters like Peloton and Obe that have been in the digital space for awhile, that's a testament to how digital isn't going anywhere. Personal training is going to come back, group fitness is going to come back—but in a different capacity. If you accept that online isn't going anywhere, this is your time to thrive. "