Mental and Physical Health: Week 3 Challenge for Mental Health Awareness Month
Mental Health Awareness Month started May 1, and we're taking a stand for prioritizing mental health and well-being any way we can in little ways each day during the month. Starting Monday May 6, and continuing for each weekday during the month, we've created a daily mental health challenge for you to consider as you move through your day with mental health in mind.
Read why this is important to us, more about the challenge, and the non-profit, NoStigmas, that we're directly impacting by taking part in the daily challenges on the SweatWorking App all right here.
(Catch up on the challenge by starting with Week 1's challenges here and Week 2's challenges here).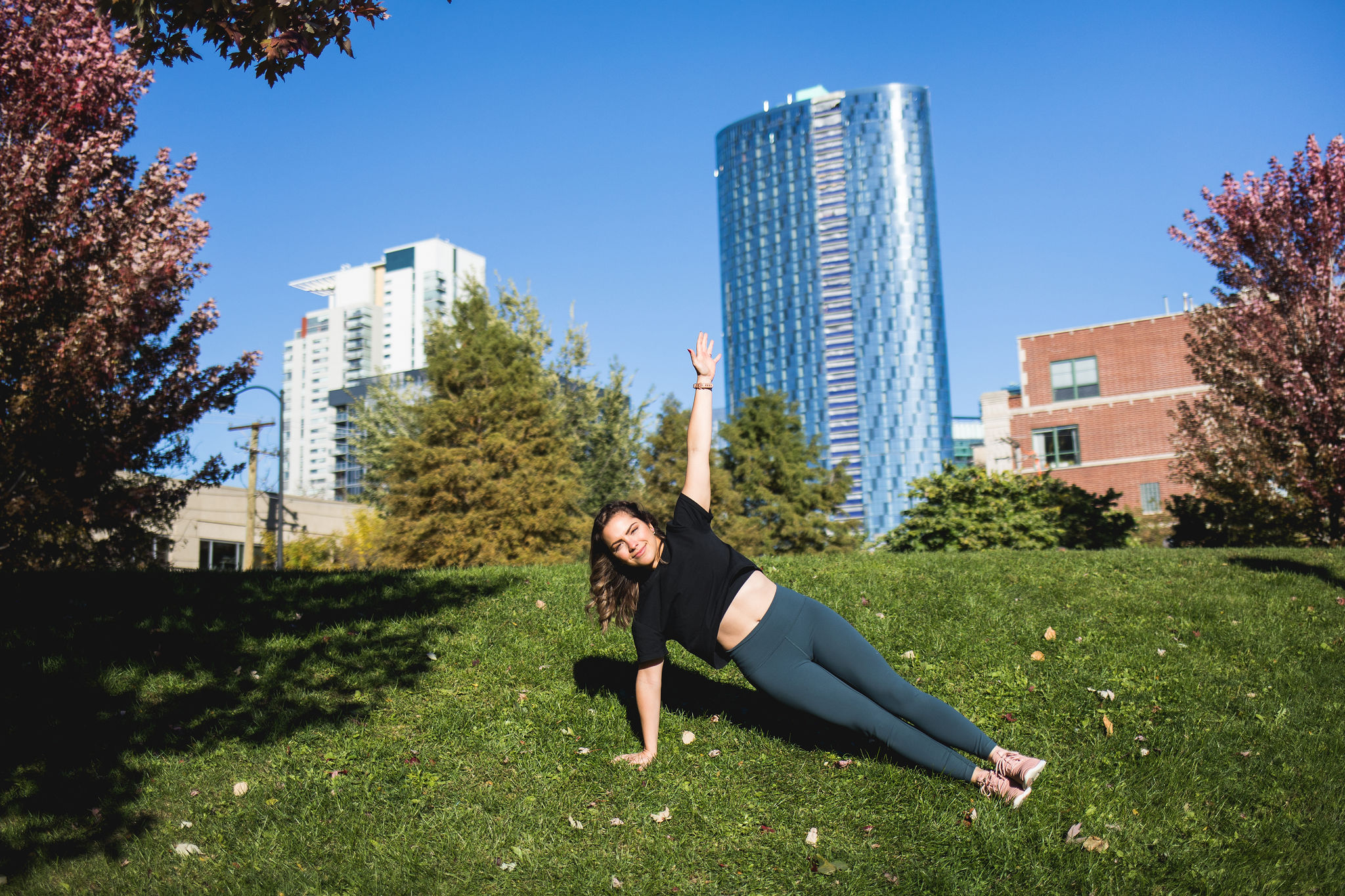 Week 3 Theme: Mental and Physical Health
For Week 3—May 19-25—we're bridging the gap between mental health and physical health by focusing on mini-challenges that improve both. Here are your five mini "challenges" to consider as you head into your week.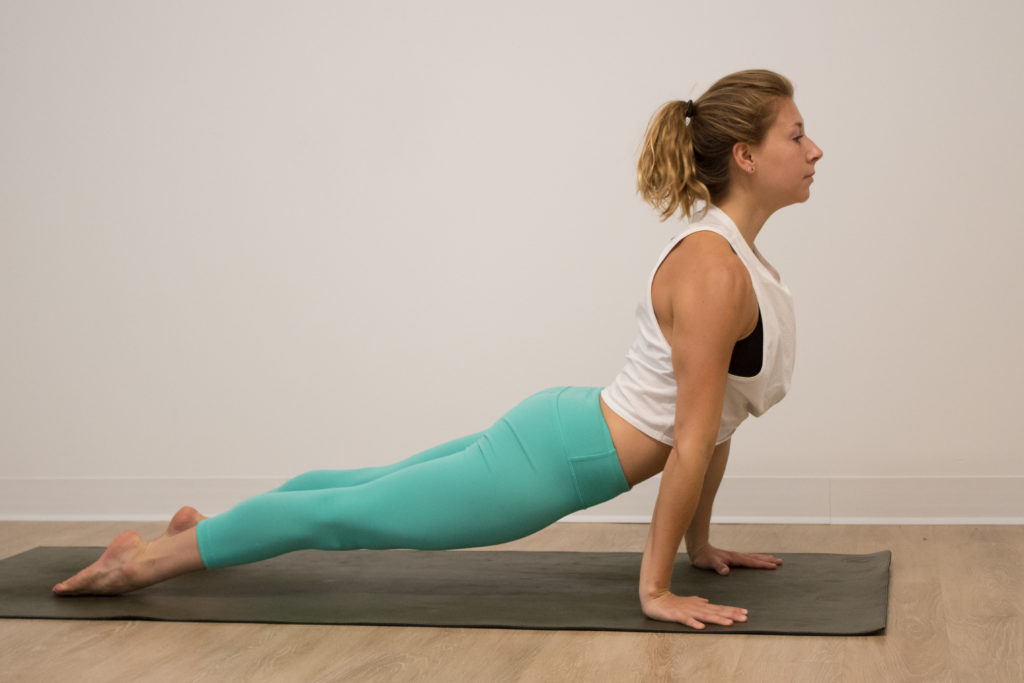 In this 30-minute yoga flow, you'll move just enough to either get you started on your day, stretch it out after a heavy lifting sesh, or wind down from a busy day out and about. No matter where you are in your day or your week, you can tackle this workout from the comfort of your own home. Heck, you don't even need a mat!
Find some space, a towel or carpet, queue up your favorite yoga tunes (or check Maggie's Spotify for her latest recommendations) and hit play on this flow!
Do the yoga flow on the SweatWorking App here.
Day 2: Take your workout outside, for the FUN of it.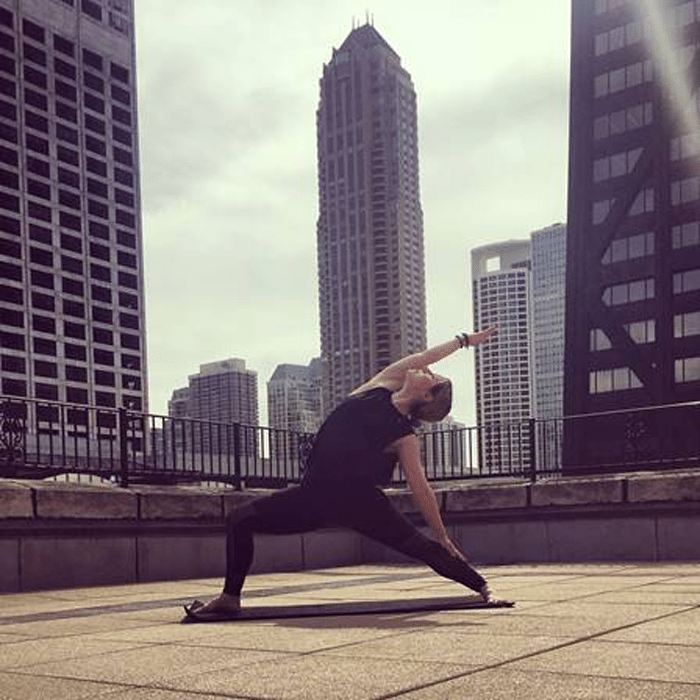 I'll raise my hand here: oftentimes, I feel pressured to get the MOST out of every single workout, pushing myself to the brink of exhaustion by turning up the treadmill to the max or grabbing the heaviest weights I can carry. But in this challenge, we want you to take your workout outdoors and keep it FUN, whatever that means for you. You might go for a dog jog, grab a friend to play tennis, paddleboard, or try your hand at a bodyweight workout. The point isn't to burn calories or wake up sore the next day; it's to find an activity that you enjoy and complete it in the great, (hopefully) sunny outdoors.
Day 3: Challenge yourself to a water-drinking contest.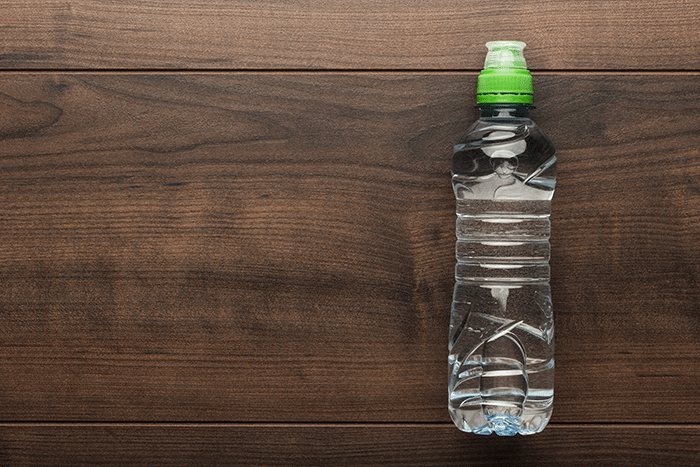 Quick guidelines here: we should all be aiming to drink between half an ounce and an ounce of water for each pound you weigh, every day. So if you weigh 160 pounds, your target goal for this mini-challenge is to drink 80-160 ounces of water for the day. Your skin will never feel so hydrated (and hey, getting up to go to the bathroom is a great way to keep yourself from being too sedentary during the workday).
Need some ideas? These are our best tips for drinking enough water every day.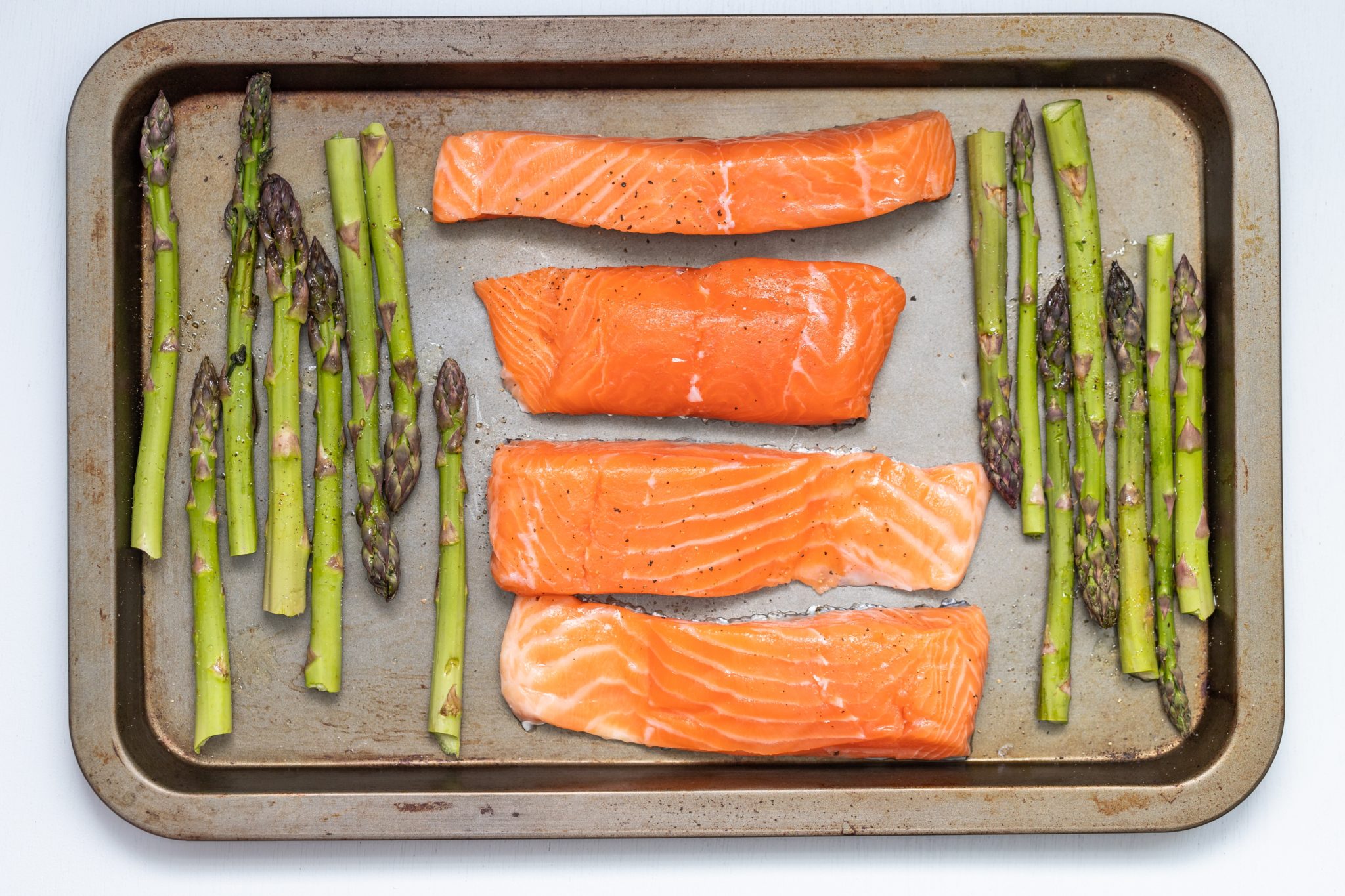 Get your grocery shopping game face on and hit the aisles with Registered Dietitian Maggie Michalczyk's meal prep guide, Spring Has Sprung. Choose from salmon tacos with veggie slaw and avocado crema sauce, a kale cauli power bowl, or if you're looking for something truly quick and easy, homemade trail mix. The feel-good vibes are doubled from cooking a healthy meal for yourself AND avoiding spending money on eating out—win, win.
Get the meal prep guide and pick your recipe to cook right here.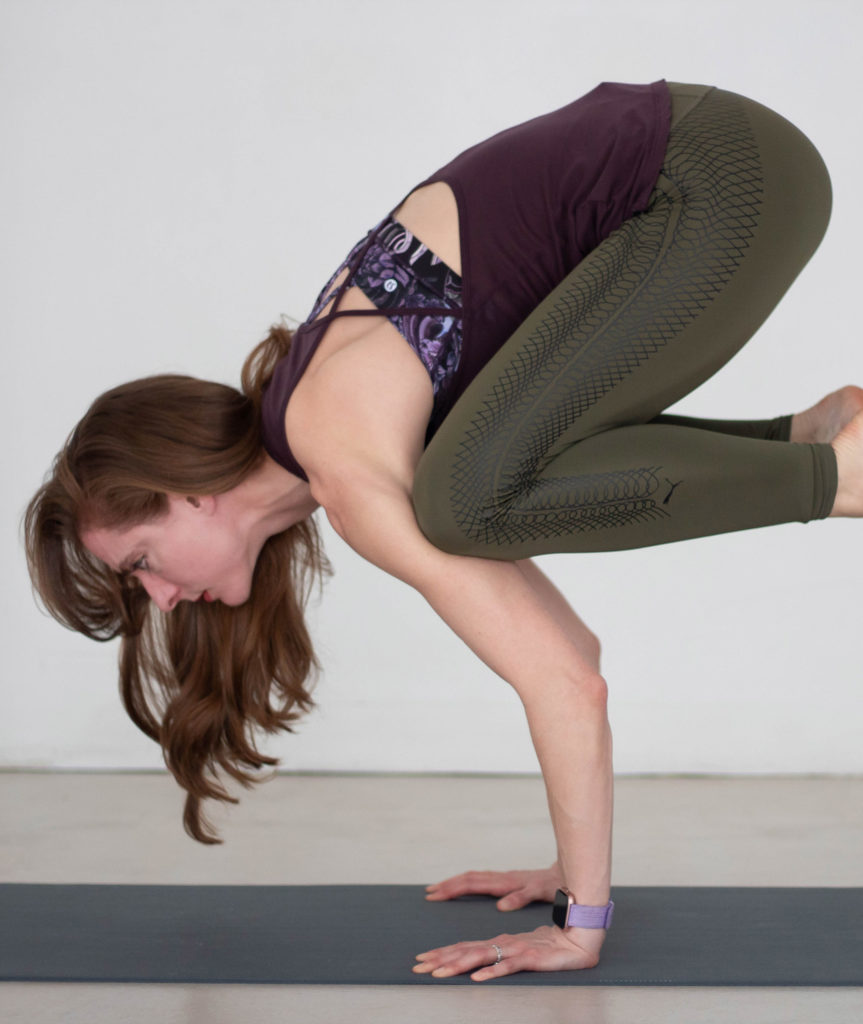 Day 5 is all about trying something new and *literally* flipping your perspective. Yoga teacher and improv extraordinaire Jenny Finkel will walk (fly?) you through crow position in this 30 minute tutorial. You'll start with basic yoga movements and build strength to practice your crow pose. Want extra credit? Grab a friend and giggle your way through this fun challenge together.
Learn how to crow on the SweatWorking App here.
Let us know how you're taking on the challenge by sharing on your Story on Instagram. Be sure to tag @asweatlife, and if you're feeling inspired, share with others how you're focusing on mental health awareness this month in little, tangible ways day by day using this checklist designed for your Instagram Story!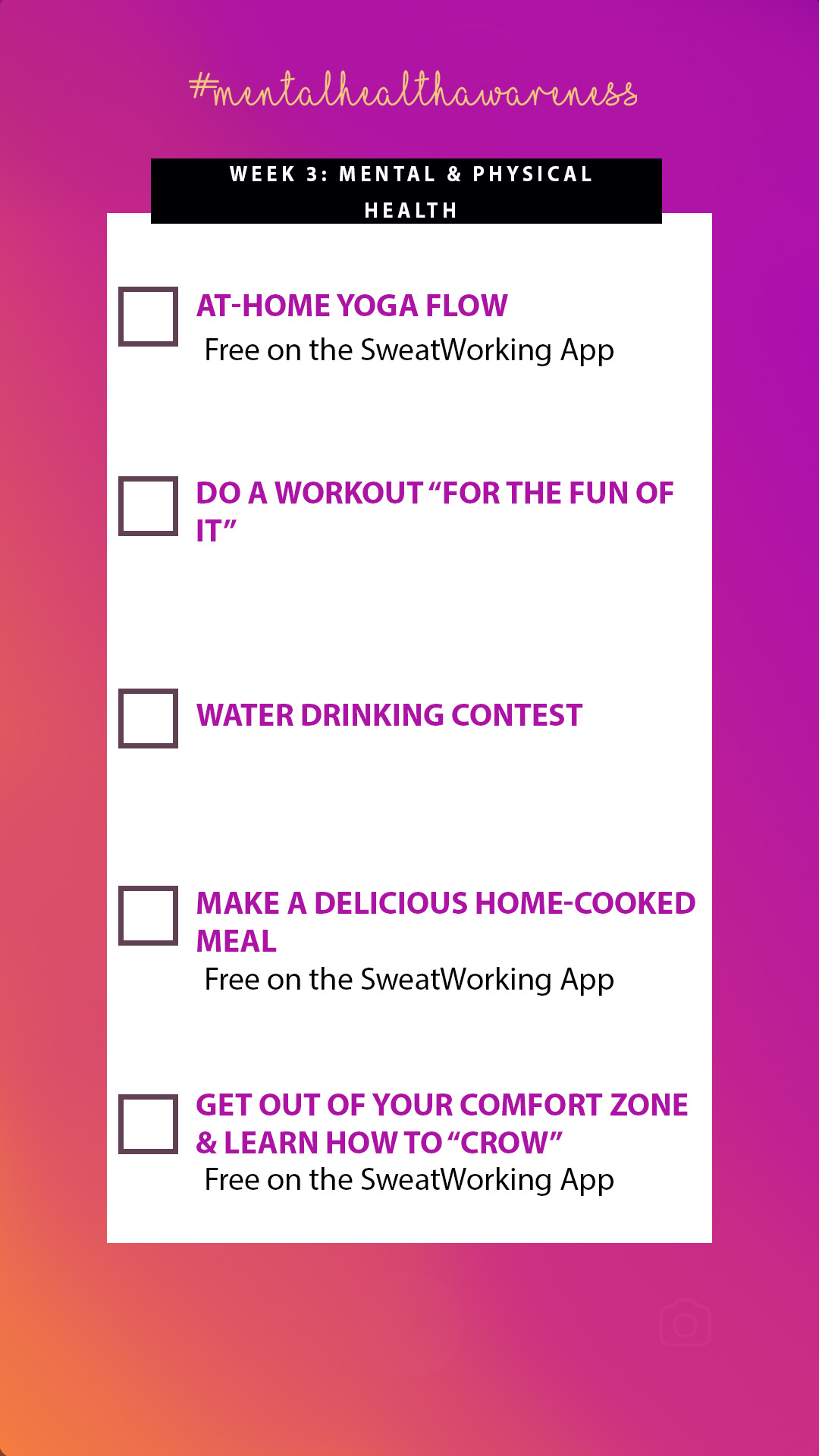 *While you can impact your happiness, It's important to note that depression or any other form of mental illness is something that you should talk to a trained medical professional about – especially if you're feeling down for an extended period of time. Find a counselor, a therapist or someone else who is trained to help.