Enter the aSweatLife Back-to-Self-Care Sweepstakes!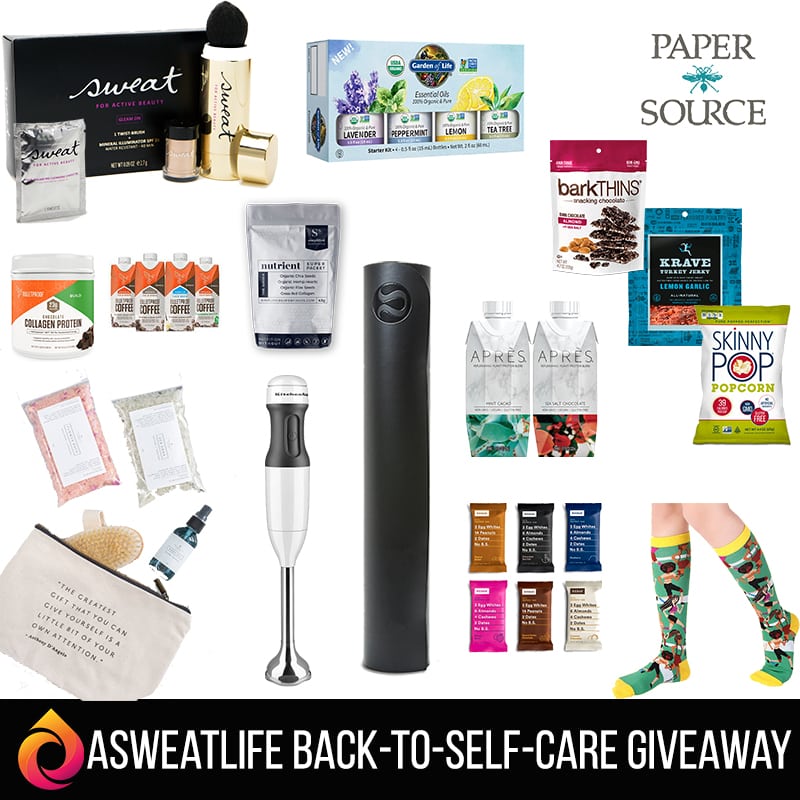 (Enter the aSweatLife Back-to-Self-Care giveaway here!)
Self-care just might be the biggest trend of 2018 (hello, $10 billion industry), and we are totally here for it. From treat-yourself massages to smaller indulgences like a homemade face mask or five phone-less minutes for a walk outside, we love exploring new ways to take care of ourselves physically, mentally, and emotionally.
Plus, there's something so powerful about taking the time to tune in to how you're feeling — and then addressing those needs to make sure your cups are all filled. It's the oxygen mask theory Devan Kline spoke to in our podcast with him: you have to take care of yourself first before you can take care of other people and priorities in your life.
So even though we're far past the days of going back to school (ahem), September still signals to us a fresh start, a chance to refresh your healthy habits and refocus on taking care of you. We're declaring this month Self-Care September, and you're invited to get in on the fun with our Back-to-Self-Care Sweepstakes.
We want to help you get back to self-care by showering you with the BEST goodies for every aspect of your self-care routine. From make-up to yoga, skincare to superfoods, and snacking to essential oils, this $1,000 prize package has everything you need to feel totally Zenned out and ready to be your best self.
And because everything is better with friends, we're asking you to share this contest with yours. More shares = more chances to win. All you need to do is sign up to enter here, then share with your friends using the links on the page. 
Everything you need to know about the Back-to-Self-Care Sweepstakes:
How do I enter? Enter here! You'll be asked to enter your email address, which gives you one entry. You can earn more entries by sharing on social, emailing to friends, and following us all over the Internet (in a lovable, non-creepy way).
How long does the contest run? The contest is open from Wednesday, September 5 through Wednesday, September 26. The contest closes at midnight Central Standard Time on 9/26/18.
What can I win? SOOOO many fun things. One grand prize winner will take away the following:
1 lululemon yoga mat
1 KitchenAid 2-speed hand blender
1 month's supply of Simplified Superfoods packets
1 care package from barkTHINS, Skinnypop, and KRAVE Jerky
1 variety pack of RXBARs and RXBAR nut butters
3 month subscription of Après plant-based protein drink
1 Sweat Cosmetics GLEAM ON Illuminator (SPF 25) and a 30-pack of  Skin Cleansing Towelette Wipes
1 Spa Kit from Primally Pure
1 Garden of Life Essential Oils Starter Kit
1 free hour-long Creative Card-Making workshop for you and 3-5 friends
1 pair of Powwful Power Socks with 15-20mmHg compression
1 care package from Bulletproof Coffee, including a Chocolate Collagen Protein Tub, 1 Package of Bulletproof Ground Coffee, a Fitness Towel, 1 bottle of each Cold Brew Flavor, and 1 Bulletproof Grocery Tote Bag
… and more prizes being added daily!
What's this about social sharing? Everything is better with friends, including this. Sharing on social automatically ups your number of entries. Win-win situation.
I like to read the fine print. Have at it.
I still have more questions! Email [email protected] with "Back-to-Self-Care Question" in the subject line and we'll respond ASAP!