DIY Face Masks and Essential Oils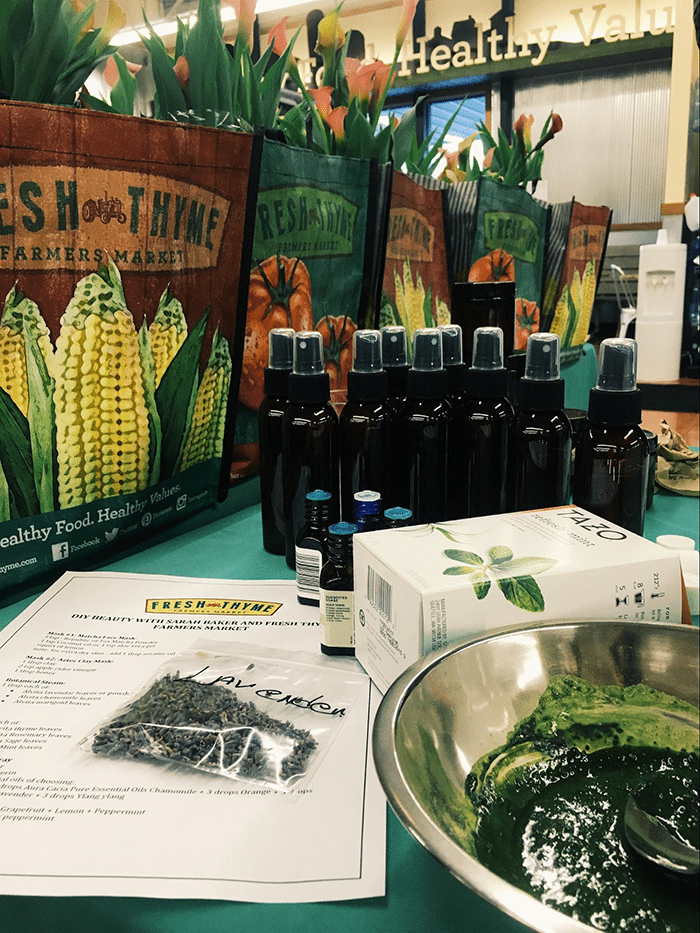 Skincare doesn't have to be expensive and complicated. Sarah Baker sought to teach us that at her DIY face mask event at Fresh Thyme Market. I detailed how Sarah's DIY masks worked their way into my skin care routine.
But the workshop was about more than cleansing masks, it also focused on various benefits of essential oils and herbs, which can all be blended at home. That aspect of the event seemed even more foreign to me; I couldn't imagine ever realistically using those tips. But after hearing what Sarah had to say about them, I decided to give them a real shot.
Essential oils are highly concentrated, distilled plants mixed with water. The benefits of using the oils directly on the skin or through a diffuser include aiding in sleep, digestion, calming the mind and body, and, you guessed it, skin care. Even if you don't have a diffuser, creating a botanical steam to open up the pores is both calming and detoxifying.
Sarah explained a few different essential oil benefits as we wafted the amazing scents of various oils that the diffuser gave off. Texas cedarwood is grounding. Grapefruit scent helps with hangovers and sugar cravings. Lemon scent and peppermint are naturally energizing.
Interestingly, I learned you can create an essential oil-like experience using different teas and dried herbs as well. With tea, simply rip open the bag, place in a bowl of hot water, and cover your face with a towel to create the steaming experience. To better explain how to use dried herbs, Sarah shared some secret recipes with us. Her mixture of rosemary and sage reminded me of sitting by a fire in a cabin during winter (it was heavenly), and it specifically is meant to bring blood flow to the skin. The lavender-inspired mixture was more calming and soothing.
Recommended botanical steam recipe:
1 tbsp each of:
Alvita rosemary leaves

Alvita sage leaves

Alvita mint leaves
OR
1 tbsp each of:
Alvita lavender leaves or powder

Alvita chamomile leaves

Alvita marigold leaves
When sticking with oils, you can still create blends that work for what you need most. We used samples of rose oil, Texas cedarwood, orange, vanilla, peppermint, grapefruit and lemon to create the blend that best fit our scent palette.
A helpful tip when blending your own oils: add a few drops of vegetable glycerin to whatever container you're keeping it in to keep the different oils from separating.
I may not be the best at keeping up with wholesome, healing routines, but I do believe these oils possess real benefits. I stuck with a straight lavender scent in my essential oil kit and I now put it on every morning. Whether or not the oil sinks into my skin and I am actually more calm throughout the day, I do know that I absolutely love the scent and I feel better about using it than a more chemical perfume.
Have you ever used essential oils for any healing reasons? How about blending your own?
Let us know!
Did this post help you get closer to achieving one of your goals?