Get to Know Coach Siobhan Carey and Recover with Her Yoga Flow on SweatWorking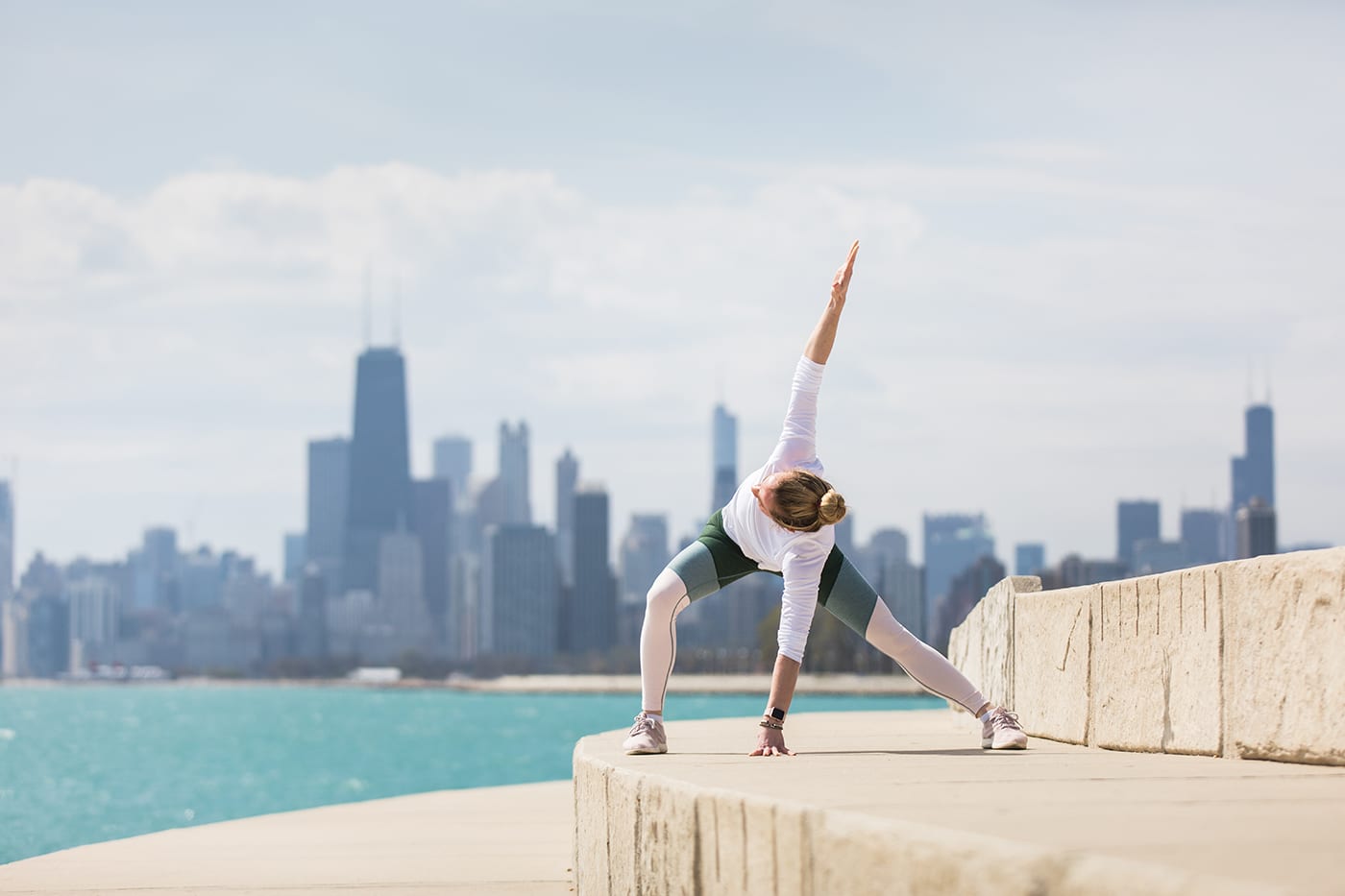 (Try Siobhan's recovery yoga flow for your legs right now)
While there's nothing quite like stepping into a beautifully lit, warm yoga studio with the scent of eucalyptus or palo santo incense to greet you, no matter where you roll out your mat – the most important part of practicing yoga is simply showing up.
Siobhan Carey, a yoga instructor based in Chicago, brings this idea to all of her classes – both in person and through the SweatWorking app. She asks that you show up for yourself so that you can better show up for everything and everyone else in your life. Whether you want to flow with her for a full vinyasa class filled with binds and backbends or just need some recovery yoga after a long week of workouts, Siobhan brings an energy of calm athleticism to all of her yoga sequences.
And perhaps the best part about rolling out your mat at home versus at the studio, you can take as long of a savasana as you'd like. As Siobhan likes to remind her classes, it's your time to experience total freedom from the outside world.
Whether you prefer to practice on your own or just can't make it to the studio on a busy week, pop over to Siobhan's workout page on the SweatWorking app and try one of her flows. We're especially loving the 25-minute Loosen Up Your Legs recovery yoga that you'll want to last forever. Keep reading on to get to know more about Siobhan – and be sure to follow her on Instagram to learn where she'll be teaching in real life.
Right now, Siobhan's Loosen Up Your Legs yoga flow is totally free through SweatWorking. All you have to do is download the app and roll out your mat.
Get to know Coach Siobhan Carey
In a nutshell, what's your teaching style? 
Smart and playful! I have a background in both power yoga and alignment-based vinyasa, and I try to bring a healthy dose of both into my classes. I also am a former college diver so I like to teach pretty athletic and challenging classes with a bit of upside down time to really allow people to feel the strength of their physical body.
What do you love most about teaching?
There are so many things! I love being a small part of the growth in a student's practice. Being able to witness people trying new things on their mat, getting excited about a pose, or just feeling different after practice is so cool! I also love the moments between savasana and a final om (I always close with at least one om) where students are just waking themselves back up. Savasana is one of those rare moments where you're without a phone, you don't have to talk to anyone, you can let go of expression on your face…it's just total freedom to be and relax. I can really feel that the energy is different than when students stepped on their mat, even if it's just a subtle bit of relaxation or calmness. That, to me, is the most special part of practice.
What motivates you to go after your personal best in your practice?
I'm a former athlete, so a little friendly competition is kind of in my blood! I get really motivated by the energy in the room, the people around me going for it on their mat or in any given class. Seeing others working hard drives me to step up and work hard as well. It's less about "winning" now, and more about participating with the energy in the room or being the one who maybe inspires others to put their best foot forward.
Your best advice to anyone who takes your class – in real life or on the app?
Just show up. I say this in most of my classes and I really believe it to be true. When you show up for yourself you are better able to show up for everyone and everything else. By learning how to show yourself compassion, love, trust, etc., you're better able to give those things to the other important people, pets, things, in your life.
What's your favorite book right now?
Meditations from the Mat by Rolf Gates. I come back to this book all the time and just restarted it. I pick it up pretty regularly before I meditate or journal and even sometimes when I have time for a self-practice at home. The short passages are thought-provoking and really ground me into a state that's perfect for self-reflection and mindfulness.
Favorite way to work out outside of yoga?
I've been really into Pilates recently. I love how that kind of workout encourages slow and intentional movements that challenge me in ways that I probably would never make myself do on my own. I definitely feel like I've strengthened my inversion and overall yoga practice by taking a couple [solidcore] or Lagree classes a week.
What's your guilty pleasure? 
A good Netflix binge on a Sunday with some dark chocolate to snack on and red wine to sip on. With a work life that involves a lot of moving throughout the week I really cherish days where I can rest and recover!
Anywhere in the world you could travel to right now?
So many places! If you couldn't tell by my  name, I'm pretty Irish and have had the itch to go back there as an adult. I've been with my family when I was little but haven't really experienced the country since then. I'm also dying to teach abroad (and am working on making it happen) so look out for news about that soon, hopefully!