How Spin to Break the Cycle Builds Purpose Behind One Cycling Ride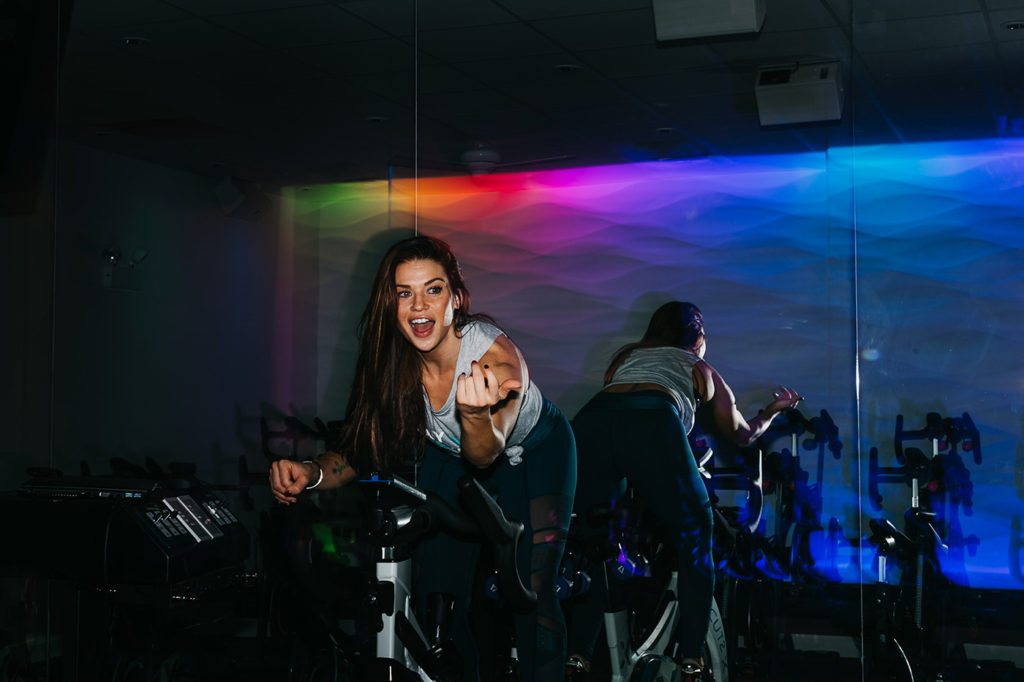 There's something about a cycling studio – lights down low and music surrounding you on all sides, everyone pedaling to the same beat, each in her own zone but together, pushing themselves up a hill when the instructor calls to turn up the gear or send that RPM to 130 and sprint across the finish line – that gets me every time.
No matter what kind of day I've had, I feel like I have purpose when I get on a bike and set a goal for myself in spin class. And even though I've never been an athlete, I sure as hell feel like one when I reach my max speed or resistance and hang onto it despite what my legs are telling me to do (which is to quit, run away, give up).
We're no strangers to a challenging bike ride for a good cause; in fact, those causes can be the best way to get out of your comfort zone and try a sport that's challenging or scary.
World Sport Chicago understands the power of sport, too. This organization's initiatives leverage the transformative power of play and sport to bring Chicago communities together and increases access to sports for all of Chicago's youth.
According to the organization, "our work is targeted to reach neighborhoods where the barriers to access sport through traditional avenues are most severe and is made possible through the contributions of donors and volunteers."
One of World Sport Chicago's biggest events of the year, Spin to Break the Cycle, joins the camaraderie of a group cycling experience with an even greater purpose to get on that bike. This year, World Sport Chicago is partnering with Up2Us to bring sport programs, activities and coaches to more of Chicago's youth.
Hosted at the House of Blues on April 7, 2017, classes run every hour from 8 am until 2 pm. Every dollar fundraised for each bike supports Up2Us and World Sport Chicago in citywide program initiatives.
Ashley McCullough, who participated in 2017's Spin to Break the Cycle event, echoed the sentiment that the energy in the space – and for the cause – is unparalleled.
"I have never felt such a strong sense of community from a group of strangers before," McCullough said. "In a typical workout, everyone is there to simply get a good sweat. In this workout, everyone was there to support each other and to support people in need. The room was electric. You leave with just the perfect amount of perspiration and even more inspiration."
As an individual, there are still plenty of ways to get involved, even if you don't buy a full seat and pledge to fundraise for it (although, there's still time to do that too). You can register to volunteer during the day of the event, purchase a crew pass that gets you access to all the events during the day outside of the hour-long rides (think: massages, appetizers, drinks) or make a donation.
The 8 am session will be lead by Fitness Formula Club instructors Jennifer Dahl, Austin Head and Heather Hamilton. The 9 am session will be lead by Bill Bower, also from FFC. Matt Modleski from Lakeshore Sport and Fitness will lead the 10 am class. Studio Three's Antonia DeSantis will be instructing the 11 am session. aSweatLife Ambassador and Cycle X instructor Shannon Flanagan will be at the helm of the 12 pm class and Aaron Foster, founder of Cycle Therapy, is leading the final class at 1 pm.
Tickets to sign up to ride are right here and prices will vary depending on which team you sign up for and how much you'd like to fundraise for World Sport Chicago.
Whether the beat of the music and dimmed lighting is enough to get your blood pumping and PR mindset ready to rock, or the added motivation of spinning for the rest of the city of Chicago gives you a much needed energy boost, Spin to Break the Cycle is sure to make you ride like the wind.