Chicago Outdoor Fitness Making Your Summer Sweatier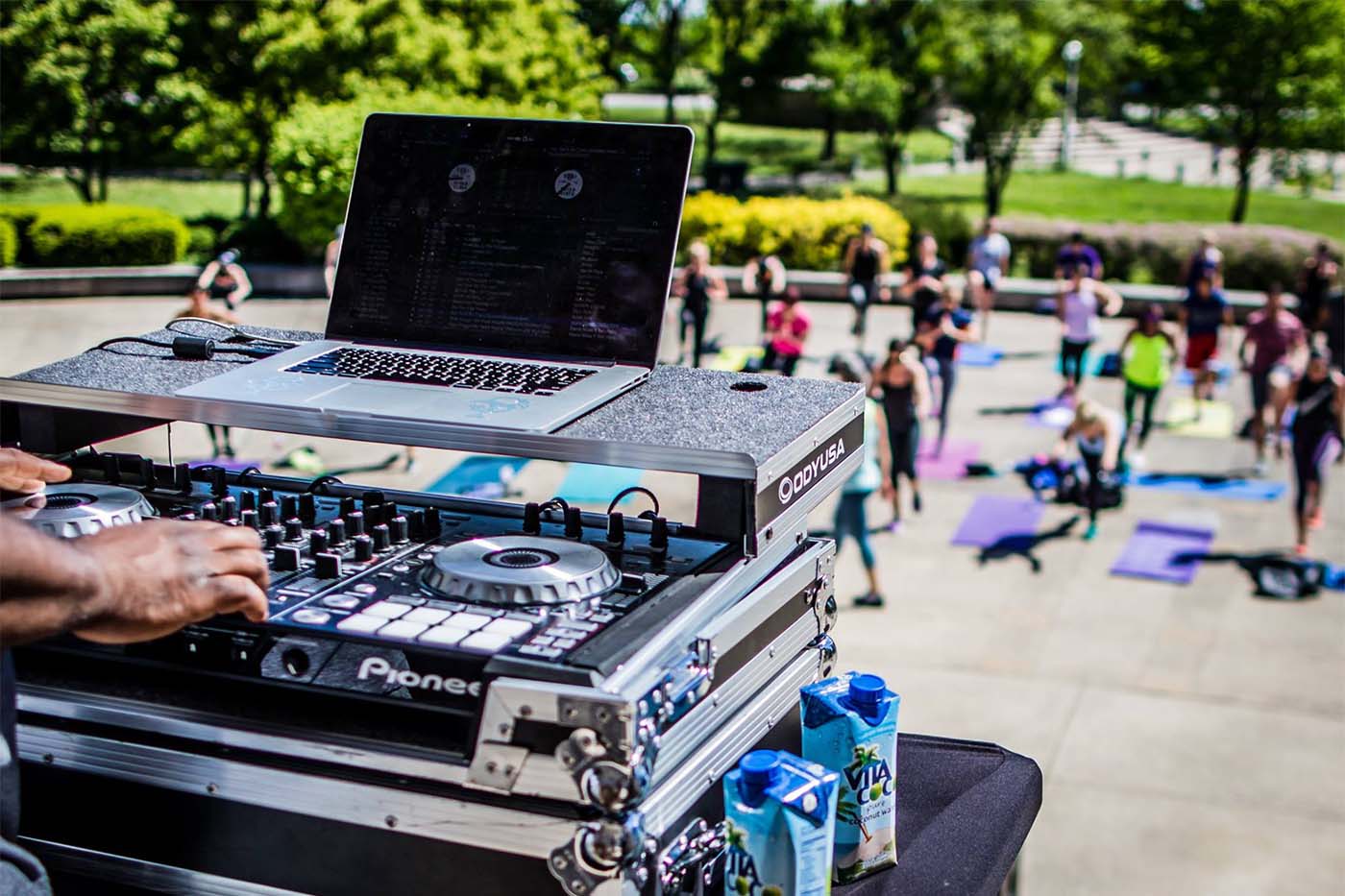 (Photo by Christiana Basso)
In Chicago, the second the ground thaws and we get a glimpse of grass peeping its way into the sun, you can bet someone is going to roll out a mat and do yoga on it. It's outdoor fitness season and we put out feelers to find some of the things to make you break out the SPF while you get your heart rate up.
We're always updating our calendar with as many complimentary workouts as we can get our hands on. This is just a list of honorable mentions in Chicago outdoor fitness, but there are plenty of ways to sweat on the calendar and beyond. If you know of a workout that isn't on the list or on our calendar, shoot [email protected] an email and she'll consider it for inclusion.
Monday, Wednesdays and Thursdays at the Park at Wrigley
The Park at Wrigley was created to be a community space, built for farmers markets, fitness and just enjoying the continued beautification of Wrigley Field. Here's the fitness that's on the schedule for summer when there isn't a game.
Tuesday, Thursday and Saturdays on the Great Lawn at Millennium Park
At Millennium Park, you can enjoy complimentary workouts all summer long – from June 6 until August 31 – on the great lawn. It's a picture-prefect setting, ideal for a morning sweat session. More info is available here, but attendees can just show up!
Tuesdays and Thursdays from June 6 until August 31, you'll find yoga from 7:30-8:15 am.
Saturday mornings are packed with back-to-back fitness sessions. Expect four different 45-minute classes on the hour start.
7 am: Pilates
8 am: Yoga
9 am: Strength training
10am: Zumba®
Every other Thursday with Equinox at Revival Food Hall
For six weeks, every other Thursday, Equinox will pack the mornings at Revival Food Hall with a variety of complimentary classes will host a variety of classes from 6:30 – 8 am. Classes are open to members and non-members to enjoy classes like Hip Hop Yoga, Mindful Movement, Summer Camp boot camp and more!
Thursday mornings with exhale at Palomar
Thursdays at 7 am, you can find exhale on the roof at the Hotel Palomar where the spa/studio hybrid will bring its Core Fusion Barre + Cardio classes in the open air. With the hotel's spectacular views, you'll want to stay all day. Curse you, work!
Sign up on Exhale's Mind Body Online page.
Saturdays, CrossTown Fitness partners with Chicago SUP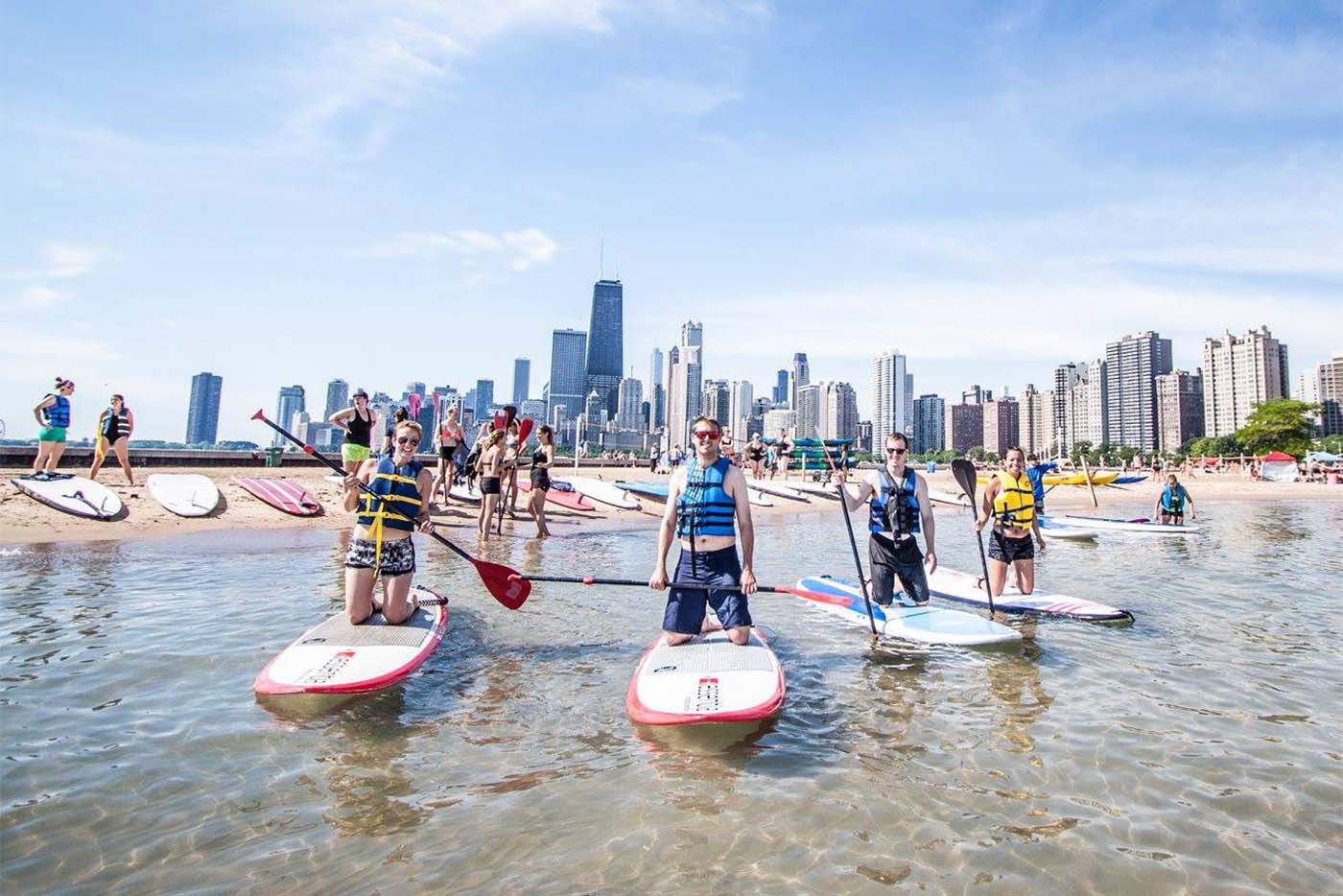 (Photo by Christiana Basso)
At 8 am each Saturday, experienced stand-up paddlers can join CrossTown Fitness at North Avenue Beach's Chicago SUP for a workout that's a hybrid HIIT and stand-up paddle boarding. Nothing says summer more than taking off your shoes to sweat in the sand and then washing it all away in the lake.
Sign up on CrossTown Fitness's Mind Body Online page.
Saturdays with SWEAT on the Joy District Rooftop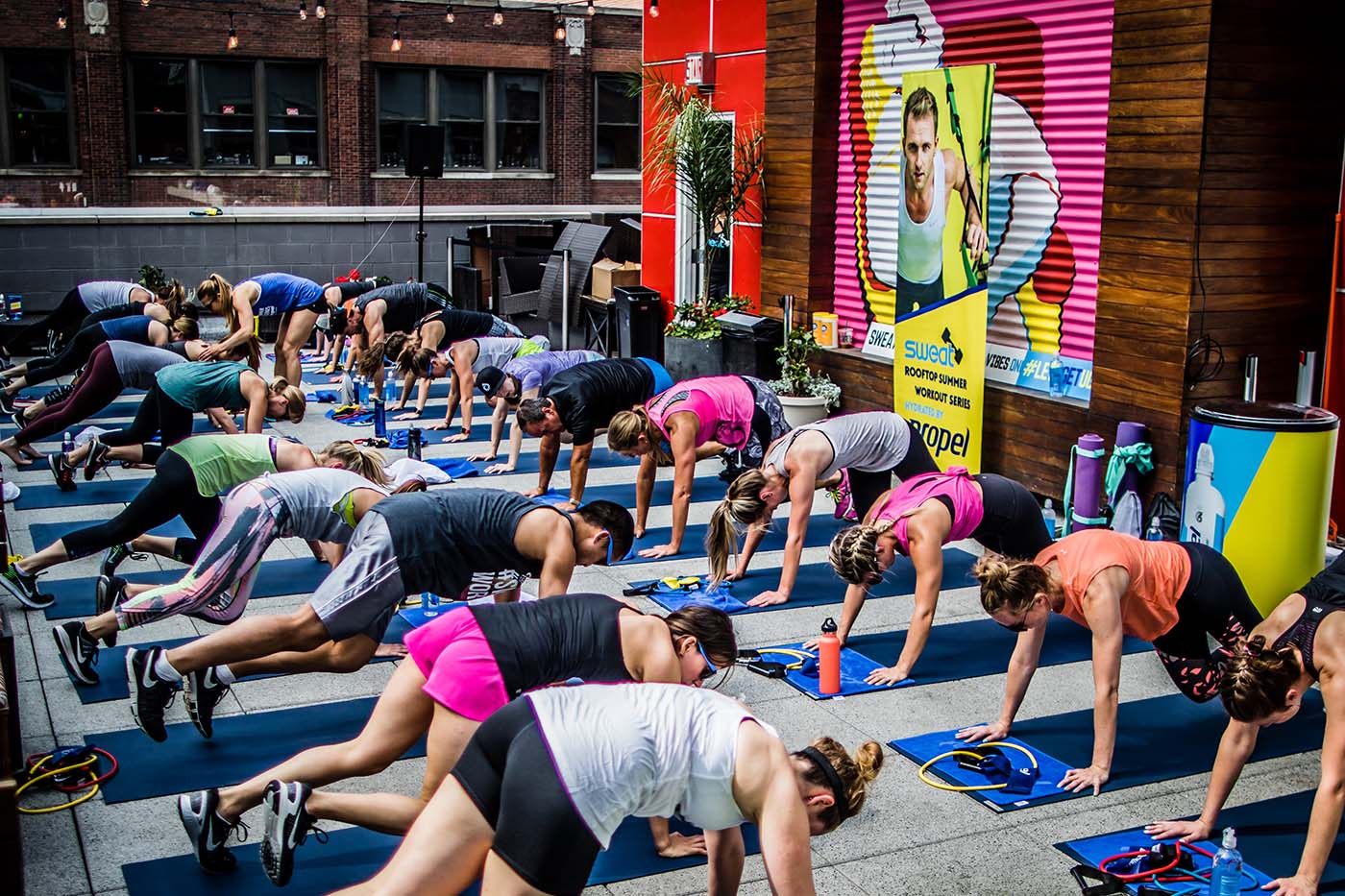 (Photo by Christiana Basso)
At 10 am every Saturday, SWEAT takes over the Joy District rooftop for yet another summer and this summer, the program is hydrated by Propel. You'll find ample mats, bands and water packed with electrolytes to help you put back what you lose in sweat. And, if you feel like sticking around, SWEAT always seems to have some rose laying around.
Saturdays, Marathon Train with On Your Mark
Starting out of On Your Mark in the West Loop, you can take your long runs with Emily Hutchins and Nike+ Running. The key to sticking with your training is to find a crew to keep you accountable. If you've never gotten a "Where you at?" text message from Emily when you're late, you don't know accountability.
Sign up here for the complimentary run.
Brands Helping You Marathon Train
Nike Running: After a seasonal break, NRC is back and is offering speed, tempo and long runs each week. That's just the variety a runner needs to find their fast.  Check back weekly and sign up here.
Lululemon: 
Tuesday, Join Lululemon Halsted for a training run around the city. Learn more here.
Wednesdays, join Lululemon Southport for run club. Learn more here.
Thursdays, Join Lululemon Bucktown for run club. Learn more here.
Reebok Chicago: With the brand's foray into Bucktown on Damen, you can expect fitness classes, training opportunities and runs all starting in the space. Keep your eyes on the brand's Instagram page for more info.
Let us know!
Did this post help you get closer to achieving one of your goals?