Adam Kimble's Next Challenge: Surviving "The Wheel"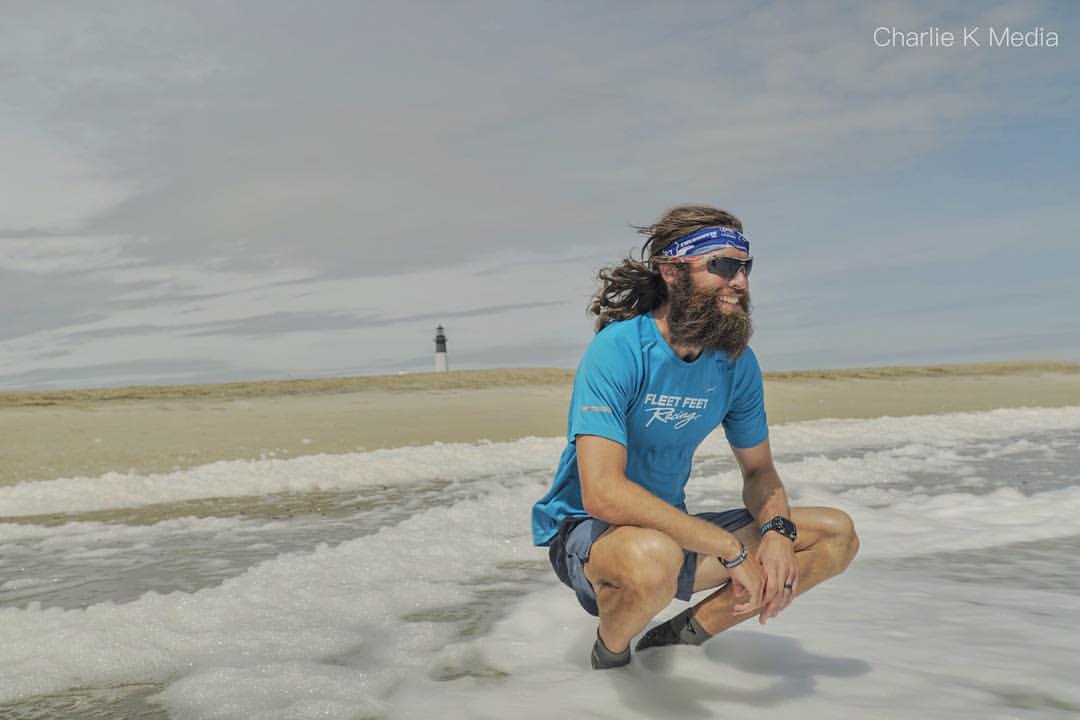 For some people, training for a half marathon or planning a vacation to Thailand is the perfect amount of adventure. For others, it may be more exciting to get dropped in an unfamiliar landscape with no tools, no help and no idea what's coming next.
Adam Kimble falls into the latter group. Fresh off his attempt at running across the entire United States (which you can read about here and here), Adam's already taken on his next challenge, one that's just as impressive in magnitude and just as daunting in "Oh HELL no would I ever want to do THAT."
As a contestant on Discovery Channel's newest show, The Wheel, Adam got the chance to prove he had mental and physical toughness of a different caliber, one where the stakes were arguably higher and the payoff just knowing you survived. But hey, I'll let him tell you all about it.
When we last saw you, you had just completed your transcontinental running attempt. What did the weeks after that look like for you, and how was it adjusting to a much more forgiving day-to-day?
The weeks following the transcon were a collection of sorely needed days of rest!  I took about four weeks completely off of running (and I probably should have taken more), and then got back into some light training. I was anxious to see how my body would respond to my usual training regimen coming off of the transcon, considering the unexpected injuries I dealt with during the run.  I also had such a greater appreciation for everyday activities.  Getting coffee, seeing a movie, going to speak to students at a school … they were all a much needed change from the 60-day routine of run, eat, sleep, repeat!
What was your recovery process like and about how long did it take before you were relatively "back to normal"?
Thankfully, the recovery was much faster than I expected!  A friend of mine (Marshall Ulrich) ran across the US in 2008, and he told me that it took him about two years to fully mentally and physically recover from his run.  It certainly helped me that I attempted the feat as a 29-year-old, because my body was able to bounce back much more quickly.  Nonetheless, I would say it probably took me about four months to feel "back to normal."  My first big test following the run was the Burning River 100 in August, and after some early fatigue I ended up feeling really great!  Thankfully, I had two of my transcon crew members (my wife, Karen, and one of my best friends, Josh) to lead me to a strong second-place overall finish!
Your latest super-human endeavor is participating in Discovery Channel's new survival show, The Wheel (which premieres Friday, January 13). Can you give us a quick rundown of what the show entails?
The Wheel follows six participants attempting to survive alone in up to six grueling landscapes for a total of 60 days in South America.  With every "turn" of the wheel, participants are moved to a new eco-zone and have to adapt to the changes that are presented by the new scenery.  On top of that, the participants don't know when or why the wheel turns.  The six terrains are as follows: rainforest, mountains, wetlands, tundra, bush plains and island.  The beauty of the show is that there is no grand prize for surviving all six zones and 60 days.  The only thing potentially keeping a contestant from using their SOS device and calling for extraction because of hunger, weather, loneliness or some other factor, is whatever was motivating them to take on The Wheel in the first place!
How on earth did you find your way to this fresh hell of an endurance challenge?
I believe that everything happens for a reason and there is no doubt in my mind that I was called to be on The Wheel.  From the moment I responded to an intriguing email about a casting call for adventurers, there were a number of events that led me (and my wife Karen) to believe that I was ultimately going to be cast on the show.  And here we are!
What did you do to prep for your time on The Wheel?
Talked to my dad, Ivan.  He grew up on a farm, was a hunter, fisherman and volunteered all the time when my brother was a Boy Scout.  I knew if I could channel my inner Ivan Kimble, I might have a better shot at success.  And I also practiced making a few fires, somewhat unsuccessfully.
Along the same lines, how would you say your transcontinental running trek prepared you for The Wheel?
The transcontinental journey helped to build upon what I already had in the mental "get it done" department. I was very clear during the casting process that I was not a "survivalist."  But that's not to say I don't love the outdoors. I love trail running, hiking and exploring but there is a difference between that type of outdoor activity and being a survivalist.  So, for me, my strongest asset was my mental toughness.  I like to think of it this way: when you go through something really difficult and life-changing (i.e. running across the US), your well gets deeper.  And then the next time you reach into that well, you've got more than you think you do to get you through.
During your transcon run, we talked about how big a part your support crew played in your journey. In The Wheel, by contrast, you're completely on your own in the middle of nowhere. How did that affect you?
Honestly, the emotional aspect of The Wheel was so much harder than I ever imagined it to be.  Not being able to speak with Karen or any of my family and friends was extremely difficult.  And you don't know how difficult it is until you're in it.
What did you find to be the most physically demanding aspect of being on the show?
The hunger.  MY GOODNESS.  I can't convey in words how bad it was.  Think of the hungriest moment of your life, and then live that day in and day out.  Like Groundhog's Day.  It gave me insight into what life is like for people around the world who deal with that level of hunger every day of their lives.  It's a terrible, terrible thing.  And I pray that as few people as possible ever have to experience that.
How about mental exhaustion? From what I've read about the show, it seems like a large part of the must-watch-edness boils down to the unknowns that the survivors face — for example, not knowing how long they'll be in any one environment or what's coming next.
You're exactly right.  Never knowing when you're leaving a zone.  Never knowing when you're eating next.  Never knowing what the weather is going to do.  Those type of things start to drive a person crazy.
Now that filming's over, are you mentally prepared for the most awkward thing on the world: watching yourself and hearing your voice on television? (I mean, talk about mental toughness.)
Haha!  I'm really excited to watch.  I can't wait to relive the madness and see what madness the other five contestants went through.  And on top of that, my experience was in large part a tribute to one of my best friends in the world, Mark Smith.  He was battling stage four brain cancer at the time of the filming.  I believe I will build hope in all of his family and friends through my experience on The Wheel.
What's next for Adam Kimble? Are we going to see you on more wilderness adventures or pushing your physical limits in a new way?
I like to remain flexible, knowing that at any moment, I can say "yes" to whatever crazy adventure ends up in my path.  I have plans for another big running expedition in the summer of 2017, but can't reveal full details yet.  We will discuss that soon enough!
Cheer Adam on when The Wheel premieres on The Discovery Channel, Friday, January 13 at 10 pm ET/PT.