Catching Up With Adam Kimble on His Guinness World Record Attempt
He came, he ran, he conquered, but not the way he originally expected to. Now that he's home from his 60-day run, I caught up with Adam Kimble, the Bearded Sole, to hear all about his Guinness World Record attempt, the challenges he faced, the things he learned and exactly why I was seeing pictures of a Teenage Mutant Ninja Turtle costume all over his Instagram.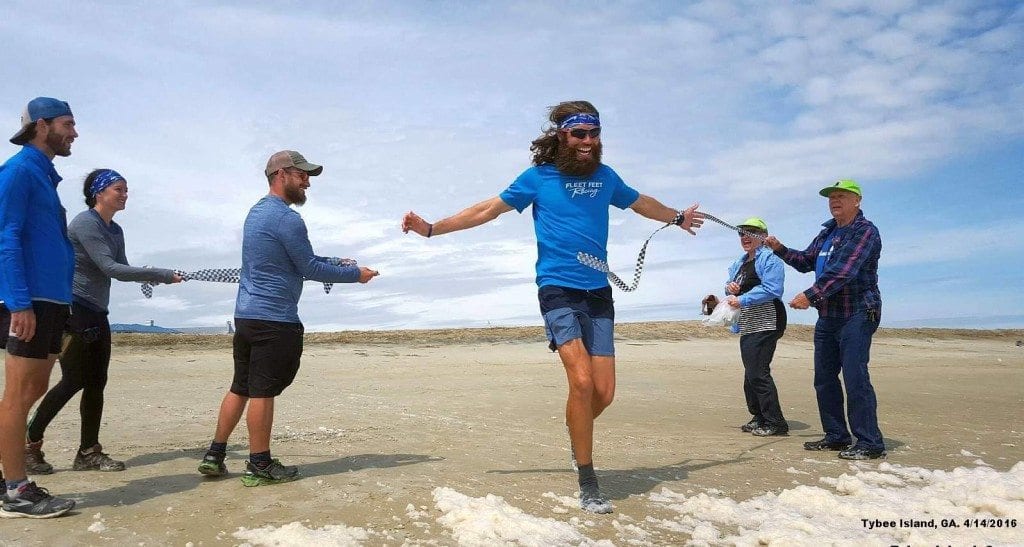 Adam, when we last saw you, you were getting ready to embark on the journey of a lifetime – a transcontinental Guinness World Record attempt. Can you give us a CliffsNotes version of what's happened since?
Well, we embarked on the journey and unfortunately ran into some injuries much earlier on than I expected. The injuries, most of which I had never had before as a runner, plagued me for much of the run and set us too far off of the Guinness World Record pace. So, with some of our crew having obligations to fulfill in April and a timeline we needed to adhere to, we adjusted the route and finished in Tybee Island, Georgia instead of New York City. The journey was so much different from what we expected, but the impact we had on our community was so much greater than we ever imagined!
You finished at Tybee Island on April 14 (one of my personal favorite places in the world, after I attended a Pirate Festival there last fall. Highly recommend it to anyone). Describe your thoughts and feelings when you first touched the Atlantic Ocean after 60 days.
My emotions were heightened to an unbelievable degree when we finished. I had imagined that moment countless times over in the weeks leading up to the finish, so experiencing it was surreal. I was completely overjoyed and at the same time very emotional about all the obstacles our crew had overcome during those 60 days. My wife and crew captain, Karen, asked me what one word best described how I felt when I finished.  My answer: relief.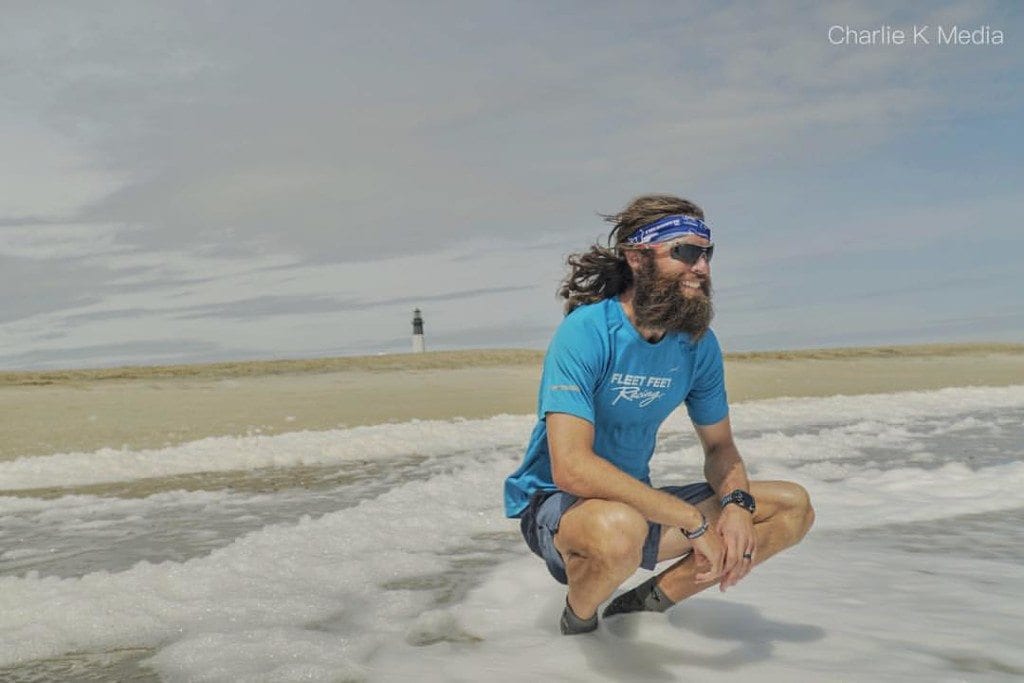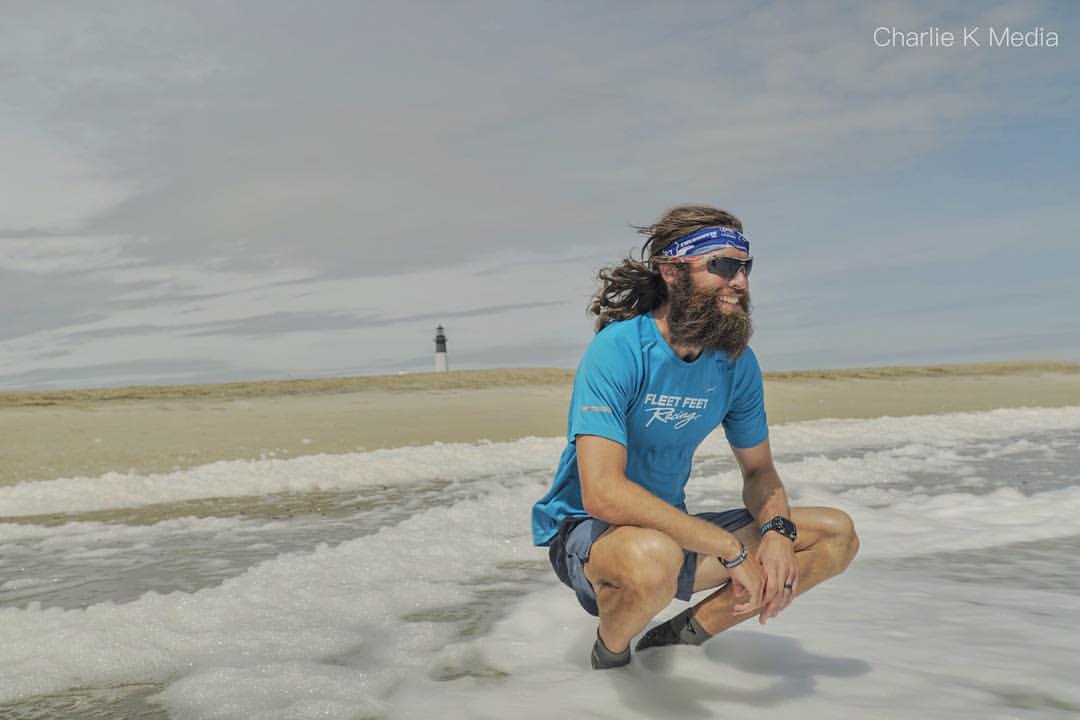 I'm sure you expected the normal aches and pains that go along with running/walking an ultra-marathon a day- when did you realize that your body was trying to tell you something a little more serious, and how did you make the tough decision to put the record attempt aside?
Funny that you asked this question, because my expectation was that I would be dealing with the aches and pains of covering so many miles, likely to a more extreme level. However, I never anticipated actual injuries that forced me to limp in serious pain for entire days on end. I guess even with solid ultramarathon experience and really high mileage training weeks, I had never put myself through the kind of physical stress that this attempt presented. Reality really set in on day 8 when my physician recommended that we stop the run. He had flown into Phoenix from Chicago and after examining me and consulting with his colleagues, told me I needed to let the injuries heal. My body wouldn't physically allow us to put in the miles necessary to make a run at the record, so we instead of focused on taking one mile at a time and chipping away at our goal of finishing the run.
What were some of the unexpected challenges that arose during the trip?
With the exception of a few last-minute route changes, most of our challenges were related to injury maintenance. We also had to work on adjusting our goals and expectations, because things were changing so rapidly with the ups and downs my body was going through.
What were the toughest moments you encountered on the road, and how did you deal with them? Or, put another way, what thoughts and motivations kept you going throughout it all?
As a team we truly encountered some big obstacles out on the road.  The toughest moments were those times when my body was failing me and all I wanted was to be pain-free for a few miles, knowing that it probably wouldn't happen. Fortunately, we had the most incredible support you could ever imagine from family, friends and our community of followers who supported us on social media and in person during this adventure. The stories and encouragement from those people gave us an infinite well of motivation to draw from.
I know your body experienced intense physical demands that few of us can fathom, but can you talk a little bit about what you've learned about mental toughness from this epic journey?
Being on the other side of this journey, I'm extremely grateful for every moment we went through. I joked with the crew about setting a new bar for pain tolerance, because I had never in my life gone through such a prolonged period of pain. Normally when you get injured in a sport, you rest and rehab. Every doctor or physical therapist I saw (and there were quite a few) during the run suggested that I get proper rest. So, I learned how to tolerate and push through pain that previously would have forced me to stop. Though it's not on the same level at all, it gave me a greater appreciation for people who deal with any sort of chronic or ongoing pain in their lives.
One of the things I noticed when tracking your progress was that you had an amazing amount of support. Every Instagram and Facebook post was filled with encouragement. Was that a surprise to you, and how did it help you along the way?
As I mentioned previously, this support was mind-blowing and exactly what we needed as a team. Even when I was at the depth of my physical distress, we always had our community to pray for us or send us words of encouragement. On top of that, we had more "trail angels" than you can imagine! These were the friends, family and supporters who met us on the road and always seemed to come at the times when we needed a pick-me-up more than ever!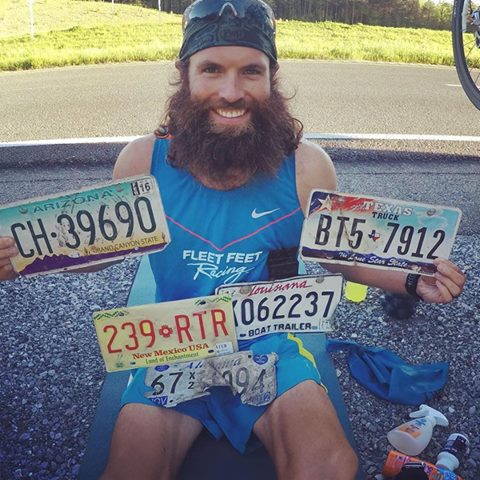 Can you talk a little bit about the goofy moments you and your crew enjoyed along the way? I noticed a few posts about collecting license plates in each state, and a certain Teenage Mutant Ninja Turtle costume showed up every now and then, but I'm sure there are more that you can share!
Our crew was amazing! When you spend almost every waking minute of 60 days with a crew of people, you get creative in coming up with fun things to do. Even through all the challenges and obstacles, we still managed to have a blast out there. I was always finding games to play on the road, like collecting change ($18.57 total!) and license plates on the side of the road. Fun fact about the license plates: the only states we didn't find were California and Mississippi, and we had people offer to send us plates from both states! The Ninja Turtle costume was an awesome idea from our crew member, Adam Nubern. He picked it up at a store before we crossed into Arizona and then we decided that someone new had to to wear it at every border crossing! It ended up being a fun "tradition" that we carried on throughout the journey. We also had a blast filming our little short films (Adam Gump, 500 miles, 1,000 miles, etc.) that we shared on social media too. If you haven't seen them, check them out on our Facebook!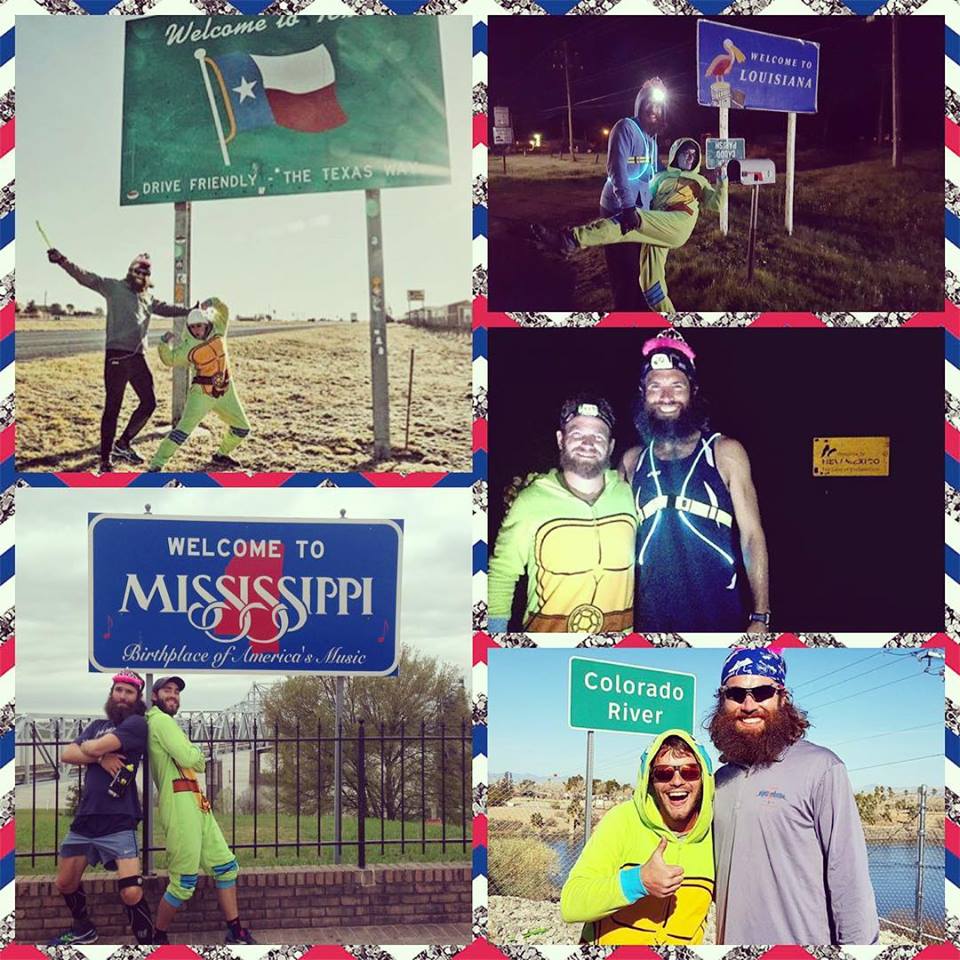 What were your favorite legs of the trip? 
Reflecting on the journey, I had so many great memories from every state. When I think about Texas, though, I think of some of the most positive memories. For the most part, I felt pretty good during most of our time in Texas. It seemed to go quickly even though it was by far the biggest state we passed through. We also got to see some greenery and trees in Texas, which was something we hadn't seen for weeks out in the desert. And the support we received in Texas was pretty unbelievable as well!
What's next for the Bearded Sole? (Besides a very long ice bath and a date with a massage therapist)
Rest, rest, and … more rest! I'm actually really excited to go to the gym today to do some light weight training after a little over a week completely off. I still won't run for another month or so, but yoga, weight training and other forms of cross-training are on the table now. I'm also excited to be taking on new opportunities as a motivational speaker and running coach. We are building out our website right now and soon we will be opening that up to the public!
Anything else you want to share? 
Sometimes you have an initial goal in mind, and it's okay to modify that goal and adjust your expectations based on what is happening. For us, we envisioned breaking the transcontinental record in 45 days.  We realized quickly that the plan was different than what we expected, and we had to adjust to that. The purpose of this journey was never to break a record.  It was to encourage and inspire people all over the world to dream big and accomplish the "impossible" things in their lives. Hearing the stories of those we impacted meant more to me than any record ever could. In fact, I feel pretty strongly that if we had broken the record, we wouldn't have touched the lives of many people the way that we did. Funny how life works like that!