Meal Prep Success on a $60 Budget
Last week's grocery shopping trip was a happy accident. I must have been channeling some kind of savvy shopper guru (you can have a guru for shopping guidance, can't you?) because my week's worth of groceries ended up totaling just $60 and I got So. Much. Food. I didn't even realize it until I began to meal prep when I got home that I realized everything I could make.
Meal prep is tough for me. In an ideal world I'd make most meals at home during the week to save money, but I just don't have the time to do it. Plus, I'm never home so I end up 1. wasting the food I do buy and 2. having to buy food when I'm out and about and hunger strikes me – two things that do not save me money.
Generally I'm frustrated with the entire subject of meal prep.
This week's experience was the opposite of frustrating. It was a feeling of total accomplishment. That's why I'm sharing my prep with you. I want more of these kinds of grocery lists in my back pocket. If you have similar success stories, I welcome the additions!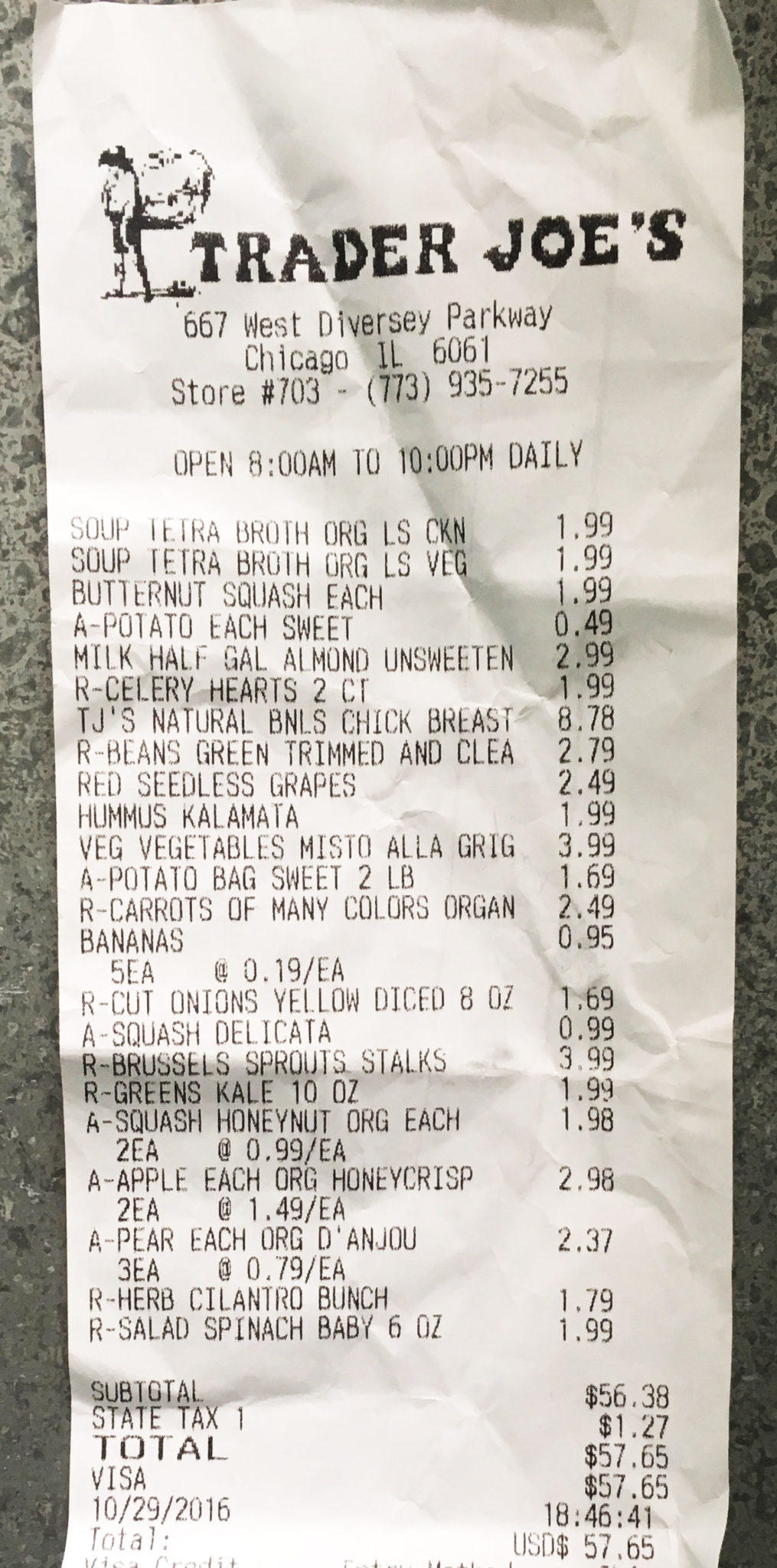 Here's what I bought:
Produce
5 bananas
3 pears
Red grapes
2 Honeycrisp apples
1 whole butternut squash
2 Honeynut squashes
1 Delicata squash
6 sweet potatoes (1 bag of small ones, 2 individual large ones)
1 stalk of brussel sprouts
1 bag of spinach
1 bag of kale
1 bag of green beans
1 package of celery
1 bag multi-colored carrots
1 bunch cilantro
pre-diced yellow onions (I can't even with chopping onions)
Meat
3 boneless chicken breast
Fridge
Hummus
Half gallon of vanilla unsweetened almond milk
Freezer
Mixed veggies (roasted red peppers and eggplant)
Pantry
Vegetable broth
Chicken broth
Here's what I already had:
Dried herbs and spices used in soups
Pistachios
Walnuts
Lemons
Olive oil, salt, pepper (all used in cooking)
Here's what I made:
A squash and carrot slow-cooker vegetable soup. The recipe for that came to your inboxes via email last Wednesday! We'll let you have a look even if you don't subscribe. Want in? Subscribe here.2. Roasted veggies on veggies on veggies. I cut most of the carrots, Honeynut and Delicata squash, half the brussels and sweet potatoes into big pieces and roasted them with salt, pepper and olive oil. I do this pretty much every week just to have on hand.


3. Raw brussel sprout salad base. I tossed the other half of my brussels into my Ninja for a chopped brussel sprout base. Then I lightly roasted walnuts and pistachios and added them to the brussels. Lastly, I added some red grapes and tossed it all together with olive oil, salt, pepper and lemon. I used this as the base of my salads – which I added tons of other roasted veggies and hummus to every day.4. Chicken & Kale superfood soup. I wrote about this last year. It's a staple for me every fall and winter. This time I added a lot of Vital Proteins to it.
Here are some tips that I'll remember for next week:
I'm always hungry. I needed some more apples to keep on hand for snacks during the day. And maybe some other easy snacks like rice cakes or plantain chips (except I really shouldn't keep those in the house – they're gone after one sitting.)
I'd get green beans elsewhere. All the other produce was wonderful but the green beans went bad after two days and I had to toss them.
Have any good (or bad) meal prep stories to share? Let us know!