Five Summer Outdoor Activities to Enjoy with Your Pup
Since my dad got a puppy at home a couple months ago, I've remembered how much more fun everything is with a dog in tow. Now that Penny (our pup) has had all her vaccinations, we're taking her on more and more adventures, from puppy school to dog parks to watching pickle ball tournaments at the park.
Summer is no exception to the "just add dog for instant fun" recipe; in fact, it's even more true this time of year. Having a dog is a great incentive to get you off the couch and active, even when the AC sounds way more appealing. Try enjoying one of these summer activities with your dog, and just wait for all the puppy kisses (followed by well-deserved nap times).
Head to the Dog Beach
If you're lucky enough to live in Chicago, take your pup up to Montrose Beach or another dog friendly park in the city for a day in the surf and the sand. Pack a Frisbee or a tennis ball for fetch, or toss a couple of squeaky toys in your bag to play buried treasure with. That, plus swimming, is sure to wear out both dog and owner.
A few safety tips to remember:
Bring lots of fresh water, and have a place in the shade for everyone to cool off.
If your dog hasn't learned to swim yet, start in the shallows, using a favorite toy to help them get acclimated.
Dog life vests aren't just for nerd dogs. Besides giving you some serious peace of mind, a dog life vest can help your dog enjoy the water for longer since they'll take longer to tire out.
Puppers need sunscreen too! You can find pet-friendly sunscreen only (look for it WITHOUT zinc oxide), and apply it to any areas that get direct sunlight, especially ears and noses.
Poop bags. Always.
No beach in your vicinity? Ask if you can take over a friendly neighbor's pool, or look at your local park district's website for the pools; sometimes, at the end of summer, park pools will open their gates to four-legged friends for a literal doggy paddle. There are even a few businesses in Chicago that offer pools specifically for dog swimming – like Pet Care Plus in the West Loop or Carriage Hill Kennels in Glenview.
At the very least, a $5 plastic kiddie pool and a sprinkler can provide hours of entertainment.

Take A Hike
Summer is the perfect time to introduce your dog to some fun, beginner-friendly hikes in your area. Find a dog-friendly hiking trail and pack plenty of water, food, bags and a first-aid kit. Bonus: you may not even have to carry all this extra equipment. With the right dog pack, your pup can carry up to 25 percent of its body weight (get clearance from your vet first). Also, fleas and ticks are abundant in heavily wooded areas, so consider doubling up on protection with a tick collar or an oral/topical treatment (and check your dog for ticks after the hike, using tweezers to remove any offenders).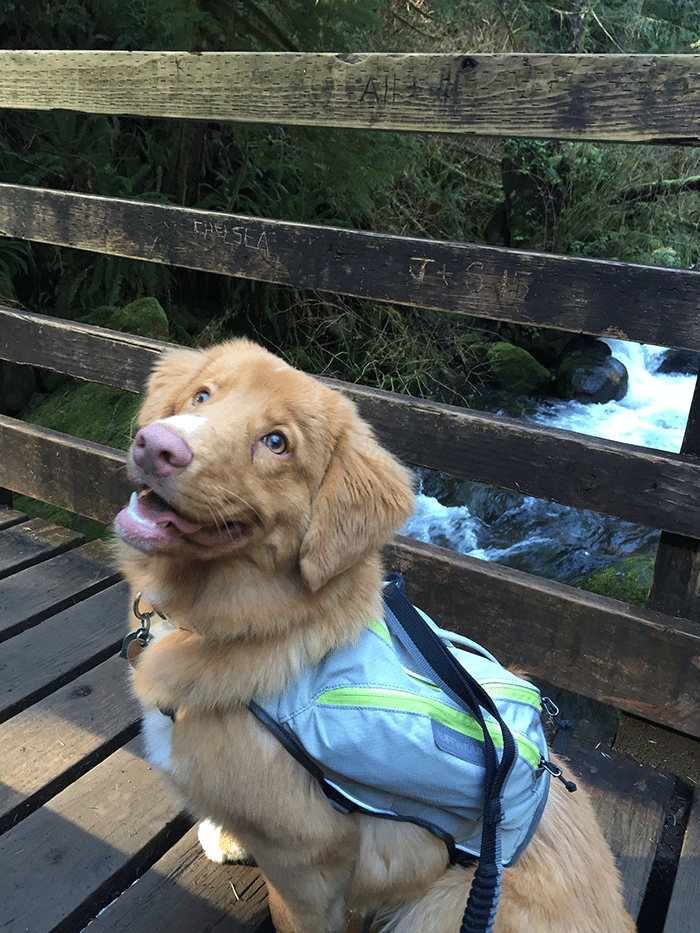 (Photo credit Chelsea Fitzgibbon, starring Nova)
Remember, no matter how much energy your pup seems to have in its daily life, hiking is a new, tiring adventure. Build up to longer, more difficult hikes over time and stick to easier trails when you're just venturing out.
Train your Dog to Bike or Blade with You
We've already covered training your dog to run with you, and if you're a multi-sport athlete ready for the upgrade, you might try biking or rollerblading with your dog.
For biking, spring for an attachment that allows your dog to stay attached to your bike (at a safe distance) that's NOT just you holding onto its leash with one hand, which is super unsafe. Try the WalkyDog or the Springer, attached to a well-fitting harness. Start off by walking your bike with your pup attached, and reward them when they calmly walk alongside it. Eventually, throw in some curveballs by making the bike wobble, go over a curb, or turn.
When you feel confident that your dog is comfortable walking alongside your moving bike, you can begin testing actually riding it. Start in an unpopulated area, and eventually work your way up to longer distances with more people around. NEVER ride your bike with your dog in traffic; stick to people-only trails like the lakefront or the 606.
Follow similar guidelines if you plan on rollerblading with your dog, but use a longer leash than you might normally so you have a little more warning time if your dog takes off after a squirrel. Make sure your dog is trained to stay on one side of you without darting in front of you. Humans should also wear the proper safety equipment – helmets, knee pads and wrist guards – to make sure everyone stays safe and uninjured.
Build Your Dog an Obstacle Course
We're guessing that like most dog owners, you think – nay, KNOW – that your dog is way better than any of those random dogs that win the Westminster Dog Show every year. Prove it by building your dog an agility course in your backyard or a park. With just a few simple household items (like hula hoops, a kids play tunnel, old ski poles, cinder blocks, and brooms), you can set up hours of fun for you and your pup to enjoy practicing on. Remember us when you get to Westminster, though.
A Simple, New Walk
Finally, you can always keep it simple by just walking your dog in a new place. Jump in your car and bring pupper to a new park or a new area of town; . Explore which stores are dog friendly and offer treats and water to four-legged friends. Don't forget to refuel at a dog-friendly patio (like Parlor Pizza or Big Star) at the end of your long, active day. Now, you both truly know the meaning of dog-tired.